NOTE: The Sidecar configurator is designed to give customers a general idea of what their holster will look like but it is NOT an exact representation. If you have a question about holster specs (e.g. number of Spine teeth), please reach out to us at
[email protected]
.
Video | What's Included | Attachments | Specs | Pictures | FAQ | Related Info
Modular. Flexible. Concealable. Comfortable. Optic compatible. This is the Sidecar Holster.
For the last eight years, the T.REX Sidecar has been the industry-standard AIWB (Appendix Inside the Waistband) holster. The latest major update to our Sidecar is the T.REX ARMS Spine System—a modular hinge system that allows the holster and preferred attachment to flex as you move and conform better to your body. This provides maximum comfort and concealability, but since it is a single-axis pivot system, it also retains the stability you need for maximum consistency when you draw your pistol or grab your magazine for a reload. Watch the video below for an in-depth look at the Sidecar holster, all its features, and how to adjust it to fit your needs.
OVERVIEW VIDEO
WHAT'S INCLUDED
---
One T.REX Sidecar Holster with a T.REX Tuckable Clip and Raptor Claw installed; One Raptor Wing attachment a T.REX Tuckable Clip installed; One Spine Pin; One Friction Washer.
Other attachments can be added via the buttons. See the FAQ below for info on which attachment will come pre-installed for you.
ATTACHMENTS
---
Our modular attachments will let you carry an extra pistol mag, a 5.56 rifle mag, a subgun mag, a tourniquet, or handcuffs, all with adjustable retention and all securely attached to the holster at user-adjustable ride heights. This is the most adaptable holster system on the market, and more attachments are in development.
If you want to run your holster without an attachment (in the appendix or 3-5 o'clock position), each holster comes with our Raptor Wing, which has a stabilizing belt clip and mounting holes that can be used to attach knife sheaths or other tool holders so you can easily assemble your own attachments.
The design of our T.REX ARMS Spine System is
totally open source
. Any holster manufacturer who would like to build Spine-compatible attachments can download blueprints and CAD models here and help build out the capabilities of the wider Sidecar ecosystem.
SPECS
---
View the Sidecar Hardware Diagram HERE.
Made from 0.093 precision-formed Kydex.
Compatible with standardized slide-mounted optics mounted behind the ejection port (not compatible with optics mounted on the frame or over-hanging the ejection port) and with suppressor height sights up to 0.5″ tall.
The holster and Spine (as well as the attachments and Spine) are formed from a single piece of Kydex, making it the smoothest and simplest design of any flexible holster system. The holster is connected to the attachment by a machined steel pin, which lends the Spine strength and creates the ability to quickly and easily swap out attachments.
Made in the USA by T.REX ARMS.
T.REX IWB Tuckable Clips are injection molded from high-strength acetal plastic. They are 3/4″ wide and 3 5/8″ long and are a Universal fit (i.e. fits belts 1.5″ to 1.75″) with a 0.5″ of adjustment. Made in the USA.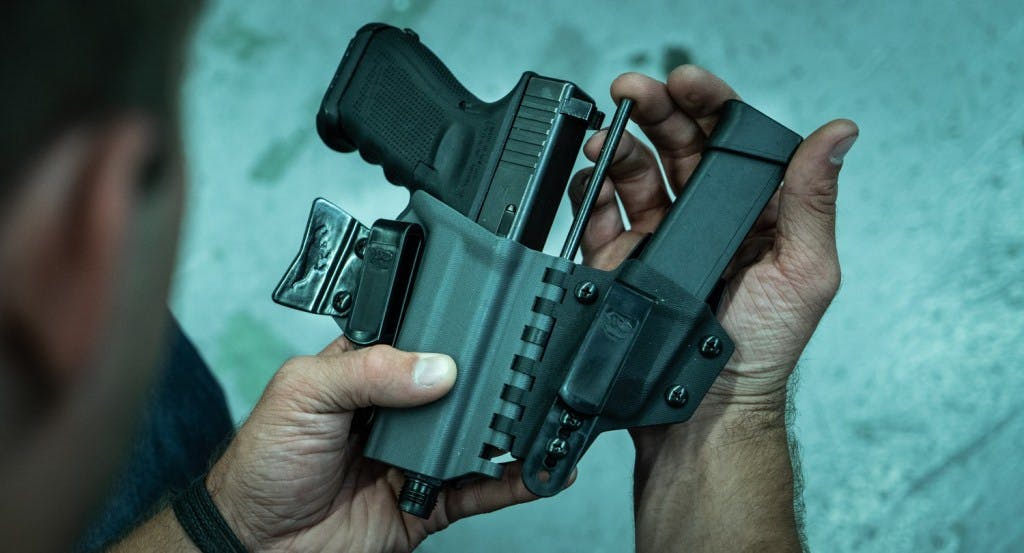 PICTURES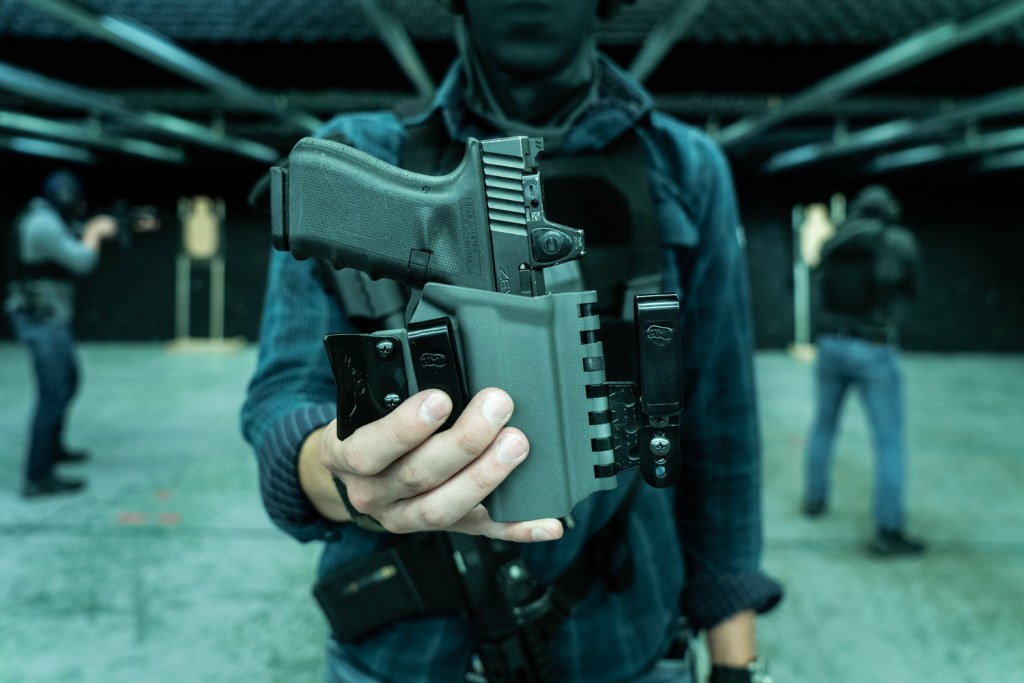 FAQ
If I buy a variety of attachments, which one will come installed?
We will install attachments in this priority order:
– Pistol mag attachment
– Tourniquet attachment
– Rifle mag attachment
– Handcuff attachment
– Raptor Wing attachment
What happens if I choose the Threaded Barrel option?
For threaded barrels, we add roughly 1/2″ of Kydex to the bottom of the holster. If you do not have a threaded barrel, you can still run it in the holster without issues. The extra length of Kydex will not affect the fitment or retention.
What frames will work in your Glock molds?
Our Glock 17 mold also fits the Shadow Systems DR920 and the Lone Wolf Timberwolf Frame. For the Shadow Systems MR920, we suggest the Glock 19 option.
Will my P80 fit in your Glock 9/40 holsters?
No, Glock 9/40 Sidecars WILL NOT fit P80 frames.
The Open Source Sidecar Spine System – T.REX ARMS
T.REX ARMS Holster Warranty Policy – Help – T.REX ARMS
The New Sidecar Holster Overview – Video – T.REX ARMS