What's Included | Specs | Pictures
These High-Level Retention (HLR) 10XX steel alloy clips are a great upgrade to our Sidecar holsters as they are more secure than our default, plastic T.REX IWB Tuckable Clips. They have the highest clamping force in the industry and are quite minimalist. Because the clamp strength of these is so great, these can be used to attach a holster directly to the fabric of pants for times when you need to conceal clips behind a belt or for when you simply don't have a belt on. This is particularly useful if you want to carry concealed while in activewear like sweatpants and shorts.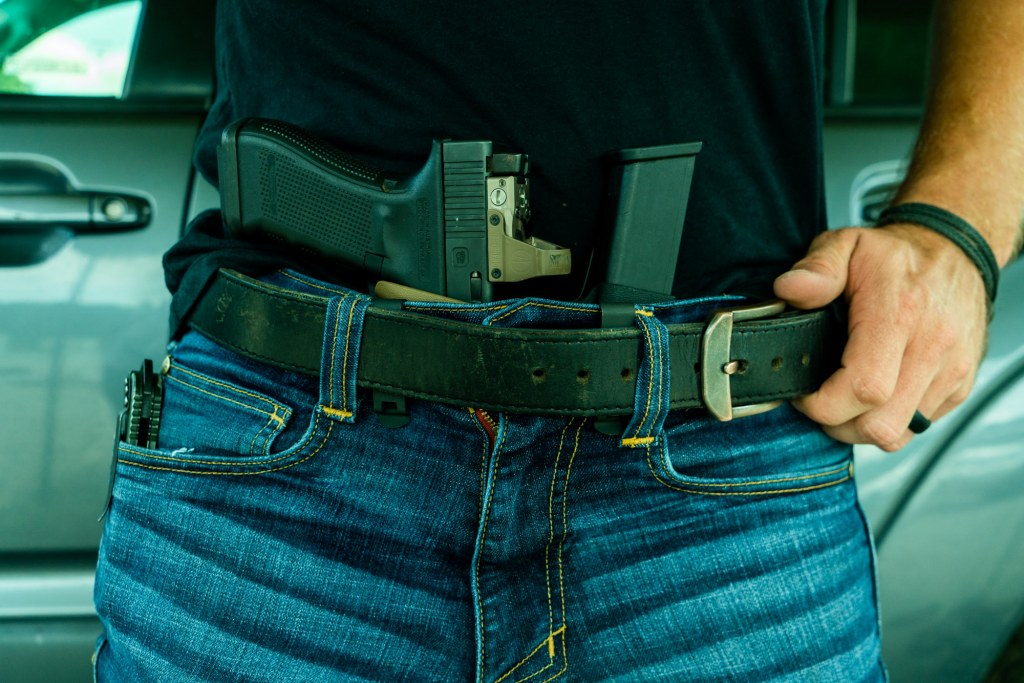 WHAT'S INCLUDED
---
One Discreet Carry Concepts Universal/Height Adjustable HLR Discreet Gear Clip (either Mod 4 or Mod 5.1U) with hardware (two .250″ posts, two .188″ washers, and two .250″ screws).
SPECS
---
Belt Clip Options:
– Mod 4 – 1.75″ belt fits over belts up to 1.75″, including thicker riggers belts.
– Mod 5.1U – Behind the belt was specifically designed for tucking out of sight behind the belt and clasping directly onto the fabric of your pants. Nothing to be seen extending below or over the belt. (This variant will NOT fit over belts.)
Overall Length: 3.41″ +/-.03″
Width: .624″
Thickness: .025″
Inside dimensional tolerances: +/-.03″
Features two inline slots to fit virtually any logical hole spacing used by holster makers while providing subtle ride height adjustment for the user.
Standard DMG/Cu finish: Color – DCC dark matte grey. Nonreflective and resists corrosion very well.
Made from Discreet Carry Concept's own 10XX steel alloy that was purpose-built specifically for this application for maximum strength and ductility. From cold rolling to deburring, all metal forming for the entire HLR Discreet Gear Clip™ line is done in-house by DCC in the USA.
DCC's Care and Maintenance Instructions: Finish does not need much attention. If any light scratches or wear marks develop, we recommend a quick buff with WD40, but anything from vegetable oil to mineral oil to CLP to motor oil will work well. Just put a couple drops on your clip and rub it in vigorously using firm pressure with a lint free cloth. This will help keep it looking its best cosmetically.
PICTURES