Video | What's Included | Specs | Pictures | FAQ | Related Info
Cuffs are a valuable tool if you know how to use and deploy them. This handcuff carrier allows you to carry a set of handcuffs alongside your weapon in the new Sidecar holster. It attaches to the holster via the Spine System with a pin and friction washer. Compatible with the Smith & Wesson 100 and 300 series of chained and hinged cuffs as well as Peerless chained cuffs. This is NOT compatible with ASP or Peerless hinged cuffs.
There are three points of retention that can be adjusted to create the perfect fit. The bottom retention point also features a powerful magnet that pulls on the chain of the cuffs to remove the rattling sound. Watch the overview video below for information on installation and adjustment.
OVERVIEW VIDEO
WHAT'S INCLUDED
---
One T.REX Sidecar Handcuff Attachment with one T.REX IWB Tuckable Clip installed.
Note: Does NOT come with handcuffs.
SPECS
---
Made from 0.093 precision-formed Kydex. Has three retention adjustment screws and a magnetic chain dampener. View the Sidecar Hardware Diagram HERE.
Compatible with:
Smith & Wesson 100 and 300 series of chained and hinged cuffs
Peerless chained cuffs and the larger Peerless hinged cuffs
(NOT compatible with ASP cuffs)
Made in the USA by T.REX ARMS.
The T.REX IWB Tuckable Clip is injection molded from high-strength acetal plastic. It is 3/4″ wide and 3 5/8″ long and is a Universal fit (i.e. fits belts 1.5″ to 1.75″) with a 0.5″ of adjustment. Made in the USA.

PICTURES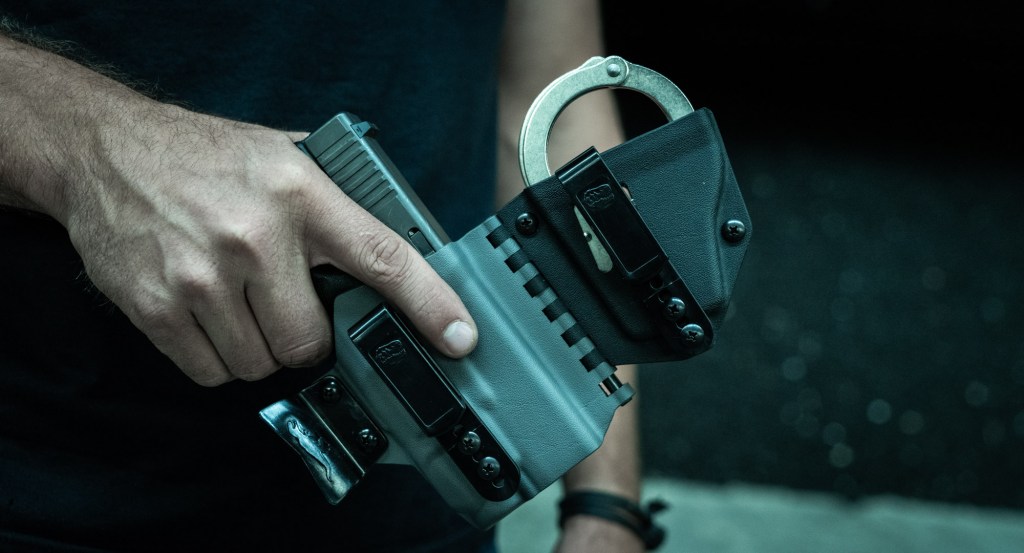 FAQ
Does this have to be attached to a Sidecar holster? Can it be used by itself?
While it is possible to wear this carrier by itself, we don't recommend it. It's not as stable worn alone as when attached to the Sidecar holster. Trying to wear this by itself with just a single clip holding onto your belt will create an inconsistent angle as it twists in your beltline. If you are adamant about wanting to run this alone, add a
Raptor Wing + Clip
to give it some stability and consistency.
Could I attach this to a Sidecar without the friction washer?
The question isn't really
could
you, but
should
you. While the Spine pin is very secure even without the friction washer, it's wise to build in redundancy. If you need replacement hardware, you can find it
here
.
Sidecar Handcuff Attachment Overview – Video – T.REX ARMS
The New Sidecar Holster Overview – Video – T.REX ARMS
The Open Source Sidecar Spine System – T.REX ARMS
The Open Source Sidecar Spine System – Video – T.REX ARMS