Video | What's Included | Specs | Pictures | FAQ | Related Info
This pistol mag carrier allows you to carry a spare magazine in the appendix position–just like the original Sidecar Appendix Rig–but with the added benefit of flex down the middle and adjustable mag ride height. It attaches to the new Sidecar holster via the Spine System with a pin and friction washer.
This mag carrier offers more adjustable retention points than the original Sidecar as well, five to be exact, and they can be tweaked to give you the perfect fit on your magazine. Watch the product overview video for installation and adjustment instructions.
OVERVIEW VIDEO
WHAT'S INCLUDED
---
One T.REX Sidecar Pistol Mag Attachment (Black) with one T.REX IWB Tuckable Clip installed.
Note: Does NOT come with a pistol magazine.
SPECS
---
Made from 0.08 precision-formed Kydex. Has five retention adjustment screws.
The attachment and Spine are formed from a single piece of Kydex for a smooth and flexible design. The attachment is connected to the holster by a machined steel pin, which lends the Spine strength and creates the ability to quickly and easily swap out attachments. Can be mounted to the Sidecar at your desired height.
Made in the USA by T.REX ARMS.
PICTURES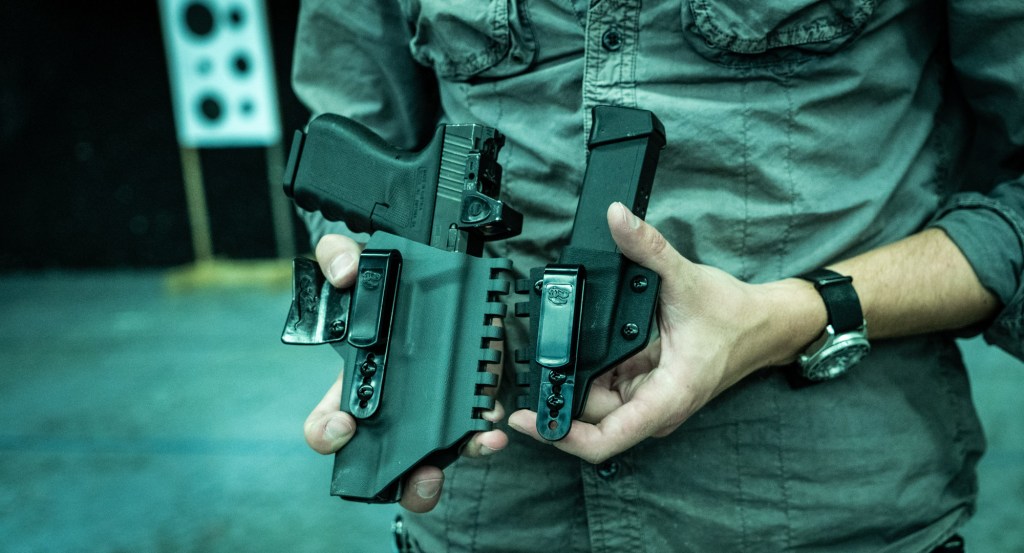 FAQ
Sidecar Pistol Mag Attachment Overview – Video – T.REX ARMS
The New Sidecar Holster Overview – Video – T.REX ARMS
The Open Source Sidecar Spine System – T.REX ARMS
The Open Source Sidecar Spine System – Video – T.REX ARMS