Trijicon SRO 2.5 MOA
Ships in 1-8 business days
ITAR
This product is regulated by ITAR. It can only be shipped in the USA.
What's Included | Specs | Pictures | FAQ
The Trijicon SRO is the newest addition to the Trijicon family of optics and we love it. While it's not as durable as the RMR due to its rounded design, it offers a wider field of view making it easier for shooters to pick up the dot upon presentation of the firearm and easier to track the dot during strings of fire. It also has an above-board battery compartment, making it easy to change out the battery without having to dismount the optic. This is the 2.5 MOA option, which is our favorite because it can be dimmed to appear smaller and more precise, or brightened to appear larger and easier to pick up. It's the perfect balance.
There are aspects of the SRO that make it an improvement over the RMR. Mainly, it doesn't require the shooter to re-zero anytime the battery needs changed. It's a great option for individuals who don't need the durability of the RMR but still want a larger window like the DeltaPoint Pro. Fits RMR cuts and mounts.
We include additional mounting screws from Jagerwerks with every SRO because the Trijicon mounting screws are too long for many milled slides. Glock MOS will require screws directly from Glock or Trijicon. We also include some blue Loctite, just to make it a quick install for you.
The SRO will fit SOME but not all of the
holsters
we make. Currently, all
Ragnaroks
fit the SRO up to the ejection port. For
Sidecars
, only Glock 9/40 and P320 fit the SRO, where the SRO "snoot" comes up to 1/8" of the breech face. Other
Sidecars
may fit but are not guaranteed at this point. If you are wondering about your particular gun, you can shoot us an email at
[email protected]
.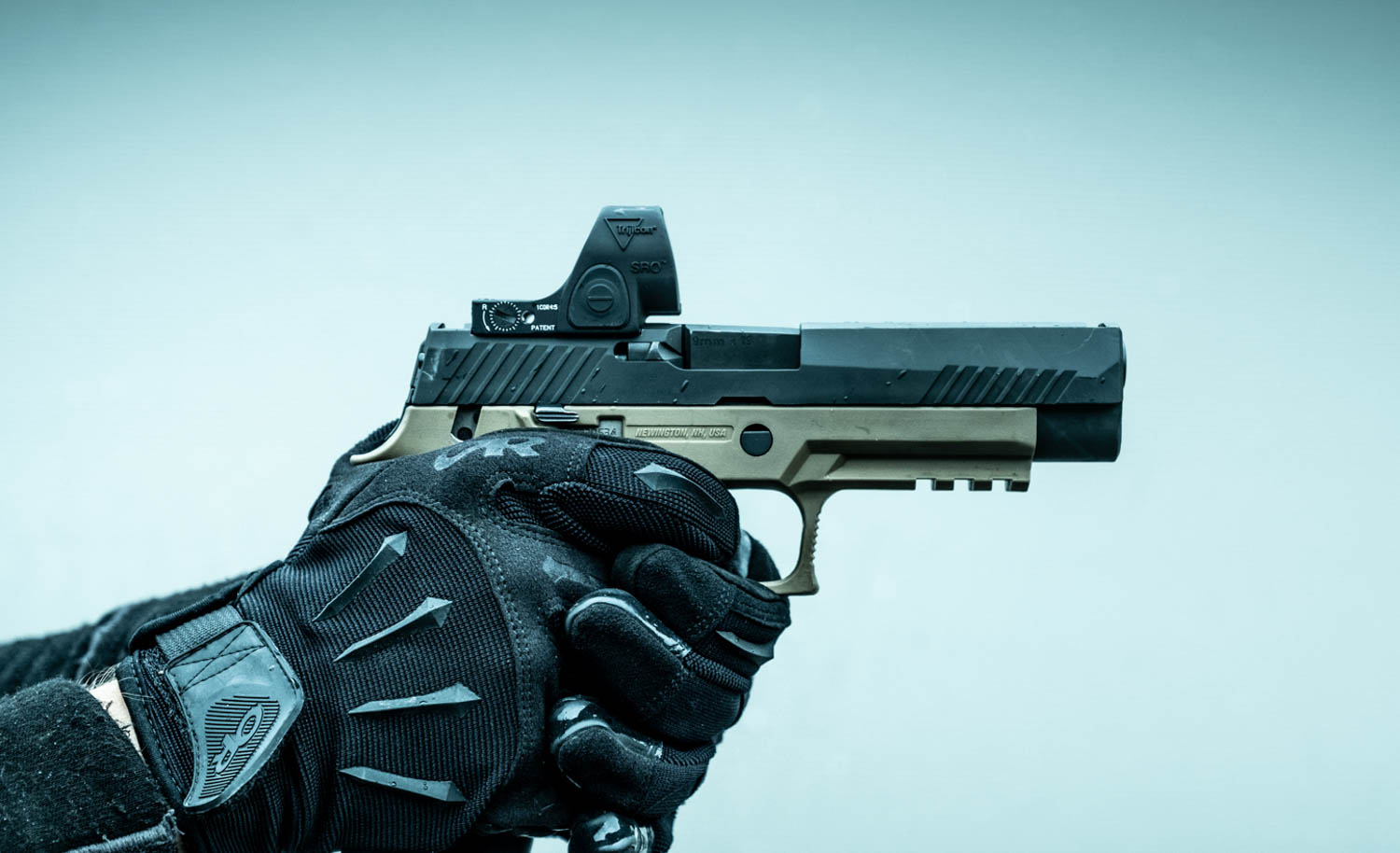 WHAT'S INCLUDED
---
One Trijicon SRO Red Dot Sight 2.5 MOA Red Dot (Black); Trijicon logo sticker (PR15); Two #6-32 flat head torx cap screws 1/2″ long; Torx head key; Manual; Warranty card; Jagerwerks mounting screws with hex screw; Blue threadlocker; Pistol red dot zero target.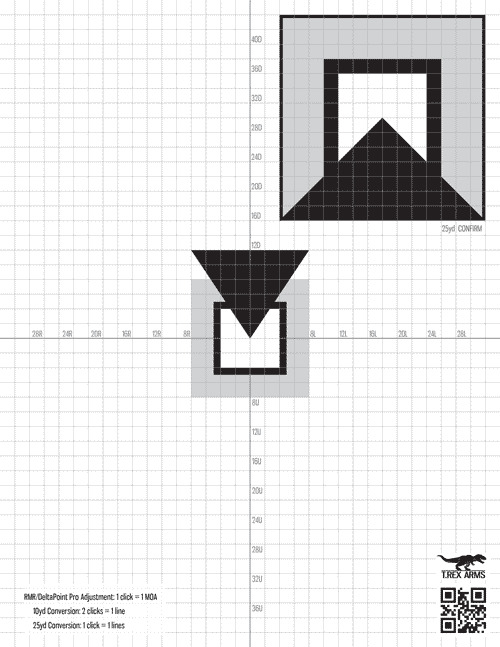 We include an 8.5″ x 11″ pistol red dot zero target with every red dot.
We recommend bench resting the pistol for stability, as you will want to minimize any potential human error.
You will want to start at 10 yards and aim for the point of the triangle in the center of the small square; your impact when zeroed should be within the center of that square.
You will then need to take the same target out to 25 yards to confirm your zero on the larger triangle/square and make any minor adjustments that may be needed.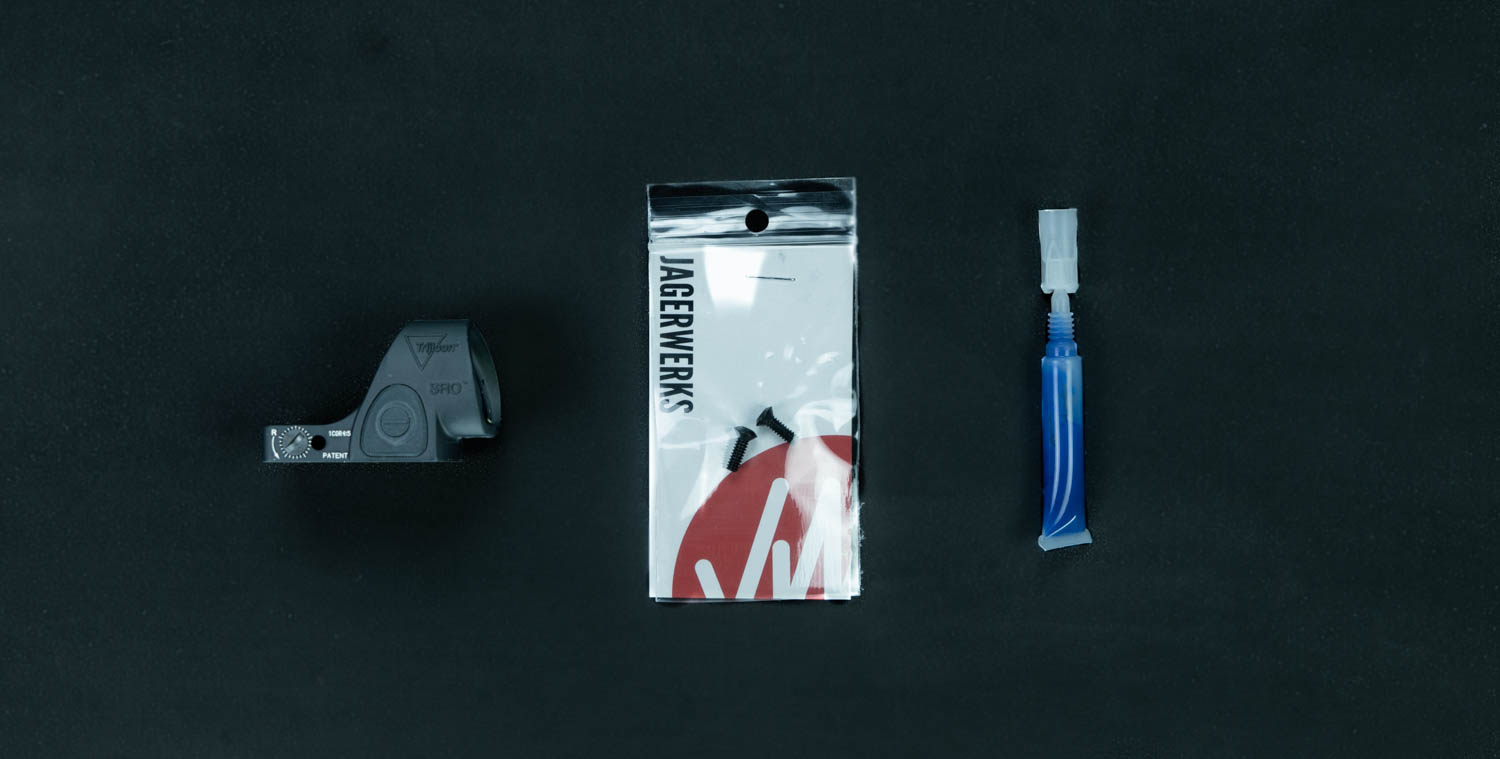 SPECS
---
Length x Width x Height

2.2 in x 1.3 in x 1.4 in
(55.88mm x 33.02mm x 35.56mm)

Weight

1.6 oz. (45.36g)

Magnification
1x

Reticle Pattern

2.5 MOA Dot
Day Reticle Color
Red

Night Reticle Color

Red

Bullet Drop Compensating (BDC)
No
Illumination Source
LED
Illumination Settings
Automatic and 8 Adjustable Settings (2 NV, 6 Visible)

Power Source

1 CR2032 Lithium Battery

Battery Life

Over 3 years of continuous use (when used at 70ºF (21ºC)) at setting 4 of 8

Adjustment

1 MOA Per Click

Adjustment Range
150 MOA Total Travel

Housing Material

7075-T6 forged aluminum

Submersion Depth
10 ft. (3m)
PICTURES
FAQ
What distance should I zero my pistol optic at?
The most popular pistol zero is 25 yards. But… we've found that an accurate 10 yard zero is generally more effective and the holds are much flatter out to 100 yards compared to a 25 yard zero. Our recommendation is that you zero for 10, make sure your group is tight, and then tailor your zero as you shoot. Particularly if you have somewhere you can shoot some distance. Like 50+ yards. Yes. With a pistol. You can do it. We believe in you.