Leupold DeltaPoint Pro Red Dot Sight
ITAR
This product is regulated by ITAR. It can only be shipped in the USA.
Video | What's Included | Specs | Pictures | FAQ | Restrictions | Related Info
The Leupold DeltaPoint Pro is one of our go-to's for offset and pistol optics. The ability to change batteries without removing the optic is very convenient and its large window provides an excellent field of view, which is especially great for working under nods. The standard version does work with night vision but has fewer brightness settings, so it can be too bright and bloom in certain IR lighting conditions.
OVERVIEW VIDEO
WHAT'S INCLUDED
---
One DeltaPoint Pro Reflex Sight, 2.5 MOA Dot; One 3V Lithium battery (CR 2032); Protective cover; Two M4x.7×15.8mm Torx head screws; One Torx T-15 wrench; One 1/16 Hex wrench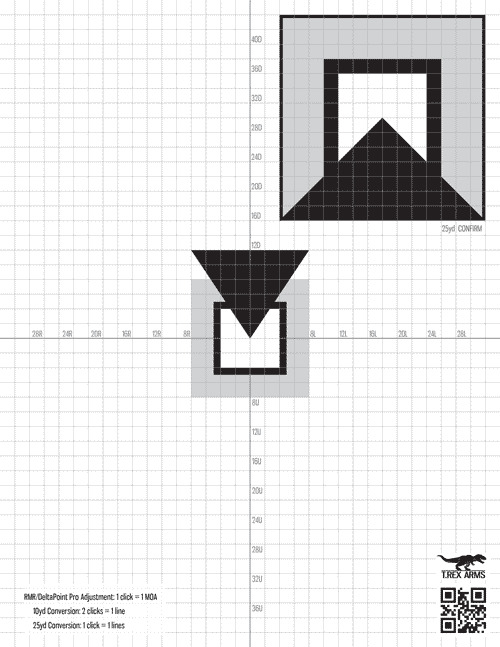 We include an 8.5″ x 11″ pistol red dot zero target with every red dot.
We recommend bench resting the pistol for stability, as you will want to minimize any potential human error.
You will want to start at 10 yards and aim for the point of the triangle in the center of the small square; your impact when zeroed, should be within the center of that square.
You will then need to take the same target out to 25 yards to confirm your zero on the larger triangle/square and make any minor adjustments that may be needed.
SPECS
---
FEATURES
Extreme climate exposure. Will survive from -40 degrees Fahrenheit all the way up to 160 degrees Fahrenheit.
DiamondCoat™, scratch-resistant aspheric lens for brightness and resolution.
Leupold's Professional-Grade Red Dot Optical System offers unmatched light transmission.
Extremely durable, ultra-light aluminum housing.
Motion Sensor Technology extends battery life by automatically deactivating illuminated reticles after five minutes of inactivity and then reactivates instantly as soon as movement is detected.
Unlimited eye relief.
Waterproof to 33 feet.
Made in the USA.
View the User Manual HERE.
TECHNICAL SPECIFICATIONS
| | |
| --- | --- |
| Battery Life, High Intensity | 300 hr |
| Battery Life, Medium Intensity | 1000 hr |
| Battery Life, Low Intensity | 1600 hr |
| Eye Relief Low Mag (in) | Unlimited |
| Windage Adjustment | 60 MOA |
| Elevation Adjustment | 40 MOA |
| Weight | 2 oz. |
| Battery Type | CR2032 |
| Reticle | 2.5 MOA Dot |
| Number of Illumination Settings (Non-NV) | 8 |
| Number of Illumination Settings (NV) | 8 Day, 2 NV (10 Total) |
PICTURES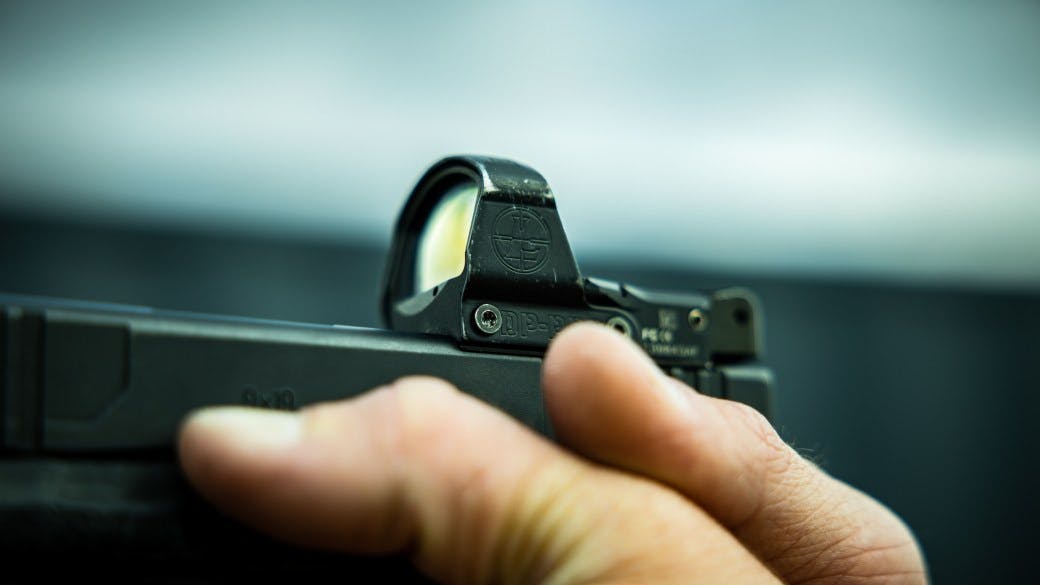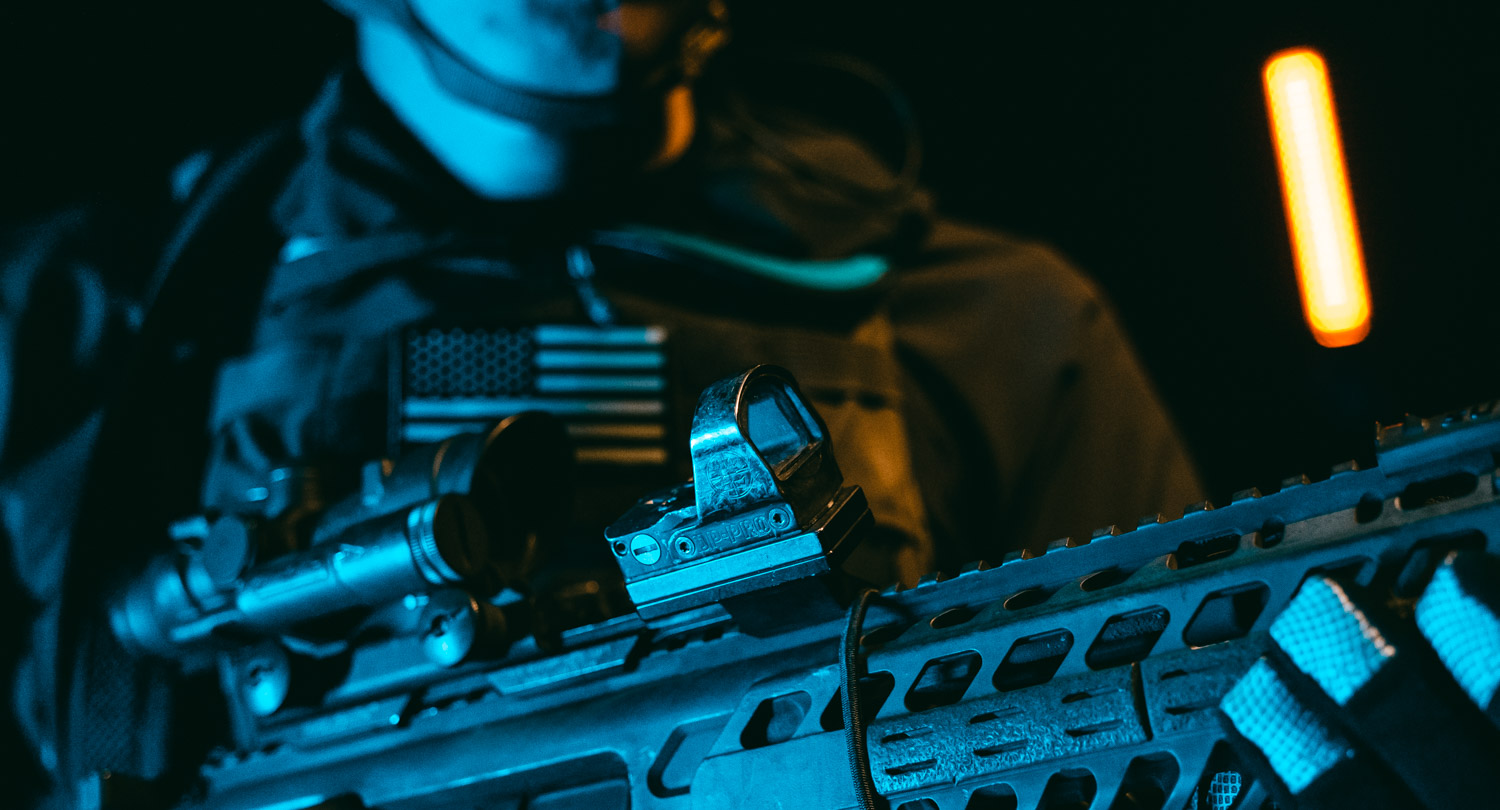 FAQ
How are the brightness controls?
While not as intuitive as the RMR or SRO, the DPP's brightness controls are pretty straightforward.

Pressing the brightness control on top of the battery compartment increases the brightness. The brightness control always moves in one direction, either up or down. Once you reach the brightest or lowest setting, it reverses direction. Holding the button down for 2 seconds reverses the direction without going all the way to the top or bottom of the settings.
RESTRICTIONS
---
This product is restricted by International Traffic in Arms Regulations (ITAR) and cannot be shipped outside of the USA.
Everything You Need to Know about Your DeltaPoint Pro – Video – T.REX ARMS
Running the ACOG – Video – T.REX ARMS
Are Canted Red Dots Fast? – Video – T.REX ARMS