Video | What's Included | Specs | Installation | Pictures | Using a Canted Red Dot as Your Primary Optic | FAQ | Related Info
The long-awaited T.REX ARMS Offset Mount was specifically designed for shooters to run an offset red dot as effectively as their primary optic. The mount allows shooters running LPVOs (Low Power Variable Optics) to use an offset red dot as their primary short-mid range optic, leaving their scope on a higher power. The offset optic also functions as a reliable back-up optic platform. Each mount includes a riser plate, giving shooters the option of running it higher than the standard 1.57″ base height. Fits all Picatinny rails and includes screws and Torx keys.

PRODUCT OVERVIEW
WHAT'S INCLUDED
---
Trijicon RMR: Mount; 2x T25 Rail clamp screws; Riser plate; 4x T15 Screws (2 short, 2 long); 2x Torx keys.
Leupold DeltaPoint Pro: Mount; 2x T25 Rail clamp screws; Riser plate; 2x T20 Screws; 2x Torx keys.
FITMENT/SPECS
---
Trijicon RMR: Right-Handed Only. Fits All RMR footprint optics like the Trijicon RMR/SRO, Holosun 407C/507C/508T, (And Holosun 509T with Holosun adapter plate).
Leupold DeltaPoint: Ambidextrous. Fits Leupold DeltaPoint Pro. Does not fit Shield RMS/RMSc footprint optics.
Trijicon RMR

Leupold DeltaPoint Pro

Rail Clamp Torque
30 in/lbs

30 in/lbs

Optic/Riser to Mount Torque
12in/lbs (dry)
10in/lbs (wet)
25in/lbs (dry)
20in/lbs (wet)
Weight with Screws
1.8 oz (w/o riser)
2.4 oz (with riser)
1.6 oz (w/o riser)
2.2 oz (with riser)
Trijicon RMR:
– Rail Clamp Screws—Two Socket Cap T25 8-32 x 1-1/8″
– Optic to Mount Screws—Two Flat Head T15 6-32 x 1/2″ (w/o riser); Two Flat Head T15 6-32 x 5/8″ (w/ riser)
Leupold DeltaPoint Pro:
– Rail Clamp Screws—Two Socket Cap T25 8-32 x 1-1/8″
– Optic to Mount Screws—Two Flat Head T15 M4-0.7×15.8 (These come with the optic, NOT the Offset Mount)
– Riser to Mount Screws—Two Flat Head T20 M4-0.7×10
INSTALLATION
---
Trijicon RMR: If using the riser, use the two longer screws (6-32 x 5/8″) included with your Offset Mount to install your RMR. If not using the riser, use the two shorter screws (6-32 x 1/2″) included with the Offset Mount.
Leupold DeltaPoint Pro: Use the two screws (T15 M4-0.7×15.8) that are included with your DeltaPoint Pro to mount the optic to the Offset Mount (with or without the riser plate). If using the riser, use the two screws (T20 M4-0.7×10) included with your Offset Mount to install the riser plate to the mount.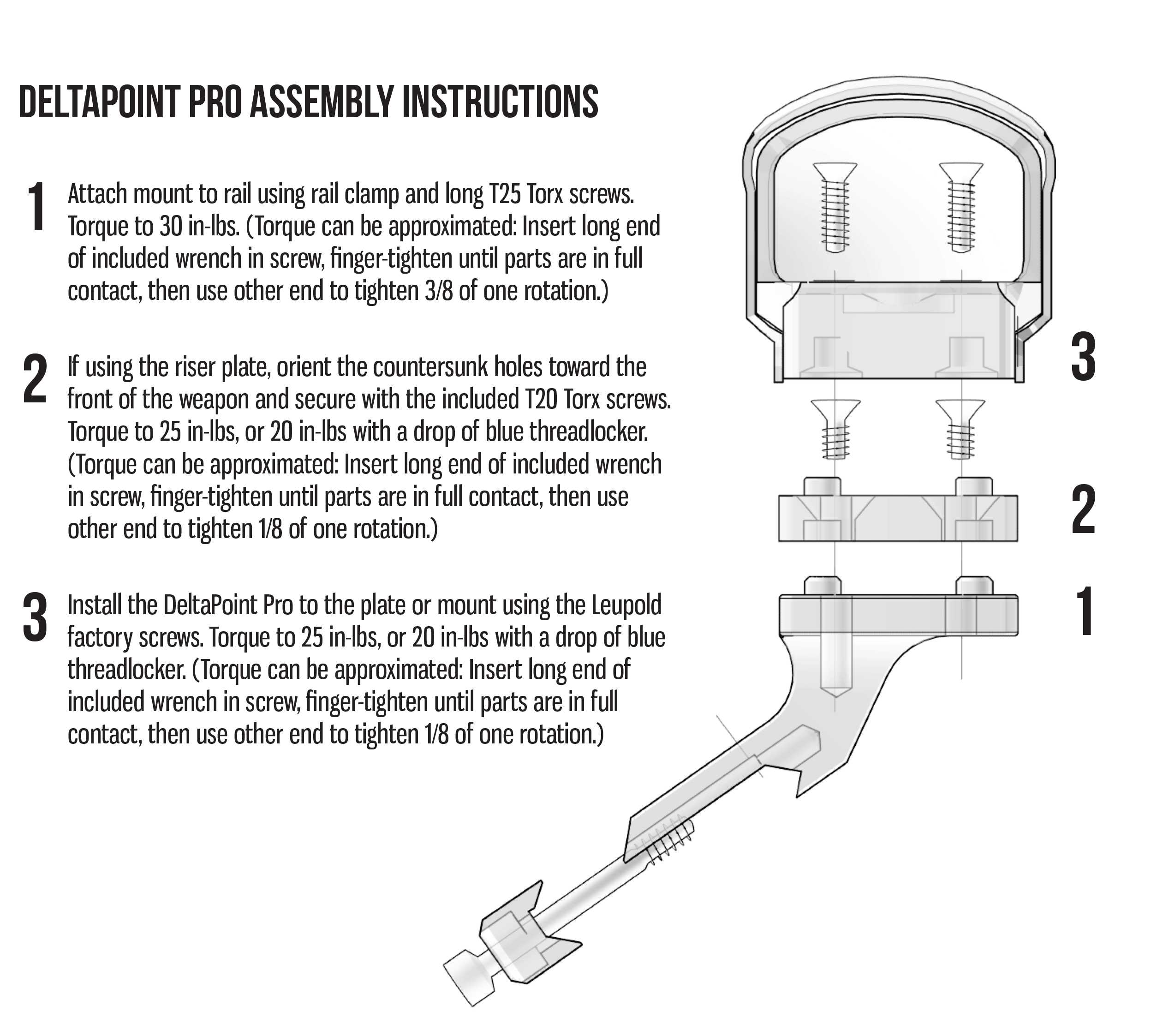 Review the Assembly Instructions for the Leupold DeltaPoint Pro Offset Mount before mounting your optic.
PICTURES
(Left) Slim design allows it to slide under some scope mounts, keeping the optic package compact. (Right) Adding the riser plate will help clear bulky turrets.
(Left) Offset DeltaPoint Pro on a Scar 17. (Right) Offset RMR using the riser plate to set it at the same height as the ACOG makes for a fast and natural transition.
(Left) Out of the way for when magnified optics are in use. (Right) Machined out of 6061 T6 aluminum bar stock, type III milspec hard anodize.
(Left) LPVOs aren't ideal for low-light environments. Offset Red Dots are though. (Right) SRO + Offset Mount with riser installed.
(Left) Canting the rifle brings it tighter into your body and mitigates recoil even more. (Right) DeltaPoint Pro + Offset Mount on a Sig MCX.
USING A CANTED RED DOT AS YOUR PRIMARY OPTIC
---
There is a perception that Offset Optics are mainly used for backup purposes, just in case your primary optic goes down. While this does work well as a backup, we sought to create a viable primary optic setup, because there are many advantages to running an Offset red dot as your primary optic. For example:
Better Recoil Management
When canted, a rifle is actually more tucked into your body. This makes for better recoil management and shooting while moving.
Shooting Around Cover
Switching shoulders to shoot out of cover works… but it's never as fast or efficient as leaning out while shooting on your dominant side. Canting the rifle to aim down the offset optic while shooting out of your non-dominant side is fast, more natural, and less revealing. For example, an Offset Optic for a right-handed shooter makes it easier and faster for that shooter to lean out of the left side of cover to take shots.
Permanent Optic vs. Primary Optic
We like to treat Offset Optics like "permanent" optics – an optic you always leave on your rifle while you experiment with or switch out other "primary" optics. For example, we leave our Offset optics attached to a rifle and then switch out "primary" optics from LPVOs to red dots. If you switch around optics often, leaving this on as a more permanent fixture makes a lot of sense.
Low-Light Shooting Advantages
Shooting in low light or no light with an LPVO or magnified optic is much more challenging than with a red dot. Running an Offset red dot as your primary optic when utilizing white light is a major benefit.
Night Vision Advantages
LPVOs by themselves are useless when it comes to shooting under night vision. Running an Offset red dot with the 1.93″ riser allows you to passively aim through the sight even under nods.
Gas Mask / Respirator Advantages
Offset Optics are the best primary optic for shooting with gas masks and respirators on. It allows you to cant the rifle up to your eye instead of canting your head down to the optic. This minimizes the chances of breaking a seal and makes for more natural shooting posture.
Prone Shooting Advantages
Offset optics can aid when shooting in prone positions, primarily when you're running a rifle with a longer mag (like a standard capacity 30rd AR mag) that tends to limit your ability to get low. Simply cant the gun, get lower to the ground, and the Offset optic is easy to aim down.
FAQ
Will there be a Quick Detach option?
Probably not. QD mounts add bulk, which we want to stay away from. It also adds cost. Plus, there isn't a need to quickly detach an offset optic. QD on a mount like this is an answer to a non-existent problem. Thus, waste.
Should I mount this in front of my scope or behind it?
It's entirely your preference. That being said, we prefer it in front of an
LPVO
, so the distance from your eye is greater, thus opening up your field of view. Plus, with some scope mounts, it tucks nicely away in front of the scope. Mounting it behind the scope could also get in the way of some throw levers. Try it both ways and see what you like best.
Should I run it with the riser plate or without?
This is preference as well. You can choose to run it at the same height as your scope if you want a consistent cheek-weld on the stock. However, as shooters we love a more "heads up" posture when shooting, so we prefer to use it with the riser plate, regardless of how the scope is mounted.

For example, some scopes are very picky about eye-relief and in those cases, running a Standard ~1.50″ scope mount makes more sense as it allows the shooter to get a tight cheek-weld to the stock in the same place every time. Even still, we'd prefer to run the Offset with the riser so it's easier to shoot on the move with. Again… this comes down to preference.
How durable is the mount?
It's a tank. Machined from 6061 T6 aluminum bar stock with type III milspec hard anodizing. Suffice to say – your optic will break long before the mount will ever take a dent. We've been putting these through the gauntlet of use and abuse for over a year with zero issues.
How well does this retain zero if removed?
Depends on the rail. On some platforms we've had great success when moving the Offset Mount from one gun to another. Sometimes it's required a few adjustment clicks to get back on zero. Rarely has the zero been extremely off.
So… pretty well. But not always perfect.

This does bring up a point we'd like to touch on which is: we recommend treating Offset Red Dots as permanent attachments on rifles. It's an optic you can always count on while you experiment with "primary" optics.
How do I zero an Offset red dot?
Turn the gun so the Offset red dot is parallel to the ground and zero like you would normally.
There are tons of offset mounts on the market. What makes this different?

It's built for shooters. Most offset optic mounts are bulky, cumbersome, and utilize harsh 45-50 degree angles.
Ours sets at right about 35 degrees making it fast and easy to transition to and natural to aim down.
Ours accommodates the two main heights – Standard and High.
Ours is slim and minimalist, rising only 0.16″ above the rail, which makes attaching it under the front of a scope much more possible.
Ours is extremely affordable and still built like a tank.
Ours is everything a serious shooter needs and nothing they don't.
Are T.REX ARMS Mounts Covered Under Warranty? – Help – T.REX ARMS
SCAR 17S 16" Suppressed – Help – T.REX ARMS
Are Canted Red Dots Fast? – Video –T.REX ARMS