Trijicon RMR Type 2 Red Dot Sight
ITAR
This product is regulated by ITAR. It can only be shipped in the USA.
Video | What's Included | Specs | Pictures | FAQ | Related Info
The Trijicon RMR probably has the best reputation among pistol optics for defense and duty use. It's made from 7075-T6 aluminum and has a patented shape that absorbs impacts and diverts stress away from the lens, increasing durability. We offer the most popular and effective adjustable LED models.
The New RMR Type 2 has redesigned and upgraded electronics which have proven through extensive testing to properly function when mounted on pistol slides and other small arms. Also included in the new RMR Type 2 are button lock-out mode and battery-saving features, which make this optic ideal for concealed carry and law enforcement use.
With eight available brightness settings, the reticle can be manually adjusted by pressing the plus or minus buttons on either side of the unit. To switch to auto adjust mode simply press both buttons simultaneously and release. To save battery life turn the optic off by pressing both buttons simultaneously and holding for 3 seconds.
OVERVIEW VIDEO
WHAT'S INCLUDED
---
One Trijicon RMR Type 2 Red Dot Sight; One CR2032 battery; 2 RMR screws with hex wrench; Mount sealing plate; RMR manual; Trijicon sticker (PR15); Warranty card; Blue Threadlocker; Pistol red dot zero target.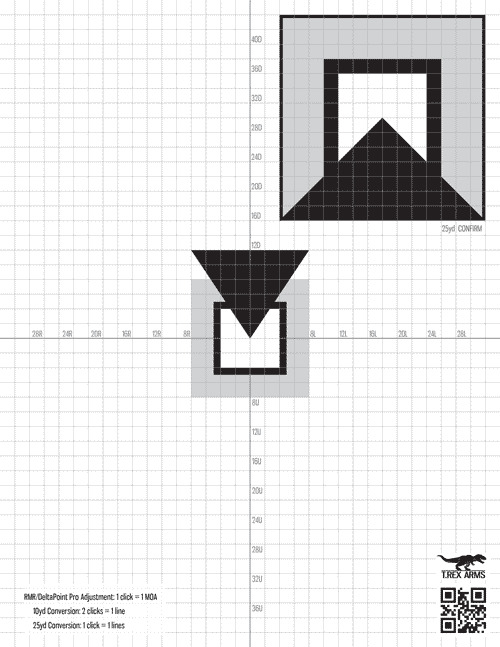 We include an 8.5″ x 11″ pistol red dot zero target with every red dot.
We recommend bench resting the pistol for stability, as you will want to minimize any potential human error.
You will want to start at 10 yards and aim for the point of the triangle in the center of the small square; your impact when zeroed should be within the center of that square.
You will then need to take the same target out to 25 yards to confirm your zero on the larger triangle/square and make any minor adjustments that may be needed.
SPECS
FEATURES
Ruggedized battery contacts and electronics ensure performance and survivability in harsh environments
Suitable for military, law enforcement, concealed carry self-defense, target shooting, and hunting applications
Multiple primary applications including rifle, pistol, shotgun and carbine, or use as a secondary sight with a magnified optic
True color, multi-coated lens creates a wide-band light transmission for minimal change in target area color
Tritium-phosphor lamp illuminates reticle in low-light conditions and fiber optics automatically adjust the brightness level and contrast to available light conditions
Adjustable LED brightness, manual/automatic modes
Automatically adjusts aiming dot to ambient lighting conditions after 16.5 hours
Compatible with night vision devices
Easily adjustable windage/elevation. No need for special tools. 1 MOA per click
Waterproof to 20 meters (66 ft.)
Tritium lamp is warrantied by Trijicon® to illuminate for 15 years from date of original manufacture
Electronics are warrantied for 5 years from date of original manufacture
Note: If selecting an RMR for mounting on the Glock MOS, Springfield OSP, Walther PDP, or H&K VP9 Optics Ready, a Trijicon RMR mounting kit (AC32064) is required
---
Length x Width x Height
1.8 in x 1.1 in x 1 in
(45.72mm x 27.94mm x 25.4mm)
Weight
1.2 oz (34.02g)
Magnification
1x
Reticle Pattern
1 MOA (RM09) OR 3.25 MOA Dot (RM06)
Day Reticle Color
Red
Night Reticle Color
Red
Bullet Drop Compensating (BDC)
No
Bindon Aiming Concept (BAC)
No
Illumination Source
LED
Power Source
1 CR2032 Lithium Battery
Battery Life
Over 4 years of continuous use (when used at 70ºF (21ºC)) at setting 4 of 8. *Extreme temperatures (high or low) will affect lithium battery performance.
Adjustment
1 MOA Per Click
Housing Material
Forged Aluminum
PICTURES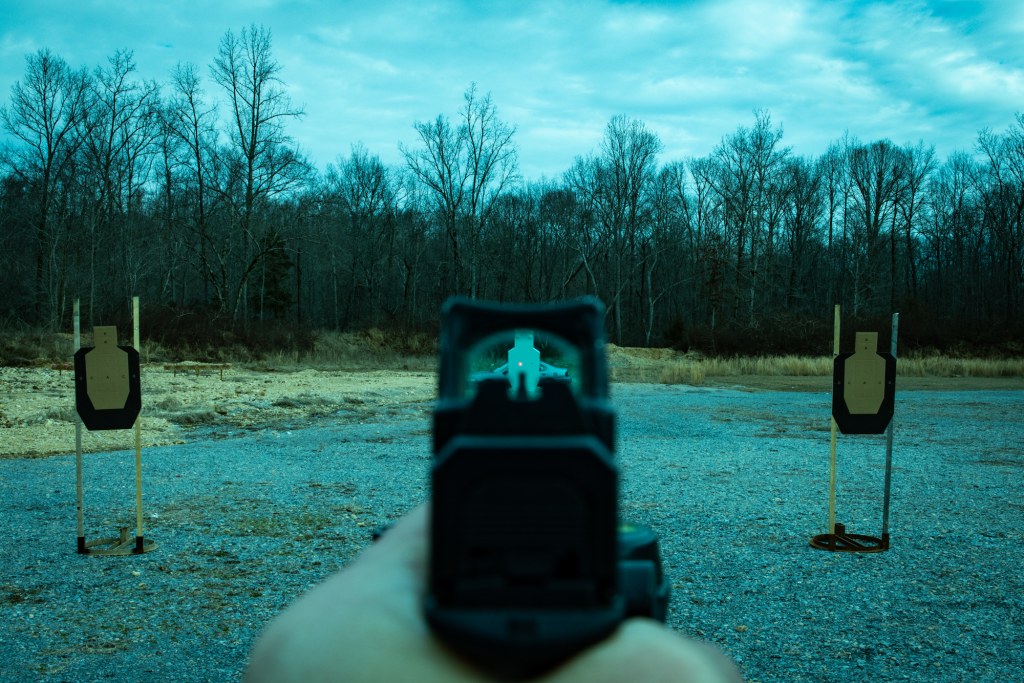 RM06 mounted to a Scalarworks LEAP on a Z-5RS.
We've never seen ejecting brass destroy an RMR. The RMR was designed to take serious abuse. A recoiling slide over and over will do more damage to an optic than the occasional piece of brass hitting the housing or glass.
FAQ
3.25 or 1 MOA?
The most common option chosen is the 3.25. But we think the 1 MOA is viable as well. The 1 MOA is very handy for longer-range shots and if you want a more refined aiming point. If the brightness is turned up all the way on the 1 MOA version, the dot resembles a 3 MOA dot or larger. So it's still easy to pick up. Once you start dimming it down it gets nice and refined. More so than the 3.25 version. If you're new to pistol optics, go with 3.25 MOA. If you're more experienced and like to dabble in longer-range activities with pistols… consider the 1 MOA.
So… RMR or DeltaPoint Pro?
This is the big question. We like the RMR more for conceal-carry due to the fact you can easily adjust the brightness. It's also a smaller optic and there are more sights on the market that co-witness. The DeltaPoint is obviously more cost-effective, the window is larger, and the glass is clearer. A lot of it comes down to personal preference. Both are very viable optics.
What distance should I zero at?
The most popular pistol zero is 25 yards. But… we've found that an accurate 10-yard zero is generally more effective and the holds are much flatter out to 100 yards compared to a 25 yard zero. Our recommendation is that you zero for 10, make sure your group is tight, and then tailor your zero as you shoot. Particularly if you have somewhere you can shoot some distance. Like 50+ yards. Yes. With a pistol. You can do it. We believe in you.
Can I rack my slide off my RMR?
Oh yeah. RMRs are crazy durable.
How good is the auto setting on the RM06/RM09?
It's impressive, but auto-brightness settings aren't very effective once you start introducing weapon lights into the mix. RMRs read light from above to determine what brightness the dot should be. So once you push 400-1000 lumens towards a target/threat, the dot washes right out. Most of the time. Manual is better. Pretend you're a rally driver.
14.5 FSP Block II – Help – T.REX ARMS
Red Dot Pistol Backup Irons Drill – Video – T.REX ARMS
Trijicon RMR Type 2 Red Dot Sight Overview – Video – T.REX ARMS