Video | What's Included | Specs | Pictures | FAQ | Related Info
The Ironside Pistol Mag Carrier allows you to carry a spare magazine on your support side. It has the same upgrades, improvements, and ergonomics as the Ironside holster itself. It comes with 1.5″ or 1.75″ adjustable belt loops and features adjustable retention screws so you can dial in the retention on the mag just the way you like it. It also comes with a Carrier Connector, which can link the carrier with other options in the Ironside Carrier System to create an ideal configuration based on your needs.
OVERVIEW VIDEO
WHAT'S INCLUDED
---
One T.REX Ironside Pistol Mag Carrier with belt loop pair installed; One Carrier Connector
SPECS
---
Use with a 1.5″ or 1.75″ wide belt (nothing smaller)

The texture on the inside of the belt loops is intended to grab the fabric of your pants and stabilize the carrier better
Made from precision-formed .093″ Kydex
All hardware adjusts retention
Use the Carrier Connector to connect it to other Ironside Carriers, if desired
View the Ironside Hardware Diagram HERE.
Made in the USA by T.REX ARMS.
PICTURES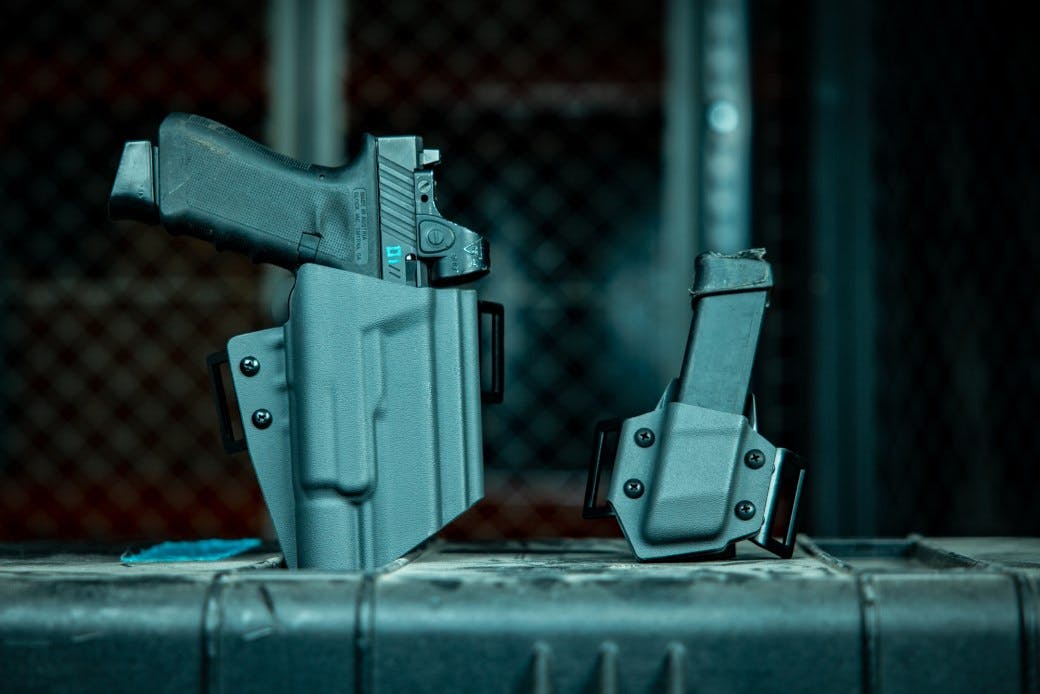 Other Ironside Products
FAQ
What kind of belt should I put this on?
Our
NOVA Belt
pairs extremely well with this holster and the
Ironside Carrier System
.
Other belts that we've tested and recommend are Kore Essentials and Ciguera.
Ironside Carriers will not work well on over-the-pants style battle belts like our
Orion
. In some cases, the Ironside can work on thinner competition-style two-piece belts, but its not suited for that very well.
Should I get this Ironside Pistol Mag Carrier or a Ragnarok Pistol Mag Carrier?
The Ironside Pistol Mag Carrier is better for concealing under a coat, jacket, or button-up shirt.
The
Ragnarok
Pistol Mag Carrier, when combined with the
Tek-Lok
, is ideal for two-piece competition-style belts. When worn with a normal belt, like our NOVA Belt, for concealment purposes, the Ragnarok carrier sticks out and prints a bit too much.
Ironside Pistol Mag Carrier Overview – Video – T.REX ARMS