Video | What's Included | Specs | Sizing | Set Up Video | Pictures | Related Info
Effective belt systems have become very popular with law enforcement, military, and prepared citizens. They enable gear to be worn on the hips with accessibility and good support by the body; all in a system that is very fast to put on. T.REX ARMS worked with Coyote Tactical Solutions to create a belt design that incorporated the features we always wanted in a belt.
The result was the T.REX ARMS Orion: a low profile, light-weight, non-slip belt sleeve. We wanted a belt that would stay stuck to the user. Whether you're dropping to a prone position, shooting behind cover in an adverse position, or sprinting, the Orion provides minimal shifting with rubber non-slip material on the inside, as well as three tie-downs that you can attach to your pants belt.
The Orion 4.0 replaces the old neoprene system, which can flex/roll, slip when wet, or break down after hard use. Our new foam laminate is a multi-stage foam that incorporates an outer non-slip rubberized foam, an inner padding layer, and an integrated stiffener with 600D fabric coating to prevent abrasion from your inner belt. It is built to last, and what we think will be the industry standard going forward.
VIDEO
WHAT'S INCLUDED
---
One Orion Outer Belt with two clash hooks attached. Inner belt NOT included. You can view ours, specifically designed for the Orion, here.
SPECS
---
All Outer Orion Belts are 3.25″ wide and lined on the inside with non-slip rubberized foam. There are four velcro tie-downs for attaching the Outer Belt to your EDC belt. Made with Berry Compliant materials.
Note: The Orion Outer Belt requires an inner belt to function. It will work with a variety of inner belts– it doesn't have to be ours. The inner belt should be between 1.5-1.75″ wide.
Made in the USA by Coyote Tactical Solutions.
SIZING
---
DISCLAIMER: Our Orion Belts DO NOT follow normal pants sizing. You need to measure yourself before ordering. DO NOT ORDER UNTIL YOU MEASURE YOURSELF. Click here for instructions and sizing specs.
| | | |
| --- | --- | --- |
| | Orion Outer Belt | Orion Inner Belt |
| Medium | 36″ (21 panels) | 29″-46″ |
| Large | 40″ (24 panels) | 35″-52″ |
SET UP VIDEO
PICTURES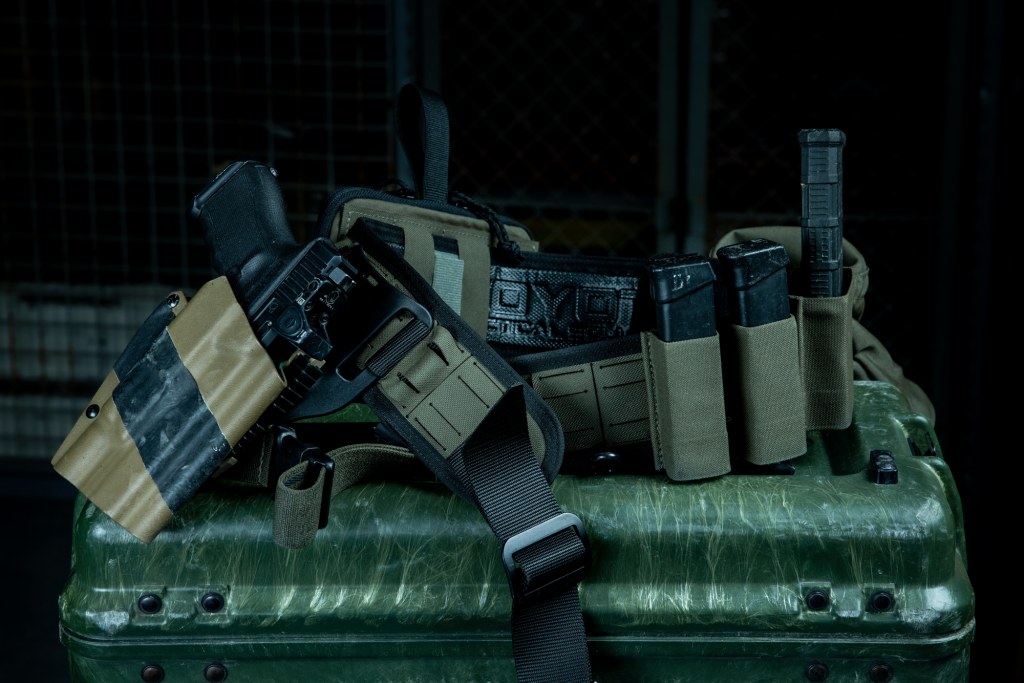 What Size Orion Belt Should I Get? – Help – T.REX ARMS
Can I Exchange Retail Items? – Help – T.REX ARMS
How to Install MOLLE Accessories – Video – T.REX ARMS
Are T.REX ARMS Nylon Products Covered Under Warranty? – Help – T.REX ARMS