Video | What's Included | Specs | Sizing | Set Up Video | Pictures | Related Info
The Orion belt is a low-profile, lightweight, non-slip sleeve-style belt. Whether you're dropping to a prone position, shooting behind cover in an adverse position, or sprinting, the Orion provides minimal shifting with a non-slip rubber material on the inside, as well as three tie-downs that you can attach to your pants belt. The inner padding is a multi-stage foam incorporating an outer non-slip rubberized foam, an inner padding layer, and an integrated stiffener with 600D fabric coating to prevent abrasion from your inner belt, further increasing durability. The Orion works well in any condition but lends itself to colder weather because it can be worn over jackets and other clothing and doesn't need an inner pants belt like most 2-piece systems, leaving no gaps in your clothing.
VIDEO
WHAT'S INCLUDED
---
One Orion Outer Belt with two clash hooks attached. Inner belt NOT included. You can view ours, specifically designed for the Orion, here.
SPECS
---
All Outer Orion Belts are 3.25″ wide and lined on the inside with non-slip rubberized foam. There are four velcro tie-downs for attaching the Outer Belt to your EDC belt. Made with Berry Compliant materials.
Note: The Orion Outer Belt requires an inner belt to function. It will work with a variety of inner belts– it doesn't have to be ours. The inner belt should be between 1.5-1.75″ wide.
Made in the USA by Coyote Tactical Solutions.
SIZING
---
DISCLAIMER: Our Orion Belts DO NOT follow normal pants sizing. You need to measure yourself before ordering. DO NOT ORDER UNTIL YOU MEASURE YOURSELF. Click here for instructions and sizing specs.
| | | |
| --- | --- | --- |
| | Orion Outer Belt | Orion Inner Belt |
| Medium | 36″ (21 panels) | 29″-46″ |
| Large | 40″ (24 panels) | 35″-52″ |
SET UP VIDEO
PICTURES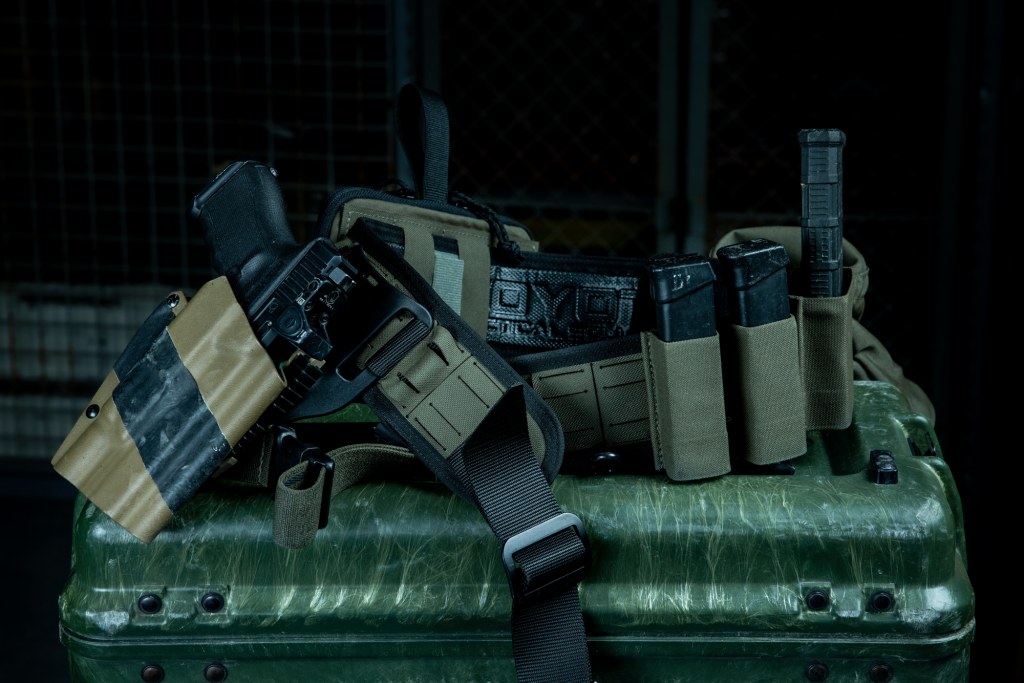 What Size Orion Belt Should I Get? – Help – T.REX ARMS
Can I Exchange Retail Items? – Help – T.REX ARMS
How to Install MOLLE Accessories – Video – T.REX ARMS
Are T.REX ARMS Nylon Products Covered Under Warranty? – Help – T.REX ARMS