SureFire X300V WL/IR Illuminator
ITAR
This product is regulated by ITAR. It can only be shipped in the USA.
What's Included | Specs | FAQ | Restrictions | Related Info
Running night vision sometimes calls for special equipment in addition to the night vision goggles themselves. When running pistols with nods, red dot optics like the Trijicon RMR and Leupold DeltaPoint Pro are hugely advantageous. Likewise, an IR illuminator attached to the pistol is almost equally important.
The SureFire X300V is the perfect light for white light and no-light purposes. The head of the light is rotatable to toggle between WL, OFF, and IR modes. In white light mode, the light outputs 350 lumens. The X300V fits standard X300U holsters, but you will need to tighten the retention on the holster a little extra due to the smaller bezel.
WHAT'S INCLUDED
---
X300V-B WeaponLight; Battery Cover; Battery Cover Retaining Pin; Universal Cross-member (marked "U," installed); Picatinny Cross-member (marked "P"); Two 123A Batteries.
SPECS
---
FEATURES
Virtually indestructible white-light and infrared LEDs regulated to maximize output and runtime
TIR lens shapes white or IR output into a focused beam with ample reach and surround light for close- to medium-range applications
Securely attaches to either a pistol or long gun via its T-slot thumbscrew clamp
On-the-fly bezel switching between white-light, infrared, and disable mode; no IR filter required
Integral ambidextrous momentary- and constant-on switching
All performance claims tested to ANSI/NEMA FL1-2019 Standard.
View the User Manual HERE.
Output
White: 350 lumens
Infrared: 120mW / 860 nm
Runtime
White: 2.5 hours
Infrared: 16.75 hours
Peak beam intensity
12,750 candela
Distance
225 meters
Construction
Aluminum
Finish
Mil-Spec Hard Anodized
Weight (w/ batteries)
4.0 oz (113 g)
Length
4.0 in (10.0 cm)
Bezel diameter
1.06 in (2.7 cm)
Switching
Ambidextrous push/toggle
Batteries
Two 123A lithium (incl.)
Liquid ingress protection
IPX7, Submersion up to one meter for 30 minutes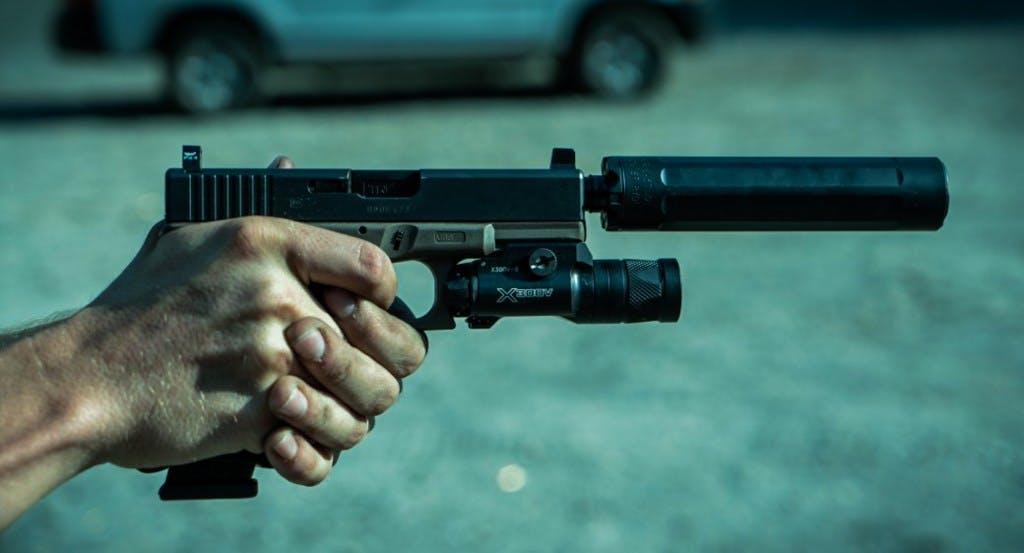 FAQ
Does the X300V fit in the holsters for the
X300U
?
Yep, it fits all
holsters
for the X300U. The retention will be slightly different between the two lights, but that's what our adjustable retention is for.
How does the white light compare to the X300U?
The output is more concentrated than the X300U, which has a wider flood. But at standard handgun distances, the beam is totally sufficient.
RESTRICTIONS
---
This product is restricted by International Traffic in Arms Regulations (ITAR) and cannot be shipped outside of the USA.
SureFire products cannot be shipped outside of the US.
Adding and Removing Your Pistol Light – What holster do you need? – Help – T.REX ARMS
I'm New to Guns, Which Holster Should I Get? – Help – T.REX ARMS
Handheld Lights vs. Weapon Lights – Video – T.REX ARMS