Video | What's Included | Specs | Pictures | FAQ | Restrictions | Related Info
The SureFire X300U is one of the most widely-issued weapon lights in special operations and law enforcement units. And for good reason. It boasts an impressive track record, is nearly indestructible, and has improved with the times at a steady pace. The current X300U can put out 1000 lumens for 1.25 hours on two CR123A batteries. The beam is tight with a focused center and spill on the edges. This means the light can be used at distance very nicely. Activating the X300 Ultra is done via intuitive, ambidextrous switches—now wider and shorter for improved ergonomics—at the rear of the body. Simply press the switch on either side for momentary-on activation or flip up or down for constant-on activation. We highly recommend the X300 series of lights at T.REX ARMS.
The X300 Ultra is comprised of two models, the "A" and "B". These signify the attachment system of the light. The A model features Surefire's Rail-Lock system, a latch attachment. You pull down on the two levers on the side of the light and slide the X300 onto the rail system. It will then lock in place. The B model has a T-slot mounting solution that is tightened by hand, and then turned a half rotation with a flathead screwdriver, bullet casing, knife, etc.
OVERVIEW VIDEO
WHAT'S INCLUDED
---
X300U-A model: X300 ULTRA WeaponLight; Battery Cover; Battery Cover Retaining Pin; Universal Lever Latch (marked "U," installed); Picatinny Lever Latch (marked "P"); Spring (installed); Rail Latch Lock; Universal Rail Latch (marked "U"); Picatinny Rail Latch (marked "P"); Lock Actuator; Lock Actuator Screw; 5/64" Hex Wrench; One Tube Loctite 242; Two 123A Batteries
X300U-B model: X300 ULTRA WeaponLight; Battery Cover; Battery Cover Retaining Pin; Two 123A Batteries; Picatinny Crossmember
SPECS
---
FEATURES
Recoil-proof high-performance LED produces 1,000 lumens
Custom TIR lens creates smooth, far-reaching light with a larger center spot beam that is ideal for close- to medium-range engagements
Integral ambidextrous momentary- and constant-on switching provides easy instant activation
Attaches securely to both Universal and Picatinny accessory rails
IPX7 waterproof to 1 meter for 30 minutes
High-strength aerospace aluminum body is Mil-Spec hard-anodized for extreme durability
Accepts optional pressure-activated DG and XT remote switches for precision control without altering grip on weapon
View the User Manual for the X300U-A model HERE and the User Manual for the X300U-B model HERE.
Made in the USA.
| | |
| --- | --- |
| OUTPUT | 1,000 lumens |
| RUNTIME* | 1.25 hours |
| PEAK BEAM INTENSITY | 11,300 candela |
| DISTANCE | 213 meters |
| CONSTRUCTION | Aluminum |
| FINISH | Mil-Spec Hard Anodized |
| WEIGHT (w/ batteries) | 4.0 oz (113 g) |
| LENGTH | 3.76 in (9.55 cm) |
| BEZEL DIAMETER | 1.125 in (2.9 cm) |
| BATTERIES | Two 123A lithium (incl.) |
| SWITCHING | Ambidextrous push/toggle |
| LIQUID INGRESS PROTECTION | IPX7, Submersion up to one meter for 30 minutes |
*Continuous hours until output drops to 10% of normal output
PICTURES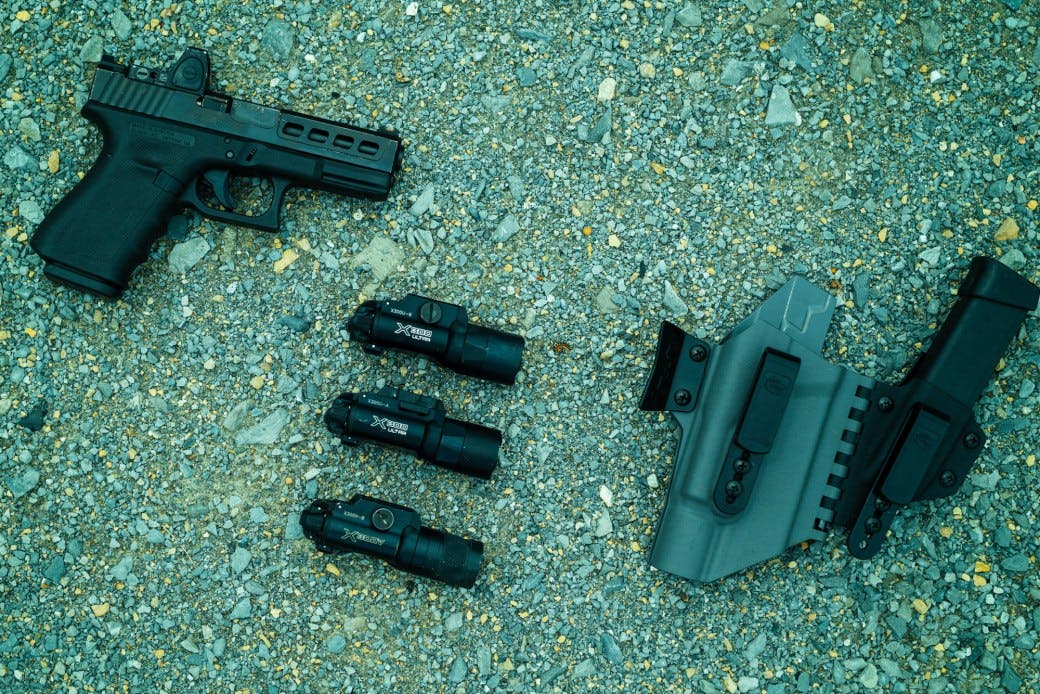 FAQ
Which attachment option should I choose?
SureFire makes the A quick latch model for polymer frame guns and the B thumb screw model for metal frame guns.
What makes the X300 ULTRA different from the
X300 TURBO
?
The Ultra has more lumens than the X300T (1,000 vs. 600) and more flood, but less peak beam intensity (11,300 vs. 66,000 candela) and less throw (40 vs. 150 meters). The battery life is slightly less than the TURBO (1.25 vs. 1.5 hours). We tend to opt for higher candela options like the TURBO, but it does come down to mission and preference—more flood may be the best for you.
RESTRICTIONS
---
SureFire products cannot be shipped outside of the US.
Adding and Removing Your Pistol Light – What Holster Do You Need? – Help – T.REX ARMS
I'm New to Guns, Which Holster Should I Get? – Help – T.REX ARMS
SureFire X300U Overview – Video – T.REX ARMS
Handheld Lights vs. Weapon Lights – Video – T.REX ARMS