Overview Video | Setup Video | What's Included | Specs | Pictures | FAQ | Related Info
If you order a Safariland attachment separately from your Ragnarok, you will need to request a "Ragnarok Hardware Pack" in your customer notes. However, no hardware pack is needed if you order the items together—we'll assemble them for you before shipping.
Suppressed pistols have their place, but holstering them has always been a challenge. While there have been suppressor "compatible" holsters on the market for some time, there aren't any that we like or approve of. That's why we made the RagnarokSD, an outside-the-waistband holster with the same consistency, reliability, and durability as our standard Ragnarok holster. It has an open-front holster design, constructed of heavy-duty .125″ Kydex, and, on the back, has the super-modular Ragnarok hole pattern that accommodates Blade-Tech, Safariland, Blackhawk, or G-CODE accessories. At the bottom of the RagnarokSD are our unique stabilizer wings that the user modifies with a heat gun or blow dryer to fit their specific suppressor + handgun combination. When formed to your suppressor these wings will increase the overall stability of your weapon when holstered. The angle at which the side of the holster is cut serves as a ramp that smooths out the draw process as well.
This holster
requires a
SureFire X300T, X300U, X300V,
OR a
SureFire XVL2
on your handgun.
This holster is compatible with many modern handguns as long as the X300T/U/V or XVL2 is attached. See
below
for the full compatibility list before purchasing.
The RagnarokSD
must be modified
using a heat gun or hairdryer in order to achieve proper fit on your gun + suppressor combination. Look below to see a
video
about how to do this.
SETUP VIDEO
OVERVIEW VIDEO
WHAT'S INCLUDED
---
One T.REX RagnarokSD Holster. (Attachment must be ordered separately.)
If you add an attachment to your cart when purchasing the holster, we will install it for you before we ship it so your holster is ready to roll right out of the box.
SPECS
---
The RagnarokSD is only compatible with the SureFire X300T, X300U, X300V OR the SureFire XVL2.
It will fit the A and B versions of the X300T/U/V lights, but we recommend you use the B model for added security. The RagnarokSD does not work with the Original X300 or the X300UH.
The RagnarokSD Fits:
The RagnarokSD

Does NOT

Fit:
Glock 19/17/34/45 (and .40/.357)
Glock 21/20 Glock 30/29
CZ P-10C, P-01, SP-01, P-07, P-09, Shadow 2
HK P30, P2000, VP9, HK 45 HK USP9 with MR09 rail
Springfield XD, XD Mod.2, XDM
Walther PPQ, Q4, Q5, PDP
Beretta M9A1
FN FNX-45, 509, FNS
SIG P320, P320-XTEN, P226, P227, P229, P220, MK25
S&W M&P series
Canik TP9
P-80
Ruger MK IV (Railed)
1911 Operator
2011/Springfield Prodigy
NOTE: This list only covers what we have tested so far. It should work with anything you can put an X300T/U/V or XVL2 on, but we haven't tested it on everything.
PICTURES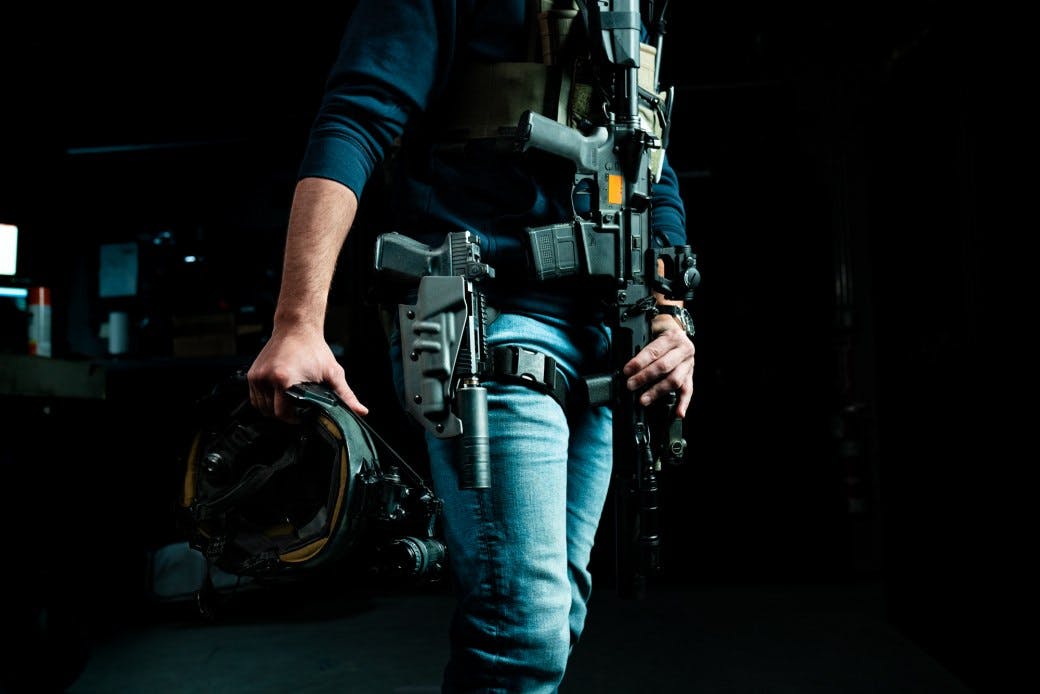 FAQ
What belt attachment should I get?
We have a quick overview of all the mounting solutions we offer
HERE
, showcasing what each one provides. Our favorite solution is what we call "The Complete Ragnarok Setup" — which we cover in-depth
HERE
. If you think you already know what you want,
click here
to pick it out and put it in your cart.
LVAW Sig MCX 300 BLK Loadout – Help – T.REX ARMS
I'm New to Guns, Which Holster Should I Get? – Help – T.REX ARMS
I Ordered the Wrong Holster, Can I Return It? – Help – T.REX ARMS
T.REX ARMS Holster Warranty Policy – Help – T.REX ARMS