Video | What's Included | Specs | Restrictions | Related Info
The advanced SureFire SOCOM muzzle brake greatly reduces both recoil impulse and muzzle rise so that the weapon tracks straight back to keep you on target for faster shot-to-shot recovery. Its patented Impulse Diffusion design minimizes side blast and rear-directed concussion effects. The SureFire SOCOM Brake also serves as a suppressor mount for SureFire SOCOM suppressors
As fun as muzzle brakes are, we prefer 
flash hiders
 and 
Warcomps
 for more practical purposes. But if you're needing a quality brake, consider the SureFire for sure. Especially if you're about that suppressed life.
OVERVIEW VIDEO
WHAT'S INCLUDED
---
One SureFire SOCOM Muzzle Brake Suppressor Adapter; Shim/Spacer Kit; User Manual; Rocksett.
SPECS
---
FEATURES
Offset porting delivers greatly reduced recoil impulse and muzzle rise, so the weapon tracks straight back to keep you on target for faster shot-to-shot recovery
Multiple bearing surfaces for superior suppressor alignment
Precision machined from U.S. mill-certified heat-treated stainless steel bar stock
High-precision single-point cut barrel threads for optimum thread interface
Inspected for all critical dimensions, including concentricity and alignment
Pilot holes for tuning of muzzle brake and to pin-and-weld to rifle barrel as needed
DLC coating provides maximum protection against harsh environmental conditions and facilitates cleaning after extreme use
Serves as a rock-solid mounting adapter for SureFire SOCOM Series sound suppressors
Labyrinth seals prevent carbon buildup on suppressor lock ring indexing system
Mounts all SureFire SOCOM Series suppressors
Precision machined from U.S. mill-certified, heat-treated stainless steel bar stock. DLC coating.
View the SureFire User Manual SOCOM Suppressor Adapter Installation Instructions HERE.
NOTE: SureFire SOCOM Series Fast-Attach sound suppressors and current-model Warcomps, muzzle brakes, and flash hider adapters are NOT compatible with previous (non-SOCOM) SureFire Fast-Attach sound suppressors, muzzle brakes, or flash hiders.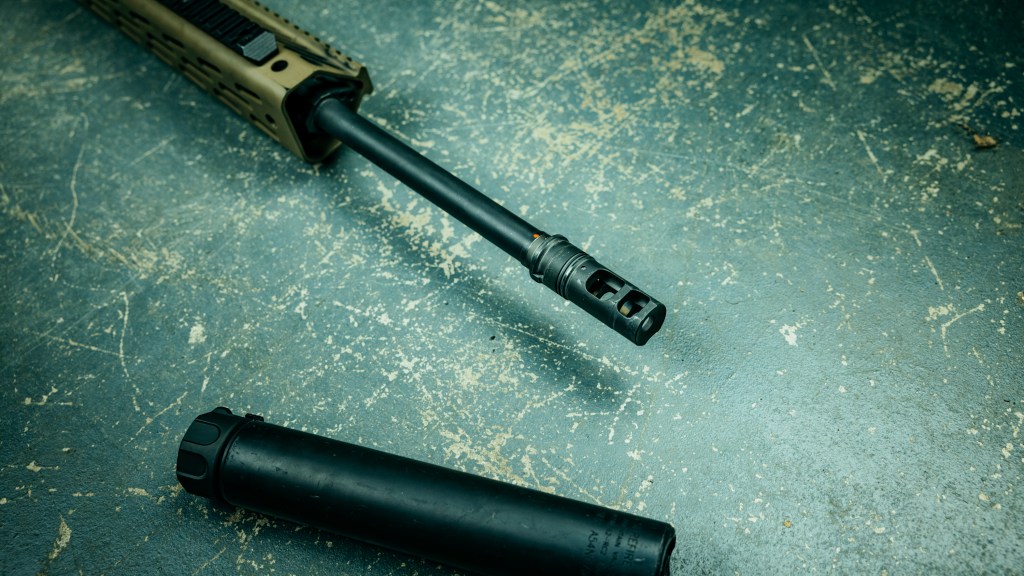 RESTRICTIONS
---
SureFire products cannot be shipped outside of the US.
Surefire Muzzle Devices – Video – T.REX ARMS