Video | What's Included | Specs | Pictures | FAQ | Restrictions | Related Info
At T.REX ARMS we believe that being trained and prepared for the aftermath of any violent encounter is just as important as training for the encounter itself. Carrying medical gear and understanding some basics in trauma response can make a huge difference.
Tourniquets are relatively easy to carry on your person and reduce the need to improvise, something you don't want to do unless you have to. The SAM XT Tourniquet features a knurled metal windless and a ratcheting buckle, otherwise it is very similar to the CAT Tourniquet.
OVERVIEW VIDEO
WHAT'S INCLUDED
---
One SAM XT Tourniquet (Black)
SPECS
---
SAM XT Tourniquet is recommended by the U.S. Department of Defense's Committee on Tactical Combat Casualty Care (CoTCCC).
TRUFORCE Buckle technology auto-locks at a predetermined amount of circumferential force (5.5 in – 35 in), eliminating nearly all tourniquet slack. Simply click, twist, and secure for a life-preserving tourniquet application.
Innovative design of TRUFLEX Plate, Metal Windlass Rod, Time Band, and Precision Strap requires fewer adjustments and decreases application variation through consistent anticipation of windlass turns.
Size and weight vary by configuration and manufacturing process.
Made in the USA.
View Product Overview HERE. View Instructions for Use HERE.
PICTURES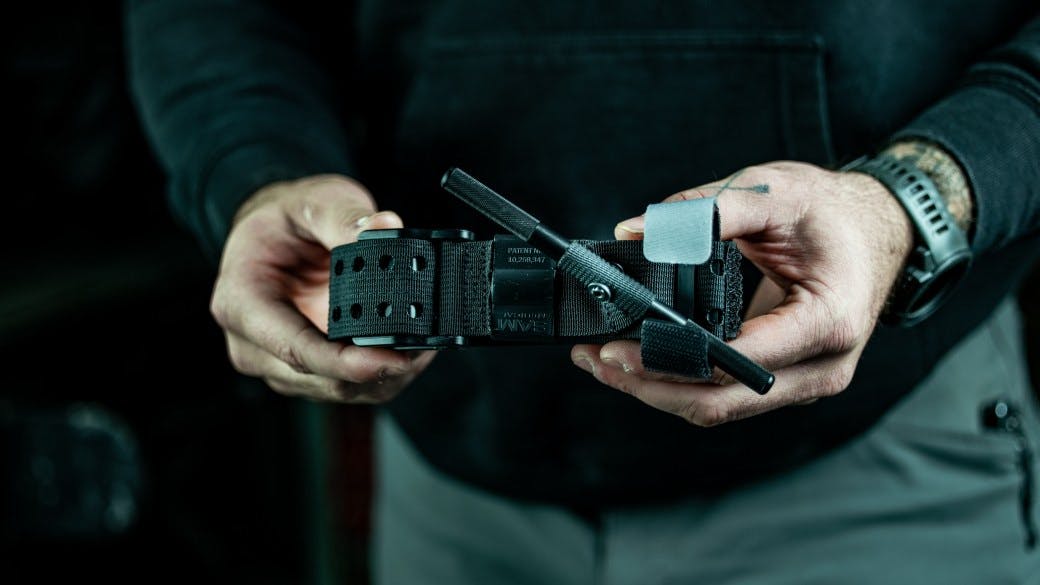 FAQ
Why would I choose the SAM XT over the CAT Tourniquet from North American Rescue?
In our eyes, it's not SAM vs. CAT; it's just another option to act as a redundancy. Both the CAT GEN 7 and SAM XT are 
CoTCCC-approved
 and come from well-known, trustworthy suppliers.
Will this fit in the Sidecar or Ironside Tourniquet holders?
RESTRICTIONS
---
SAM Medical products cannot be shipped outside of the US.
SAM XT Training | Resetting During Training – Video – SAM Medical
SAM XT Training | High & Tight Application – Video – SAM Medical
SAM XT Training | Self-Aid Upper Extremity – Video – SAM Medical
SAM XT Training | Partner-Aid Upper Extremity – Video – SAM Medical
SAM XT Training | Self-Aid Lower Extremity – Video – SAM Medical
SAM XT Training | Partner-Aid Lower Extremity – Video – SAM Medical