Video | What's Included | Specs | Pictures | Restrictions
At T.REX ARMS, we believe that being trained and prepared for the aftermath of a violent encounter is just as important as training for the encounter itself. Carrying medical gear and understanding some basics of trauma care can make a huge difference. This expanded kit is perfect for backpacks, vehicles, or anywhere you may need medical gear, including pouches on warbelts or plate carriers. We definitely recommend supplementing this kit with a CoTCCC-approved TQ of your choice.
OVERVIEW VIDEO
WHAT'S INCLUDED
---
1x HyFin Vent Chest Seal, Twin-Pack.
1x QuickClot Combat Z-Fold Hemostatic Gauze.
1x Compressed Gauze.
1x Roll of Duct Tape – 2 in. x 100 in.
1x Pair of Bear Claw Nitrile Gloves – Medium.
1x Nasopharyngeal Airway w/ Lube – 28F.
2x Elastic Wrap, Flat – 4in. x 5 yd.
SPECS
---
TERMINOLOGY
Tension Pneumothorax

: This is a condition where air accumulates in the chest cavity, creating pressure and potentially causing a collapsed lung. The Greek words pneumo & pneuma mean "lungs" or "air." Therefore a pneumothorax is air in the chest cavity outside the lungs (also called the pleural space). In some cases, the pressure of both the lung and the tension pneumothorax can apply pressure to the heart muscle, which could be urgent and deadly.
FEATURES
HyFin Vent Chest Seal, Twin-Pack.
Designed for the prevention, management, and treatment of an open and/or tension pneumothorax potentially caused by a penetrating chest trauma.
Patented, new design with 3-channel pressure relief vents.
Comes with two chest seals—designed for the treatment of both entry/exit or multiple penetrating injuries.
Advanced adhesive technology is designed to provide a superior seal in the most adverse conditions, including sweaty or hairy casualties.
Easy-to-grip large red tab for single-step peel-and-apply application that allows for the burping of the wound if necessary.
Made in Singapore.

QuickClot Combat Z-Fold Hemostatic Gauze.
Promotes clotting within minutes, allowing responders to control bleeding in an efficient and timely manner.
Includes embedded X-ray detectable line.
Eight tear points for quicker application.
Produces NO Heat.
5-year shelf life.
Made in the USA.
Compressed Gauze.
4.5 in. x 4.1 yd Sterile, 6-ply 100% cotton gauze.
The compressed, rolled gauze is ideal for wound bandaging and wrapping injuries.
Unique crinkle weave ensures excellent fluid absorption.
Ultra-compact size that expands to cover larger wound areas.
Made in Taiwan.
Roll of Duct Tape – 2 in. x 100 in.
Latex free.
Industrial Grade Adhesive.
Small Cube Size.
Multipurpose.
Bear Claw Nitrile Gloves.
100% nitrile gloves. Non-sterile.
Textured for improved wet and dry gripping.
Longer and thicker than standard nitrile gloves.
Extended, beaded cuff for quick and easy donning.
Sand color.

Nasopharyngeal Airway w/ Lube – 28F.
Designed for semi-conscious or unconscious patients with an intact gag reflex.
MEDIPRENE® construction.
Trumpet design for secure placement.
Made in Malaysia.
Elastic Wrap, Flat – 4in. x 5 yd.
Latex-free Elastic Wrap Bandage designed to provide support and compression.
Hook Closure enables the bandage to be wrapped easily and secured without clips.
Ideal for securing hot/cold packs, splinting, sprains, strains, swelling, and general soreness.
Assembled by Chinook Medical.
TECHNICAL SPECIFICATIONS
| | |
| --- | --- |
| Length x Width | 8.5″ x 4.5″ |
| Thickness | 1.75″ (Approximately) |
| Weight | 11 oz. |
PICTURES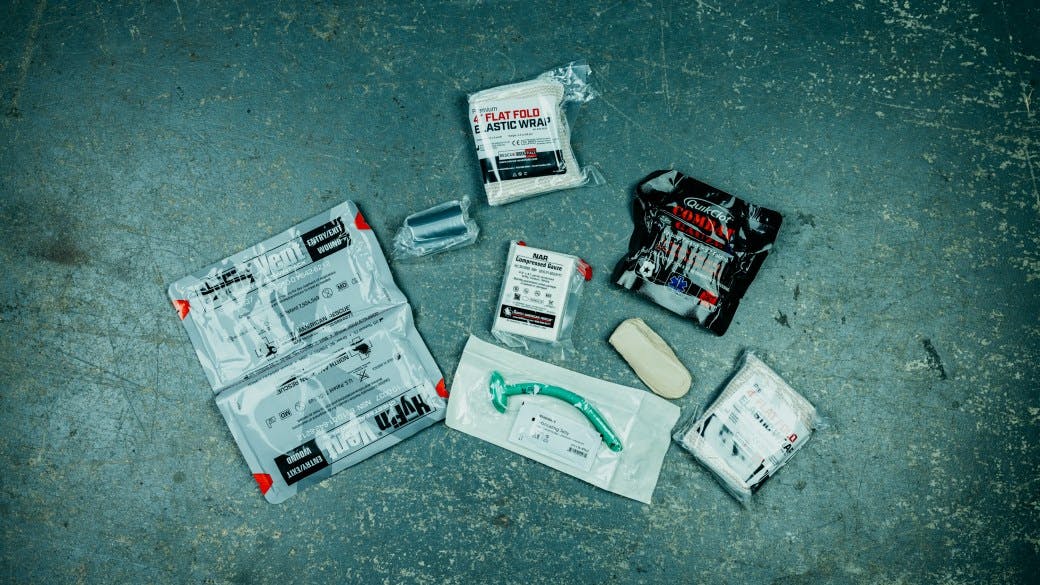 RESTRICTIONS
---
The ITRK contains products that cannot be shipped outside of the US.