Video | What's Included | Specs | Pictures | Related Info
Whether you're at the range, rucking in the woods, or just driving to or from work, having one or more tourniquets handy is a must. Our T.REX Tourniquet Pouch is a versatile way to carry one just about anywhere. It can be attached with the integrated One-Wrap and worn horizontally on a belt or anywhere One-Wrap can be used, and can also be attached to your kit vertically via 1 column of MOLLE. The Tourniquet Pouch was designed to fit most CoTCCC recommended tourniquets, even larger options like the SAM XT and AlphaPointe TMT. The pouch also features a sleeve for trauma shears, with a built-in retention strap. This sleeve will fit all your standard trauma shears as well as the Leatherman Raptor shears. Elastic slots on either side of the pouch add a little retention but are also great for Sharpies or decompression needles.
OVERVIEW VIDEO
WHAT'S INCLUDED
---
One T.REX Tourniquet Pouch
SPECS
---
FEATURES
Sized to fit the NAR CAT but will also fit most other CoTCCC recommended tourniquets, including the AlphaPointe TMT and SAM XT.
Integrated trauma shear pocket with retention strap.
Can be mounted either horizontally or vertically.
Hard-sewn One-Wrap for horizontal mounting to belts.
Built-in MOLLE strap for vertical mounting to 1 column of MOLLE/PALS webbing.
Made in the USA.
TECHNICAL SPECIFICATIONS
| | |
| --- | --- |
| Width | 2.25 inches |
| Depth | 2 inches |
| Height | 6.5 inches |
| Weight | 2.5 ounces |
PICTURES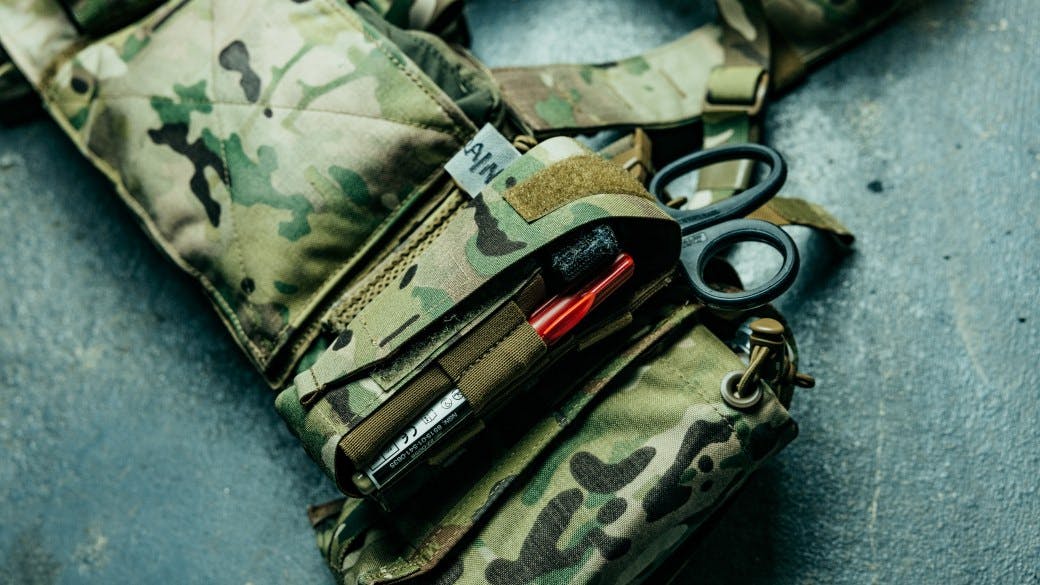 Are T.REX ARMS Nylon Products Covered Under Warranty? – Help – T.REX ARMS