Trijicon Bright & Tough Suppressor Sights for Glock
Ships in 1-5 business days
ITAR
This product is regulated by ITAR. It can only be shipped in the USA.
Video | What's Included | Specs | Pictures | FAQ | Restrictions | Related Info
Trijicon Suppressor Sights are three-dot tritium iron sights that allow shooters the ability to line up their sights in both bright and low-light environments.
Standard height sights do not provide an aiming solution when using a suppressed firearm, but the additional height of suppressor height sights will clear the added height of a suppressor, allowing shooters to line up their sights on target. Additionally, suppressor height sights can be used as backup iron sights with some pistol-mounted optics like the Trijicon RMR and SRO.
VIDEO
WHAT'S INCLUDED
---
Trijicon Bright & Tough Suppressor Sights for Glock— One Front Sight and One Rear Sight.
SPECS
---
Housed in a metal body and cushioned within silicone rubber, Bright & Tough Night Sights feature a unique shock-resistant design. Each lamp is capped with a sapphire jewel to help evenly distribute the light while protecting the lamp from solvents and puncture. Contained within aluminum cylinders for additional protection, the lamps are mounted on silicone rubber cushions to withstand shock and heavy recoil. Green lamps are warrantied for 12 years from the date of manufacture.
GL201-C-600661 – Front: Black Outline / Green Tritium, Rear: Black Outline / Green Tritium with Square Notch.
Compatible with Glock Models: 17, 17L, 19, 22, 23, 24, 25, 26, 27, 28, 31, 32, 33, 34, 35, 37, 38, 39, and 45.
Front Blade Overall Height: 0.418 in. (10.61mm)
Rear Blade Overall Height: 0.451 in. (11.45mm)
PICTURES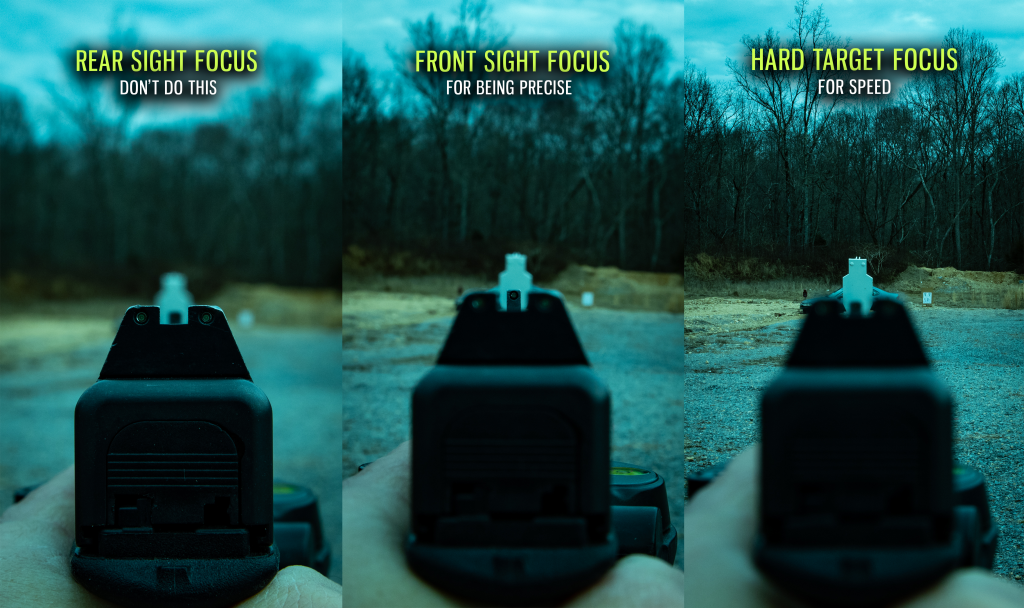 FAQ
How do I install these?
To install the front sight, you'll want to purchase a
Glock Front Sight Tool
and use a drop of blue Loctite.
For the rear iron, you can use a brass punch and hammer, but it is very difficult to do, let alone do it accurately. The best tool for the job is a
Wheeler Engineering Sight Tool
. They are pricey, but a wise investment. Get a couple of buddies or family members that can all benefit from using it, have them pitch in, and it becomes a "community" tool that you can use to install / uninstall / tweak just about any iron sight on any handgun.
RESTRICTIONS
---
This product is restricted by International Traffic in Arms Regulations (ITAR) and cannot be shipped outside of the USA.
Do T.REX Holsters Support Tall Suppressor Sights? – Help – T.REX ARMS
LVAW Sig MCX 300 BLK Loadout – Help – T.REX ARMS
Red Dot Pistol Backup Irons Drill – Video – T.REX ARMS
Hard Target Focus vs. Front Sight Focus with Irons – Video – T.REX ARMS
Iron Sights Overview – Video – T.REX ARMS