Video | What's Included | Specs | Pictures | Restrictions | Related Info
We always stress the importance of handheld lights at T.REX. If you ask anybody what they use more, their concealed firearm or the flashlight app on their smartphone… 99.99% of them will say they use the flashlight app. But is a flashlight app on your phone good enough to properly identify targets? Or scan your surroundings? Nope. That's where a high-lumen dedicated flashlight comes in.
The SureFire EDCL1-T is a legit little light boasting 500 lumens with an intuitive button system and pocket clip for easy carrying. At 500 lumens you've got 1 hour of run time, and on low power mode of 5 lumens you have 45 hours. The low lumen mode is great for finding your misplaced keys in the car, making sure you don't step on your dog in the living room late at night, or quickly snagging all of your passports out of the floor safe before fleeing a totalitarian dystopia.
OVERVIEW VIDEO
WHAT'S INCLUDED
---
One SureFire EDCL1-T Dual-Output Everyday Carry LED Flashlight; Lanyard; One SureFire 123A lithium battery
SPECS
---
FEATURES
Highly versatile light serves as an everyday carry light or an improvised weapon light
Virtually indestructible LED emitter regulated to maximize output and runtime
Fully press tailcap switch for high output, and slightly press tailcap switch for low. Twist for constant-on
High-strength aerospace aluminum body, Mil-Spec hard-anodized for extreme durability
Body and tailcap are knurled for a secure grip
Two-way clip permits light to be carried bezel up or down
View the User Manual for the EDCL1-T HERE.
OUTPUT
High: 500 lumens
Low: 5 lumens
RUNTIME*
High: 1 hour
Low: 45 hours
PEAK BEAM INTENSITY
7,600 candela
DISTANCE
175 meters
CONSTRUCTION
Aluminum
FINISH
Mil-Spec Hard Anodized
WEIGHT (w/ batteries)
3.3 oz (95 g)
LENGTH
4.5 in (11.3 cm)
BEZEL DIAMETER
1.125 in (2.85 cm)
BATTERIES
One 123A lithium (incl.)
SWITCHING
Dual-stage tactical tailcap
LIQUID INGRESS PROTECTION
IPX7, Submersion up to one meter for 30 minutes
*Continuous hours until output drops to 10% of normal output
PICTURES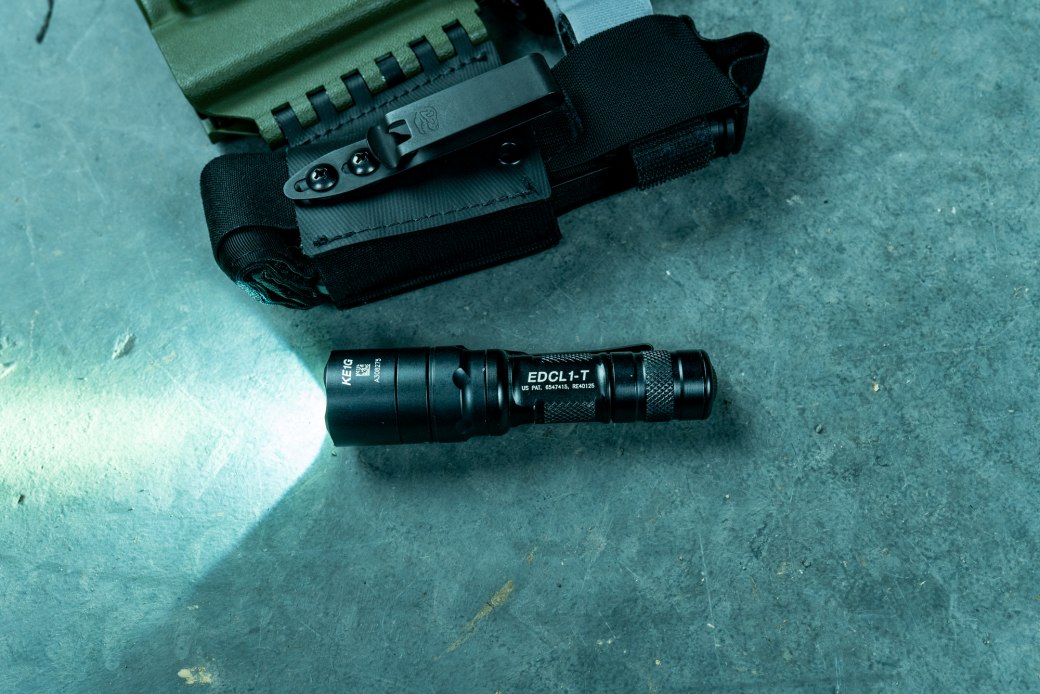 High mode vs. low mode.
RESTRICTIONS
---
SureFire products cannot be shipped outside of the US.
SureFire EDCL1-T and EDCL2-T Overview – Video – T.REX ARMS
Handheld Lights vs. Weapon Lights – Video – T.REX ARMS