Video | What's Included | Specs | Pictures | FAQ | Related Info
Exclusive to T.REX ARMS are our two-tone variants of the Eagle Industries Active Shooter Response Sling Bags. If you're looking for a small pack that can be quickly deployed, secured, and able to carry a variety of equipment like rifle / pistol magazines, medical supplies, and comms, this can flex to meet those needs. It's also small enough to keep in the back seat of your vehicle or store in another backpack, while also maintaining a relatively low profile.
It consists of two side pouches that are perfect for carrying 5.56/.223/300 BLK rifle magazines, two front pouches that will fit items like pistol magazines, flashlights, or multi-tools, and one general-purpose zippered compartment that will fit items like gloves, batteries, tourniquets, as well as medical kits such as our ITRK EDC or ITRK Expanded.
OVERVIEW VIDEO
WHAT'S INCLUDED
---
One T.REX Eagle Active Shooter Response Sling Bag. Has two front pouches, two side pouches, a front zipper pouch, a back pouch, and a removable waist belt.
SPECS
---
Features:
– Sling bag design for quick donning and easy access.
– Bungee retention on magazine pouches.
– Medical pouch with internal elastic retention.
– 1.5″ x 6″ loop field for identifiers.
– Removable waist belt for secondary attachment and bag security.
– Accommodates up to four M4 magazines or two M4 magazines and a radio, two pistol magazines or one pistol magazine and a flashlight, medical supplies and other items.
– Constructed of MIL-SPEC 500 Denier nylon.
– Berry Compliant
– Weight: 27.2oz
– Dimensions (L x W x H): 9.0″ x 11.0″ x 2.0″
– Shoulder strap adjusts down to 28″ and up to 55″
– Waist strap adjusts up to 36″
– Made in the USA
PICTURES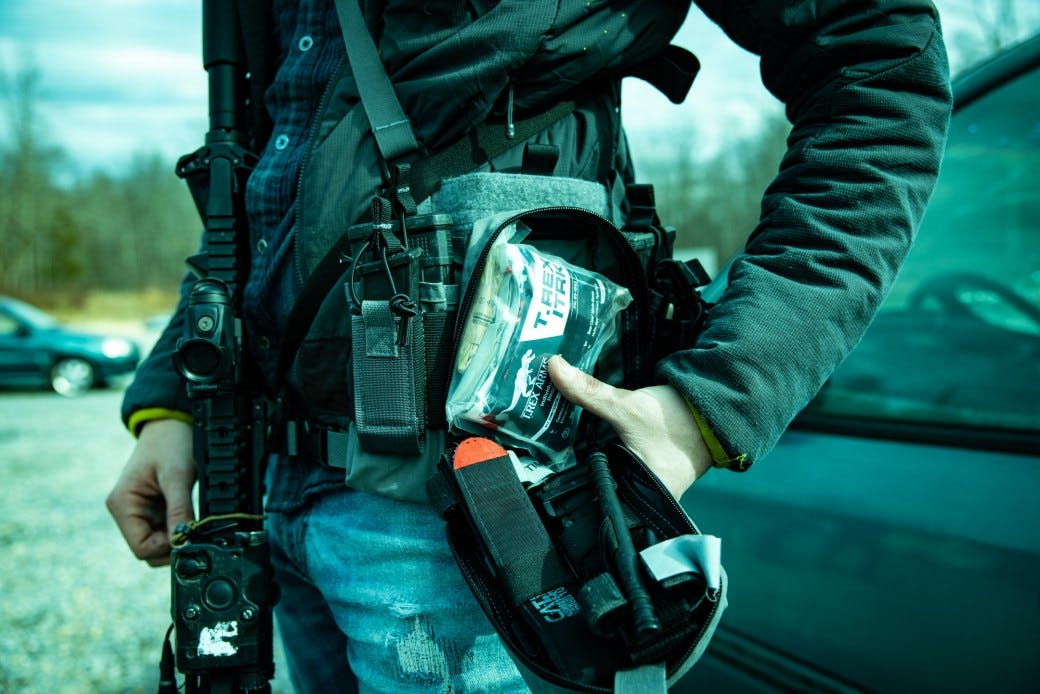 FAQ
Can I put a ballistic insert in this?
Sure thing. The back velcro pocket is 9″ x 7″ and could accommodate soft armor around that size.
T.REX Eagle Active Shooter Response Sling Bag Overview – Video – T.REX ARMS