Video | What's Included | Specs | Pictures | Related Info
Many TCCC trauma kits on the market can become very large and bulky when loaded. Though this is mostly unavoidable due to medical gear inside being large itself, there is another option. After much deliberation, T.REX ARMS in conjunction with Coyote Tactical Solutions devised a handy design to slim things down without eliminating important medical equipment.
The tourniquet is moved to the bottom of the pouch and attached via elastic loops. Inside the pouch is a removable tray holding the gear. Unzip the pouch on one side with either hand, grab the tray pull handle, and you're good to go.
The MED1 pouch was also designed as a multi-use pouch. The inside is lined with Velcro loop allowing you to attach our elastic battery/chemlight holders to hold other equipment. It can be quite a useful pouch for general-purpose items. The wide section of Velcro loop on the front also allows you to attach decomp needles, chemlights, batteries, sharpies, even extra tourniquets with our elastic tourniquet holder.
OVERVIEW VIDEO
WHAT'S INCLUDED
---
One MED1 pouch with removable tray.
Does NOT include medical supplies. You can purchase the MED1 Pouch Fill Kit here and a CAT tourniquet here.
SPECS
---
Dimensions when filled: 8″ long x 4.75″ tall x 2″ wide.
There are three 6″ x 4″ Velcro loop fields on the MED1 (two inside and one on the front).
The MED1 is attached via laser-cut belt loops on the back of the pouch. The two small loops are 1 3/4″ wide and closest to the edge. The two large loops are 3″ and positioned in the middle. The MED1 is NOT MOLLE-compatible, only belt loop-compatible.
There are two 1.5″ wide elastic bands on the bottom for holding a CAT tourniquet. We advise removing the tourniquet from any plastic packaging before storing it on your MED1 for use.
The removable tray pull tab extends 3″ out of the MED1 pouch.
There is one drainage hole in the bottom.
Made in the USA by Coyote Tactical Solutions.
Be aware that larger medical gear may not fit the pouch. The equipment we recommend is the gear we include in the
MED1 Pouch Fill Kit
.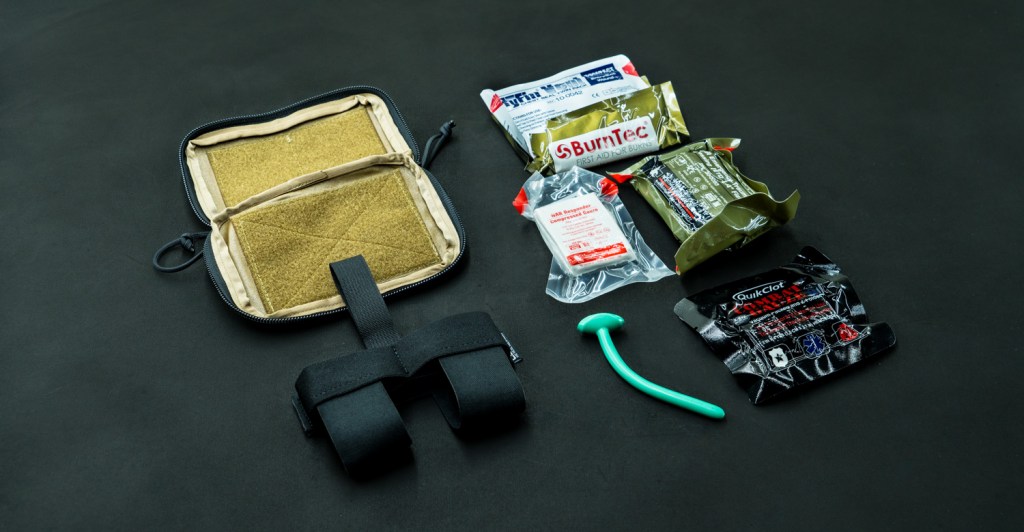 The MED1 was designed to hold these items:
1 Burntec Dressing 4×4
1 Compressed Gauze
1 ETD 4″ Pressure Dressing
HyFin Vent Chest Seal Twin Pack
1 LE Combat Gauze
1 Nasal Airway (in packaging)
1 CAT Tourniquet (not pictured)
If you need to replace individual medical contents after use, we recommend buying them straight from
North American Rescue
.
PICTURES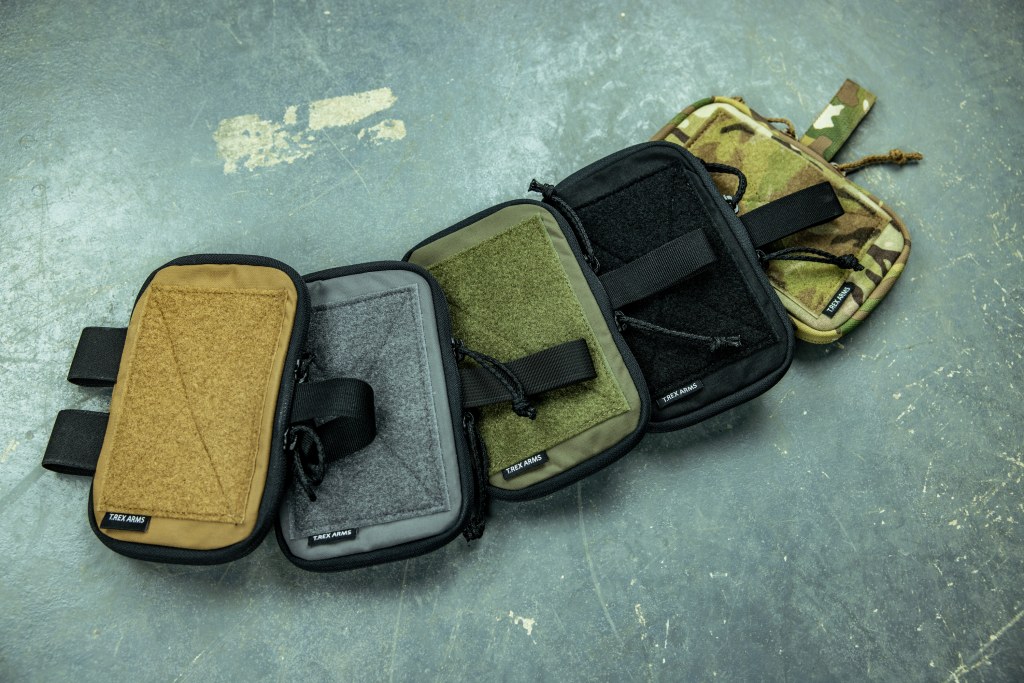 Are T.REX ARMS nylon products covered under warranty? – Help – T.REX ARMS
Grey MK18 Loadout – Help – T.REX ARMS
LVAW Sig MCX 300 BLK Loadout – Help – T.REX ARMS