Video | What's Included | Magazine Fitment | Specs | Pictures | Related Info
Designed for civilians, the T.REX Quad Flap Chest Rig is an adaptable overt-style rig based on early 2000s designs with modernized features and materials. Its purpose is to accommodate the diverse and unpredictable scenarios civilians may find themselves in. It features four flapped magazine pouches, three columns of MOLLE on either side, two radio pouches, and an admin pouch to fit into whatever role you need it to.
The mag pouches are designed around 5.56 PMAGS but will fit a variety of other magazines such as AK47/74, SR25, AICS, and many more. The radio pouches are adjustable for height and fully padded for added comfort. They were designed with civilian radios in mind but will fit military radios if needed.
The T.REX H-Harness is a one-piece design that is height-adjustable by repositioning QASM buckles. Built into the H-Harness are plenty of cable management options, including two elastic loops, two webbing loops, and a generous length of sewn-in One-Wrap. Also included with the rig is the T.REX Back Strap, which provides quick adjustments and flexibility for long-term comfort. A third loop sewn into the rig itself allows the backstrap to be raised towards the middle of the rig. We find this configuration to be beneficial for certain body types and heavier loads.
Why no M81 Woodland chest rig?
Don't worry, it's in the works! But, we've done the nylon production thing enough to know we can't give any firm ETA. "We'll get there when we get there, kids!"
OVERVIEW VIDEO
WHAT'S INCLUDED
---
One T.REX Quad Flap Chest Rig; T.REX Back Strap; T.REX H-Harness
MAGAZINE FITMENT
---
MAGAZINES
2x AR-15/M4 STANAG magazines
2x AR/M4 PMAGS, all generations
30rd 5.56×45 AK magazines (1x Flap Closed, 2x Flap Open)
30rd 5.45×39 AK magazines (1x Flap Closed, 2x Flap Open)
30rd 7.62×39 AK magazines (1x Flap Closed, 2x Flap Open)
1x 20/25 rd SR25, M14/M1A, or HK G3 7.62 Magazines
1x 10rd AICS Short-Action magazines
1x HK MR762/417 7.62 magazines

(Not easy to reindex)

4x 30rd MP5 magazines
OTHER THINGS
Water bottles
Molotov cocktails (allegedly)
Kestrel ballistics meter
Smoke grenades
Handheld rangefinders
Reign
Anything roughly the size of two 5.56 PMAGS
SPECS
---
FEATURES
The extremely versatile pouch design is optimized for use with several different weapon platforms if needed.
3 columns of MOLLE on each side accommodating a wide variety of pouches already on the market.
Fully padded radio wings optimized for civilian-sized radios with adjustable depth. Can accommodate some military radios, such as a PRC-152 and a PRC-148, but it will be a very tight fit. Will also fit tourniquets or extra magazines.
Rear Velcro hook field and properly spaced buckles for attaching to most industry standard plate carriers. This Velcro field also allows the use of dangler pouches.
Built-in admin pouch for maps, notebooks, signal panels, or any other flat items.
Elastic webbing on the side of the mag pouches helps provide adequate retention for all magazine combinations, even single mags.
Comes with our T.REX Back Strap for quick adjustment and flexibility.
Two optional backstrap locations to better tailor the rig to your body. This also makes it compatible with the T.REX Back Strap Y Adapter, but that may affect pack usage.
Made in the USA.
TECHNICAL SPECIFICATIONS
| | |
| --- | --- |
| Overall Width | 22 in. |
| Overall Height | 6.5 in. |
| Weight | 24.3 oz. |
| Rear Velcro Field | 9.5 in. x 6 in. |
| Mag Pouch Height | 5 in. |
| Radio Pouch Height (Maximum) | 5.5 in. |
| Admin Pouch Width | ~ 8.75 in. |
PICTURES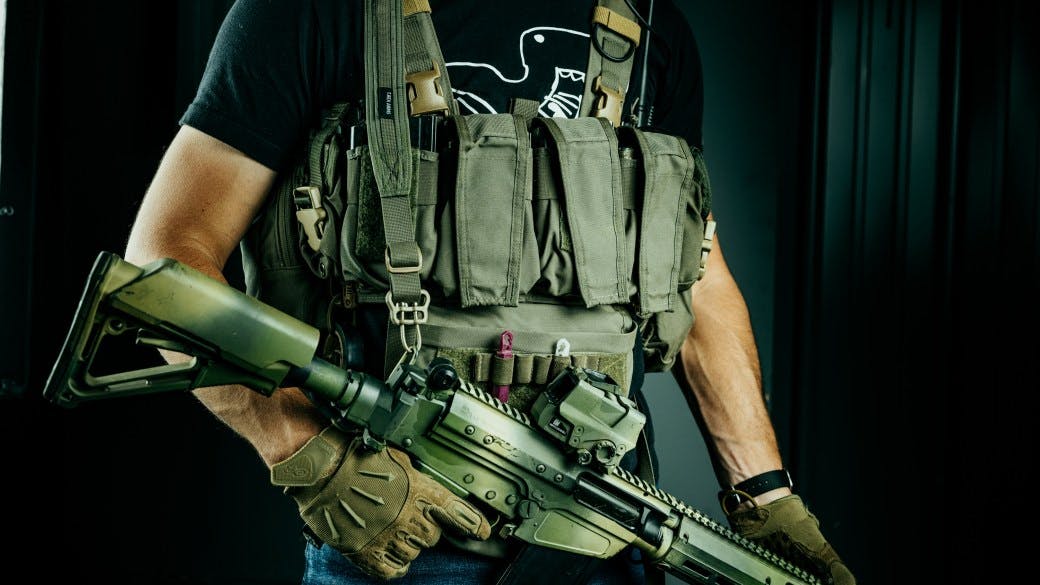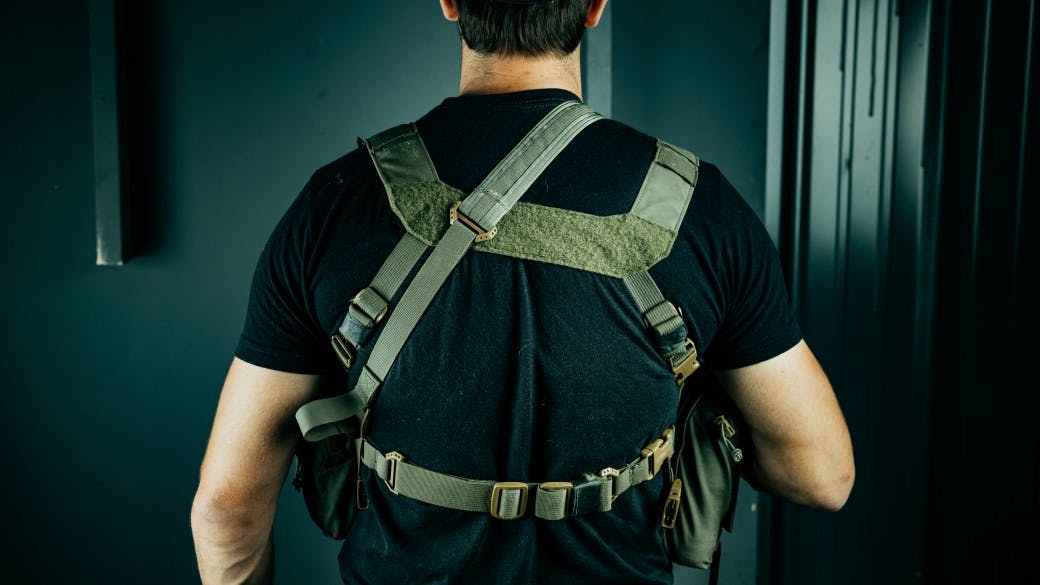 Are T.REX ARMS Nylon Products Covered Under Warranty? – Help – T.REX ARMS