Video | What's Included | Specs | Pictures | FAQ | Restrictions | Related Info
The 6070 UBL (Universal Belt Loop) is our favorite mounting option here at T.REX. It is a great way to offset a holster from the body, lowering the weapon and making it more accessible, even when using chest-worn load-bearing systems. We prefer the Mid-Ride option as it places the back of your pistol level with your belt line. You can also use the CUBL if you would like to cant your holster forward.
It features the standard Safariland 3-hole pattern so it is compatible with our Ragnarok series of holsters as well as Safariland OWB holsters and attachments like the QLS Plate. The Safariland QLS attachments are helpful if you plan to swap between holsters, but not required. The UBL works well by itself if you only plan to run one holster.
With the UBL, your holster may kick out away from your body, so we suggest using a thigh strap to counteract this. The thigh strap keeps the holster in place, allowing for a smooth and consistent draw.
Includes Safariland hardware for mounting a QLS Receiver Plate. If you want to run a thigh strap with the UBL + QLS Plate combo, use the hardware provided with the thigh strap.
If you plan to install the UBL directly to a Ragnarok holster, request a "Ragnarok Hardware Pack" in your order notes.
VIDEO
See timestamps 1:53 and 4:09.
WHAT'S INCLUDED
---
One Safariland 6070UBL Mid-Ride Universal Belt Loop (Black or FDE).
If ordered with a
Ragnarok holster
, we will install it for you so your holster is ready to roll right out of the box.
If ordered separately from a holster, standard Safariland hardware is included.
SPECS
---
Available in 2" (50mm) belt width
Compatible with any Safariland holster with the 3-hole pattern

Also works with the T.REX Ragnarok Holster series
Made in the USA.
PICTURES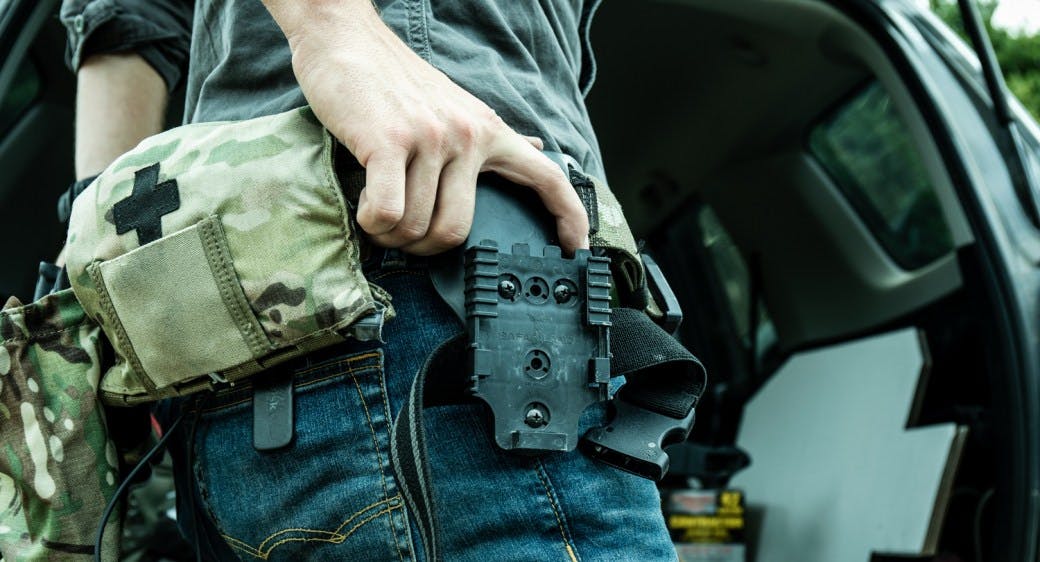 FAQ
How does a UBL compare to other mounting options?
RESTRICTIONS
---
Safariland products cannot be shipped outside of the US.
RELATED INFO
Ragnarok Mounting Options – Help – T.REX ARMS
The Complete Ragnarok Setup – Help – T.REX ARMS
How To Install T.REX Ragnarok Attachments – Video – T.REX ARMS