Aimpoint Micro T-2 Red Dot Sight
ITAR
This product is regulated by ITAR. It can only be shipped in the USA.
What's Included | Specs | Pictures | FAQ | Related Info
The Aimpoint series of red dots are some of the most proven optic systems on the market. The T2 is no joke. Extremely durable, excellent battery life, night vision compatible, and with lots of brightness settings so you can adjust for visibility in varied light conditions, or dim for longer-range engagements requiring greater precision.
In our experience, it is best to leave the T2 set on 11/12 for optimal use during the day, while 9/12 is good at night. Keeping it fairly bright is important if you're running a weapon light (you should be), which can wash out on a dimmer setting. Count on changing the battery at least once a year if you follow this SOP.
WHAT'S INCLUDED
---
One Aimpoint Micro T-2 red dot reflex sight – no mount; flip-up lens covers; CR2032 battery; micro tool.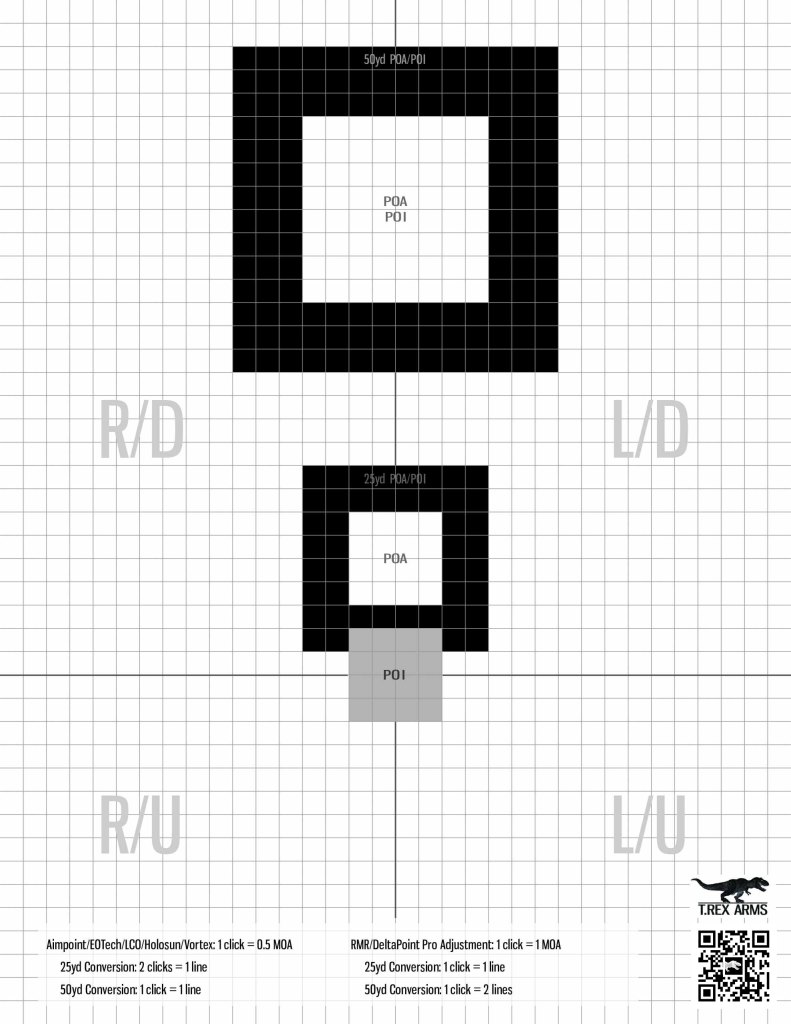 SPECS
---
FEATURES
Battery life: 50,000 hours (over 5 years) of constant operation with one battery on setting 8
Flip-up lens covers – front is solid, and rear is transparent – allowing the user to shoot with both eyes open and lens caps closed in an emergency situation
Advanced optical lenses for enhanced light transmission and ultimate dot clarity
Reinforced protection of the turrets for even greater ruggedness
Hard anodized non-reflective surface
12 brightness settings: 1 off position, 4 night vision compatible settings, and 8 daylight settings
1X (non-magnifying) operationally parallax free optic
Submersible to 80 feet (25 meters)
Temperature span -49°F to +160°F
NV compatible
Weight 3.0 oz / 84 g (sight only)
View the User Manual HERE and the Product Sheet Technical Specifications HERE.
Made in Sweden
Optical Magnification
1x
Aiming Dot Size
2 MOA
Dot Intensity
Visible against a background luminance of 0.1 to 55,000 1x
Optical Signature
No optical signature is visible at 10 meter distance, front side, on appropriate settings with NVD
Clear Aperture
0.71 in. (18 mm)
Battery Type
3V lithium battery, type CR2032
Clear Aperture
0.71 in. (18 mm)
Eye Relief
Unlimited
Battery life – Day Time Use
5 years (50,000 h) of continuous use at pos. 8 and over 10 months at pos. 10. corresponds to >500,000 hours at NVD setting (pos. 2)
Power Intensity
4 NV and 8 Daylight. (7 normal, 1 extra bright)
Sight Size (L × W × H)
2.7 in × 1.6 in × 1.4 in
68 mm × 41 mm × 36 mm
Weight (including battery)
3.4 oz (96 g)
PICTURES
FAQ
Why should I buy a T2? It's so expensive!
It sure is. But it's one of the most reliable optics on the market. If you think about it, the quality of your sighting system on a rifle should be a major priority. Don't drop $1500 (or more) on a rifle, but then stick a $90 optic on it. That is not effective management of the tools at hand. Yes, many of those $90-$200 optics work out of the box, but how will they function after a high round count? Or getting hit if your rifle takes a fall? Will it hold zero? The last thing you want is a sighting solution that you can't rely on. After all… it's literally how you shoot stuff. The T2 is as reliable as they come.
I hear people talking about how small the FOV is on the T2. Is it an issue?
In our opinion, not really. It all comes down to training. For example, on a right handed shooter, your right eye will pick up the optic/reticle. Your left eye sees past the weapon at the area you're shooting into. Your brain essentially overlays both images together. So you're still seeing everything around the target with your left eye while your right eye picks up the reticle. At that point, FOV doesn't matter that much. If you were only shooting with one eye, it definitely would.
How does the T2 compare to an EOTECH?
They are both good, but for different reasons. You can read more about the pros of each
here
.
How to Zero in 2 Minutes – T.REX ARMS
What optic height should I go with? – Help – T.REX ARMS
Our Most Recommended Rifle Upgrades – Help – T.REX ARMS
EOTECH vs. Aimpoint T-2 – Help – T.REX ARMS
LPVO Versus Red Dot + Magnifier – YouTube – T.REX ARMS