ZEV Technologies Duty Stripped Slide with Sights for Glock
ITAR
This product is regulated by ITAR. It can only be shipped in the USA.
Video | What's Included | Specs | Pictures | FAQ | Restrictions | Related Info
Every slide we sell includes the ZEV Iron Sight Set pre-installed. We wanted to save our customers $50 when compared to buying both from ZEV. This also spares you the trouble of installation and the need for a special tool.
The ZEV Duty Slide for the Glock 19 and 17 is a utilitarian aftermarket slide that comes with the two most useful upgrades we want on Glocks: An optic cut and front serrations. Simply put, it offers everything we want in a slide and nothing we don't. No crazy milling, window cuts, or designs.
We love ZEV optic cuts because they set the optic as low as possible into the slide, keeping the dot as close to the bore as possible. They also have exaggerated optic thread mounts, which keep the RMR secure and locked into place much better than traditional optic cuts. The installed ZEV Iron Sight Set co-witnesses closely with an RMR. Screws for mounting your RMR/SRO/other RMR footprint optics are included.
The front serrations are a nice addition, as they help significantly when using the front of the gun to rack the slide. The slide is stripped but does have a channel liner already installed.
OVERVIEW VIDEO
WHAT'S INCLUDED
---
One ZEV Duty Slide with ZEV Iron Sight Set and Channel Liner installed; mounting screws for RMR optic and plate; Torx key for RMR screws; hex key for sight screws
SPECS
---
FEATURES
Machined from 17-4 Stainless steel billet
Lowered ejection port to aid in ejection of brass
Match-grade, precision-milled tolerances that are tighter than factory
ZEV's firing pin channel liner comes installed
Iron Sight Set: .300 Black Front, Co-Witness Black Rear; Optic cut depth: 0.180″
Note: ZEV RMR Cover Plate NOT included. Sold separately.
Made in the USA.
View ZEV's Product Overview HERE.
SPECIFICATIONS
| | |
| --- | --- |
| Length | 7.25″ (Z17); 6.75″ (Z19) |
| Width | 1″ |
| Height | 0.84″ |
| Material | 17-4 Stainless Steel |
| Finish | Black Nitride |
| Compatibilities | |
| ZEV Z17 3rd Gen | Glock 17 (1st – 3rd Gen); Glock 17C (1st – 3rd Gen); Glock 17L (1st – 3rd Gen); Glock 34 (1st – 3rd Gen) |
| ZEV Z17 4th Gen | Glock 17 (4th Gen); Glock 34 (4th Gen) |
| ZEV Z17 5th Gen | Glock 17 (5th Gen); Glock 34 (5th Gen) |
| ZEV Z19 3rd Gen | Glock 19 (1st – 3rd Gen); Glock 19C (1st – 3rd Gen) |
| ZEV Z19 4th Gen | Glock 19 (4th Gen) |
| ZEV Z19 5th Gen | Glock 19 (5th Gen); Glock 19X/45 (5th Gen) |
PICTURES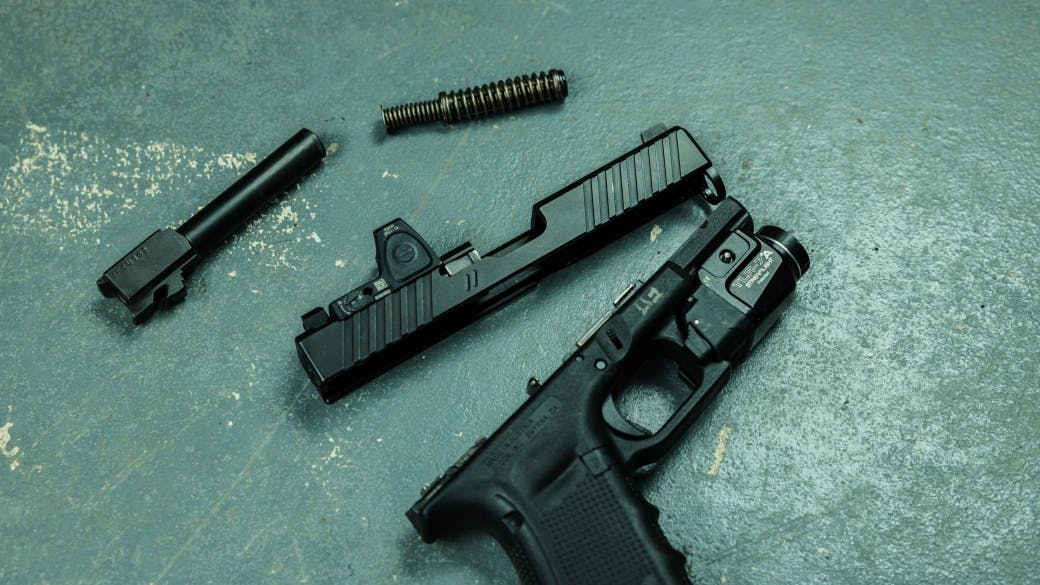 FAQ
What internals do I put in this?
We recommend OEM internals that match the gen slide you're buying.
RESTRICTIONS
---
This product is restricted by International Traffic in Arms Regulations (ITAR) and cannot be shipped outside of the US.
ZEV Technologies Duty Stripped Slide with Sights for Glock Overview – Video – T.REX ARMS