Cloud Defensive LCS for Streamlight
ITAR
This product is regulated by ITAR. It can only be shipped in the USA.
Video | What's Included | Specs | Pictures | Restrictions | Related Info
The Cloud Defensive LCS (Light Control System) is a rugged activation solution for rifle-mounted weapon lights– possibly THE most rugged if you're wanting to run a pressure pad. The LCS simply attaches to regular Picatinny rail (most commonly at the 12 o'clock position). It's also very versatile. As such, there are a lot of possible configurations.
Simply drop a Streamlight ProTac Pressure Pad into the LCS and you're set. We highly recommend this setup if you're not constantly switching out your laser/light equipment and want something intuitive and extremely rugged. (Note: Tape switch is not included).
OVERVIEW VIDEO
WHAT'S INCLUDED
---
One center section Cloud Defensive LCS (Light Control System); Two LCS side clamps; Two 8-32 Torx screws and nuts.
SPECS
---
FEATURES
3-piece clamp design allows for fit across all Picatinny rails (not for use with M-LOK or KeyMod).
Locks up 100% to your weapon. Zero movement. Zero play. Virtually indestructible.
Creates a perfectly snug friction-fit for the pressure pad.
No "give" in the tape switch when depressed makes for easier and more positive light engagement.
Fully ambidextrous and reversible.
Allows for use of the entire length of the tape switch.
Radiused/chamfered edges for comfort and ergonomic function.
Proprietary Integrated Cable Channels (ICC) are integrated into both sides of the mount, giving the user the ability to control excess cable.
Channels can be used for other cable management as well (IR, etc.).
"Early Exit" feature allows the user to route the cable into the LCS and then exit the mount early.
The LCS does not support the TLR-series switches. Designed exclusively for the Streamlight ProTac series weaponlights.
Tape switch is not included.
Width: 1.35″
Height: 0.575″
Length: 3.4″
Weight: 1.08 oz.
Made of proprietary impact resistant injection molded glass-filled nylon.
Custom-manufactured size 8-32 Torx-drive screws. Made from hardened steel and then black nitride plated for superior corrosion resistance.
100% Made in the USA.
PICTURES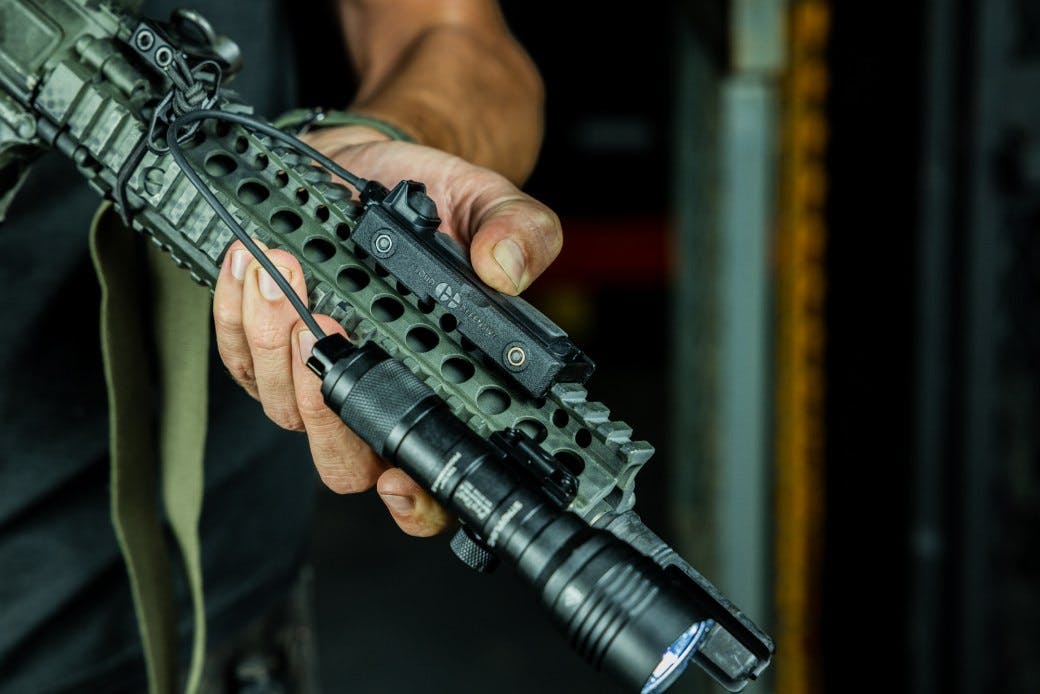 RESTRICTIONS
---
This product is restricted by International Traffic in Arms Regulations (ITAR) and cannot be shipped outside of the USA.
Our Most Recommended Rifle Upgrades – Help – T.REX ARMS
Where to Mount Your Rifle Light – Video – T.REX ARMS
Streamlight Protac Rail Mount HL-X and Cloud LCS Overview – Video – T.REX ARMS