Leupold DeltaPoint Pro
Ships in 1-10 business days
ITAR
This product is regulated by ITAR. It can only be shipped in the USA.
Video | What's Included | Specs | Pictures | FAQ | Related Info
The Leupold DeltaPoint Pro (2.5 MOA) is one of our favorite pistol optics. Its large window keeps a good amount of the target in view while engaging, and the ability to change batteries without removing the optic is convenient. Pressing the brightness control on top of the battery compartment brings the brightness up or down. The brightness control always moves in one direction, either up or down. Once you reach the brightest or lowest setting it reverses direction. Holding the button down for 2 seconds reverses the direction without having to go all the way to the top or bottom of the settings. The DeltaPoint Pro also features motion sensor technology to help prolong the battery life.
The standard version works with Night Vision but has fewer brightness settings so it can bloom too much in certain IR lighting conditions. The Night Vision version works great under Nods.
Covered by Leupold's Golden Ring Full Lifetime Warranty.
OVERVIEW VIDEO
WHAT'S INCLUDED
---
One DeltaPoint Pro Reflex Sight, 2.5 MOA Dot; One 3V Lithium battery (CR 2032); Protective cover; Two M4x.7×15.8mm Torx head screws for installing the sight on the mounting plate; One Torx T-15 wrench; One 1/16 Hex wrench; Operating instructions.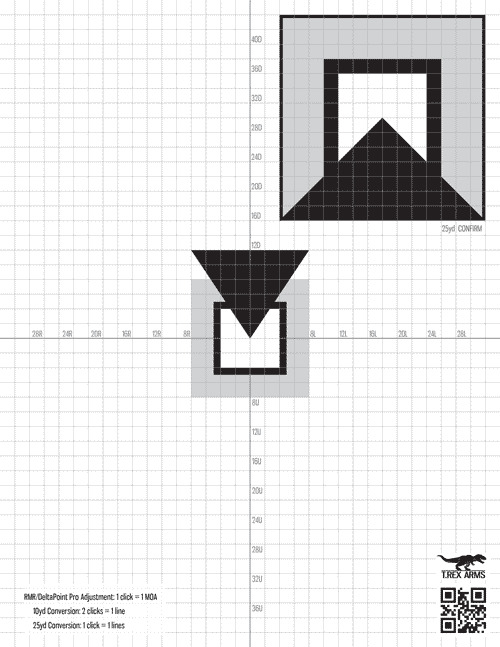 We include an 8.5″ x 11″ pistol red dot zero target with every red dot.
We recommend bench resting the pistol for stability, as you will want to minimize any potential human error.
You will want to start at 10 yards and aim for the point of the triangle in the center of the small square; your impact when zeroed should be within the center of that square.
You will then need to take the same target out to 25 yards to confirm your zero on the larger triangle/square and make any minor adjustments that may be needed.
SPECS
---
Feature list:
– DiamondCoat™, scratch-resistant aspheric lens for brightness, and resolution
– Motion Sensor Technology (MST™)
– Extremely durable, ultra-light aluminum housing
– Small size and lightweight
– Unlimited eye relief
– For handguns, rifles, and shotguns
– Wide field of view
– Blackened lens edges
– Waterproof to 33 ft
Magnification
1.0x
Sight Window
1.01" x 0.68"
25.7mm x 17.5mm
Operating Temperature Range
-20°F to +120°F
-29°C to +49°C
Storage Temperature Range
-40˚F to +160˚F
-40˚C to +71˚C
Dimensions L X W X H
1.82" x 1.31" x 1.30"
46.1mm x 33.2mm x 33.0mm
Elevation Adjustment Type
Coin Click
Windage Adjustment Type
Coin Click
Reticle Type
Illuminated
Reticle
2.5 MOA Dot
Battery Type
One CR2032, 3V Lithium
Switch Type
Push Button
Daylight Bright Illumination
Yes
Weight w/ Battery
1.9oz. (53.8g)
Elevation Adjustment Value per Click
1MOA
Windage Adjustment Value per Click
1MOA
Battery Life, Low Intensity
1600 hr
Battery Life, Medium Intensity
1000 hr
Battery Life, High Intensity
300 hr
Number of Illumination Settings
10
PICTURES
FAQ
So… DeltaPoint Pro or
RMR
?
This is the big question. We like the
RMR
more for conceal-carry due to the fact you can easily adjust the brightness. It's also a smaller optic and there are more sights on the market that co-witness. The DeltaPoint is obviously more cost effective, the window is larger, and the glass is clearer. A lot of it comes down to personal preference. Both are very viable optics.
What distance should I zero my handgun at?
The most popular pistol zero is 25 yards. But… we've found that an accurate 10 yard zero is generally more effective and the holds are much flatter out to 100 yards compared to a 25 yard zero. Our recommendation is that you zero for 10, make sure your group is tight, and then tailor your zero as you shoot. Particularly if you have somewhere you can shoot some distance. Like 50+ yards. Yes. With a pistol. You can do it. We believe in you.
Can I rack my slide off this optic like an
RMR
?
Yup! We haven't had any issues with ours while doing that. Rack away.
What's the battery life like?
Lucas changes his out every 6 months or so. Even with the auto-off feature. Good news is, since the battery is top loaded, it's very easy to change it quickly and be back up and running in no time.
SCAR 17S 16" Suppressed – Help – T.REX ARMS