Trijicon ACOG TA02 LED
Ships in 1-5 business days
ITAR
This product is regulated by ITAR. It can only be shipped in the USA.
Video | What's Included | Specs | Pictures | FAQ | Restrictions | Related Info
An iconic magnified optic that's still one of our favorites. Rugged, reliable, and one of the best in its class – the Trijicon ACOG 4×32 is as relevant as ever.
This is the TA02 LED, a 4×32 fixed power optic designed for .223 rifles. It features an illuminated reticle (chevron or crosshair) powered by a single AA battery. When turned off, you can still see the dark, non-illuminated etched reticle in the glass. The glass is super clear, the reticle is easy to use with six brightness settings, and the overall construction of it solidifies it as one of the most durable optics in the market. This optic also comes with a Picatinny mount and top screws which allow for the installation of an additional optic plate (ideally for a 1x dot like the RMR). The scope can easily be used to hit targets at 500+ yards.
OVERVIEW VIDEO
WHAT'S INCLUDED
---
One Trijicon ACOG 4×32 LED Riflescope – .223 / 5.56 BDC (TA02 or TA02-D-100393); Thumbscrew Flattop Adapter (TA51); One AA Battery; LENSPEN (TA56); Lanyard Assembly for Adjuster Caps (TA71E); Lanyard Assembly for Battery Cap; Trijicon Logo Sticker (PR15); ACOG Manual; Warranty Card.
SPECS
---
Features:
– Forged from rugged 7075-T6 aircraft-aluminum.
– Users can select from six adjustable brightness levels with an off between each setting.
– Fully night vision device compatible.
– Dry nitrogen-filled to eliminate fogging.
– Matte black finish.
– Made in the USA
Dimensions (L x W x H)
6 in x 2.9 in x 2.5 in
(152.4mm x 73.66mm x 63.5mm)
Weight
17.6 oz. (498.95g)
Magnification
4x
Objective Size
32mm
Reticle Pattern
Chevron or Crosshair
Reticle Color
Red
Bullet Drop Compensating (BDC)
Yes
Caliber
.223 / 5.56
Illumination / Power Source
LED & AA Lithium or Alkaline Battery
Battery Life
Over 12,000 hours on setting #4 using supplied alkaline battery at 21° C (70° F)
Adjustments (Per In. @ 100 Yds.)
2 clicks
Eye Relief
1.5 in. (38.1mm)
Exit Pupil
0.32 in. (8.13mm)
Field of View (Degrees)
7°
Field of View (Feet)
36.8 ft. @ 100 yds. (12.27m @ 100m)
Mount
Flattop Thumbscrew Mount (TA51)
Housing Material
Forged Aluminum
PICTURES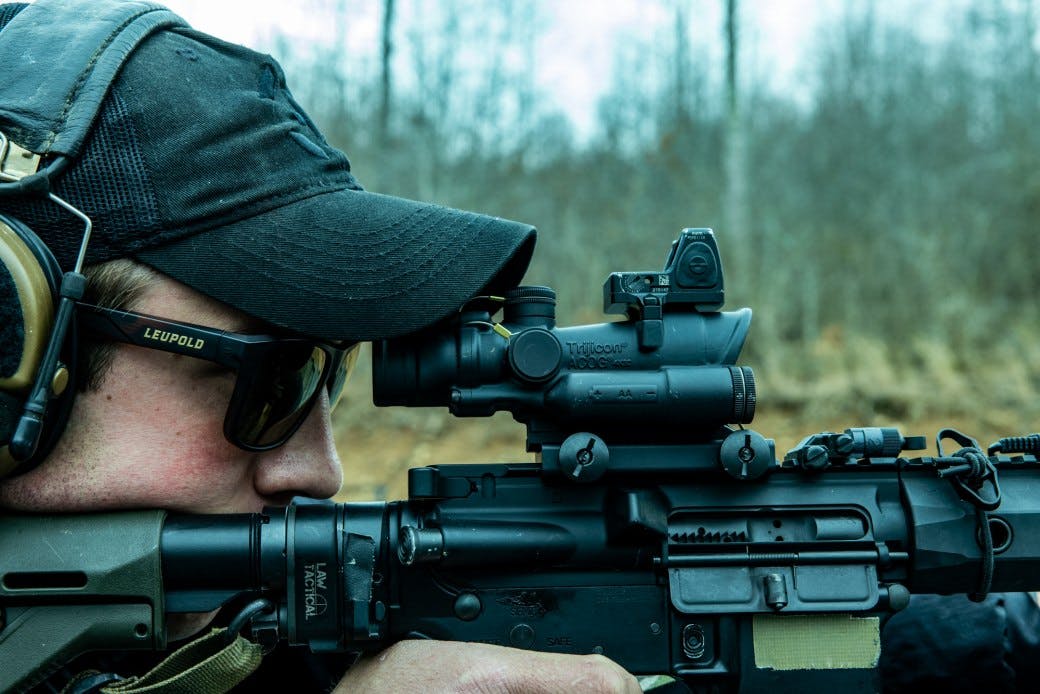 FAQ
Which reticle type should I go with? Crosshair or chevron?
The answer to this one really just comes down to your personal preference. If you're already used to one, go with that one. There's no inherent superiority of one over the other.
RESTRICTIONS
---
This product is restricted by International Traffic in Arms Regulations (ITAR) and cannot be shipped outside of the USA.
Trijicon ACOG TA02 LED Overview – Video – T.REX ARMS