EOTECH Vudu 1-10×28 FFP
ITAR
This product is regulated by ITAR. It can only be shipped in the USA.
Video | What's Included | Specs | Pictures | Restrictions | Related Info
Low Power Variable Optics (LPVOs) bring unique advantages to any rifle build and have only gotten better over time. LPVOs allow shooters to positively identify threats and no-shoots at a distance while still providing the shooter the ability to quickly aim down their sights at a target nearby. Combined with a top-tier weapon light, they make identification in low light conditions at distance a breeze as well.
The Vudu 1-10×28 FFP is similar to the popular Vudu 1-8 in its construction, but the 1-10 gives you that extra 2x magnification when you need it. With a quick turn of the throw lever, we can effortlessly magnify targets at distance and quickly adjust our aim to place the daylight-visible illuminated Triplex BDC reticle on the target. If you need a single optic that has the capability of shooting targets in close proximity and at a distance, LPVOs are the way, and this is one of our favorites. The glass clarity is top-notch, and the adjustment turrets are quite minimalist, keeping the scope's profile streamlined. Plus, it has stellar battery life out of a single CR2032.
OVERVIEW VIDEO
WHAT'S INCLUDED
---
One EOTECH Vudu 1-10X28 Rifle Scope; Throw lever; Two (2x) CR2032 batteries; Operator Manual, Reticle Manual; Lens Cleaning Cloth; Two (2x) Stickers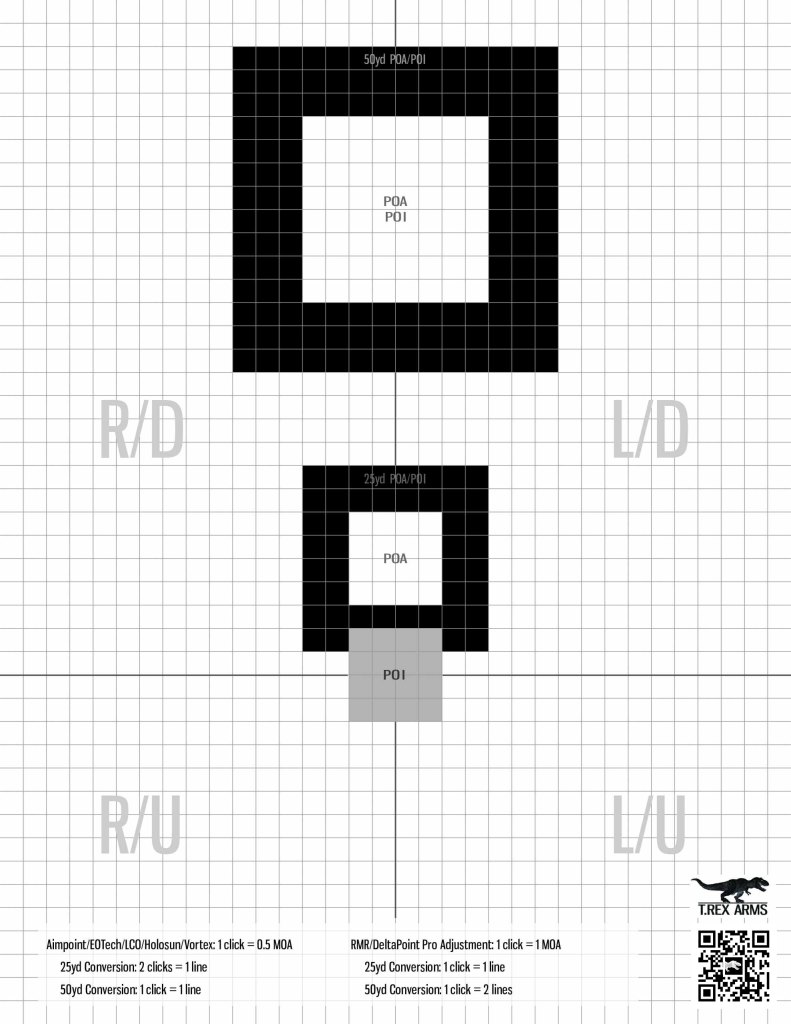 SPECS
---
Aircraft-grade aluminum, single-piece construction with anodized finish for extreme durability
Laser-etched adjustment indicators and push-button illumination controls
10 brightness settings and 2-hour auto shutoff
Fog Resistant: Nitrogen gas purging prevents internal fogging over the operating temperature range
Shock Resistant: The rugged design prevents damage from heavy recoil and rough handling
Water Resistant: Single-piece tube and o-ring seals
Anti-Reflective Lenses: XC high-density, low dispersion glass with anti-reflective coated lenses provides efficient light transmission and unmatched edge-to-edge clarity
Scalping design on the one-piece eye-piece allows for greater purchase and faster, fluid magnification adjustment
Throw lever allows for quick magnification changes
Low profile elevation turret includes a push/pull locking system and a capped windage turret for a secure zero. Allows re-indexing back to "0"
The SR-5 incorporates the iconic EOTECH illuminated speed ring along with a hashmarked inner crosshair reticle that uses MRAD subtension lines for ranging holdover and wind compensation. A Christmas tree style reticle offers a precision 0.25 MRAD center aiming dot and the secondary windage and elevation features allow for precise holds on those longer range shots.
Adjustment Graduation Per Click: 0.1 MRAD
Adjustment Graduation Per Rotation: 15 MRAD
Total Elevation Travel: 29 MRAD
Total Windage Travel: 23 MRAD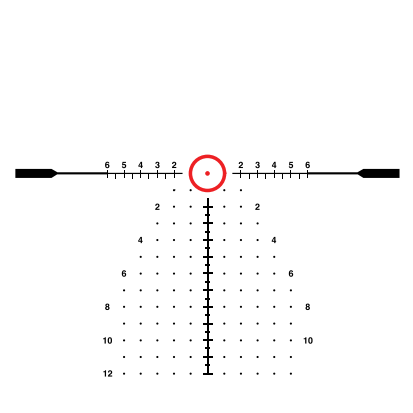 The SR-5 reticle is optimized for a 100-yard zero. More information, including subtensions, can be found in the user and reticle manuals below.
Vudu 1-10 Reticle Manual
Vudu 1-10 User Manual

Made in Japan.
Overall Length
10.63″ (270mm)
Weight
21.3oz (603g)
Magnification
1-10X
Tube Diameter
34mm
Objective Inner Diameter
28mm
Objective Outer Diameter
34mm
Power Source
CR2032 Battery
Eye Relief
1X:3.27-3.90 (83-99mm)
10X:3.35-3.62 (85-92mm)
Field-of-View @ 100 Yards
1X:116.6ft(35.5m)
10X:11.7ft(3.6m)
Focal Plane
First Focal Plane (FFP)
PICTURES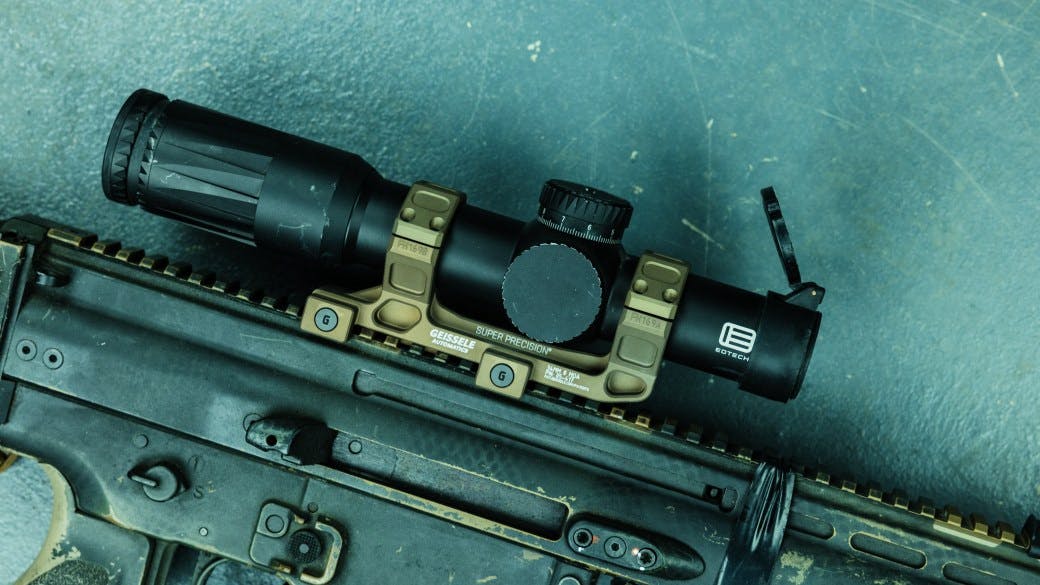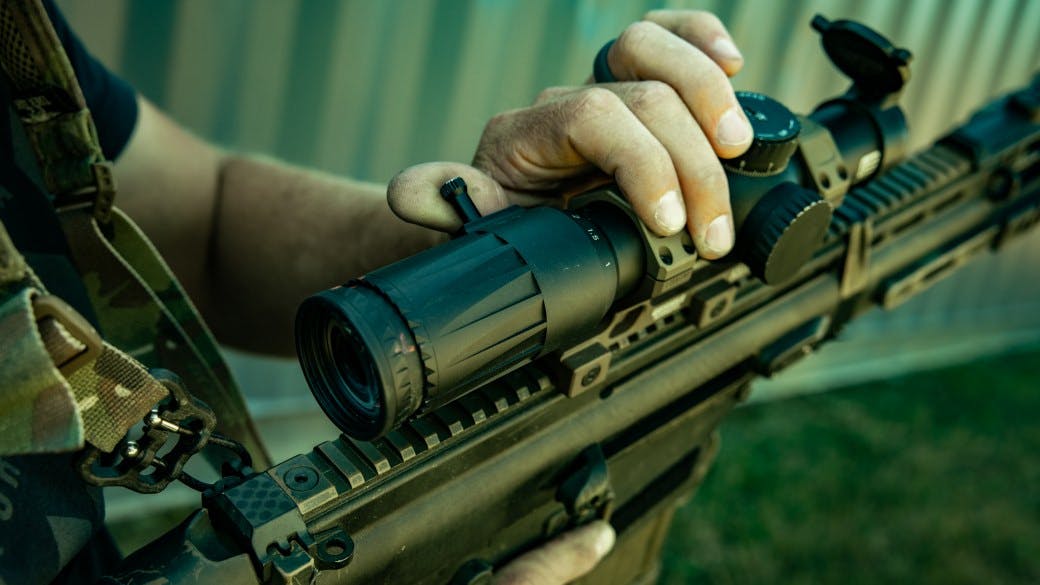 RESTRICTIONS
---
This product is restricted by International Traffic in Arms Regulations (ITAR) and cannot be shipped outside of the US.
EOTECH products cannot be shipped outside of the US.
EOTECH Vudu 1-10×28 FFP Overview – Video – T.REX ARMS
Rifle Red Dot Zero Target – Printable – T.REX ARMS
Using LPVOs for Threat Identification – Help – T.REX ARMS