SureFire M340V WL/IR Mini Scout Light PRO
ITAR
This product is regulated by ITAR. It can only be shipped in the USA.
What's Included | Specs | Pictures | Restrictions | Related Info
The SureFire M340V is an excellent option for rifles and sub guns that need white light and IR illuminator capability. The head of the light twists into one of three positions: White Light, OFF, and IR Illuminator. This is an update to the old M300V in that it includes the SureFire PRO mounting system which can swivel into the rail, making your rifle set up a bit more sleek and tight.

The M340V is also an excellent option for mounting on helmets. The bright IR light makes for good umbrella lighting indoors, but is also great when paired with a focus or "pin hole" cap. The IR Light that comes from the M340V is bright enough to compensate for the darker image that you typically get from using a focus cap, which is nice because it allows you to see things up close without having to adjust the focus ring on your night vision.
WHAT'S INCLUDED
---
One SureFire M340V Scout Light comprised of the following: MH31 body + mounting hardware (both MIL-STD-1913 & M-LOK) + Z68 tailcap + KM1-E infrared / white LED bezel; one 123A lithium battery; and one Allen wrench
SPECS
---
FEATURES
New Low-Profile Mount allows optimum light positioning; ideal for use with other rail-mounted accessories.
Virtually indestructible IR and white LEDs are regulated to maximize light output and runtime.
On-the-fly switching between white-light and infrared mode—no IR filter required. To switch between modes twist the front knurled portion of the bezel.
Total Internal Reflection (TIR) lens shapes versatile beam with enough reach and surround light for close- to medium-range operations (up to 190m).
Mil-Spec hard-anodized aluminum body, tempered window and O-ring seals.
Z68 momentary/constant-on pushbutton switch with protective shroud.
Made in the USA.
View the User Manual HERE.
For a more in-depth comparison of SureFire rifle light specifications, check out our comparison table HERE. 
TECHNICAL SPECIFICATIONS
| | |
| --- | --- |
| OUTPUT | 250 lumens |
| RUNTIME | 1.5 hours |
| IR OUTPUT | 100 milliWatts / 860 nm |
| IR RUNTIME | 6.0 hours |
| PEAK BEAM INTENSITY | 9,300 candela |
| DISTANCE | 190 meters |
| BATTERIES | One 123A lithium (incl.) |
| SWITCHING | Click tailcap |
| LENGTH | 4.1 in (10.4 cm] |
| CONSTRUCTION | Aluminum |
| FINISH | Mil-Spec Hard Anodized |
| WEIGHT W/ BATTERIES | 3.4 oz (96.4 g) |
| BEZEL DIAMETER | 1.06 in (2.7 cm) |
| LIQUID INGRESS PROTECTION | IPX7 |
PICTURES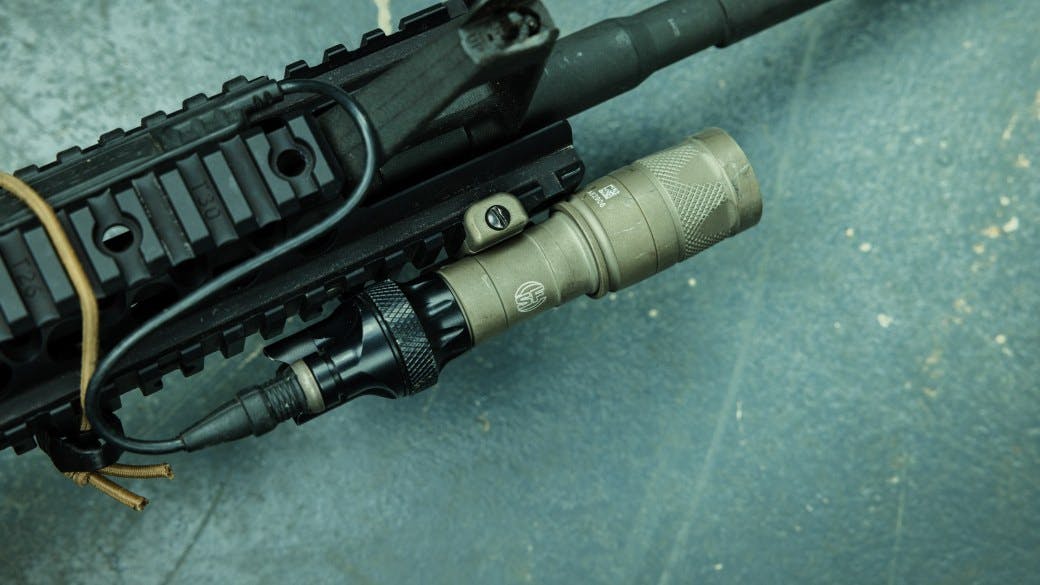 RESTRICTIONS
---
SureFire products cannot be shipped outside of the US.
This product is restricted by International Traffic in Arms Regulations (ITAR) and cannot be shipped outside of the US.
Everything You Need To Build Out A Rifle Light – Help – T.REX ARMS
Our Most Recommended Rifle Upgrades – Help – T.REX ARMS
Where to Mount Your Rifle Light – Video – T.REX ARMS
How Do I Set Up My Light for Constant and Momentary? – Help – T.REX ARMS