Aimpoint Acro P-2 Red Dot Sight
Ships in 1-5 business days
ITAR
This product is regulated by ITAR. It can only be shipped in the USA.
Due to high demand, we are currently limiting the number of people who can join the waitlist. The waitlist is currently full, but please check back later.
Video | What's Included | Specs | Pictures | FAQ | Restrictions | Related Info
Slide mounted red dots are incredible tools, but often suffer under extreme abuse and adverse weather conditions. That's where closed-emitter dots, like the new Aimpoint Acro P-2, really shine. "Closed-emitter" means the tech inside the optic, which projects the red dot onto the glass, is protected from the elements and debris. For the end-user, this significantly mitigates the risk of it failing. If rain, mud, sand, or snow accumulates on the glass of the optic, simply wipe it off or shoot through it.
While this advantage comes at the cost of a slightly larger optic, compared to many pistol-mounted red dots like the RMR and SRO, it still packs all the other benefits we look for in a red dot. The Acro P-2 has an incredibly long battery life, is lightweight, and works well in the daytime and under night vision with its various brightness settings. Suffice to say, unless you plan on only shooting when conditions are perfect, this optic is a go-to, top-tier choice.
OVERVIEW VIDEO
WHAT'S INCLUDED
---
One Aimpoint Acro P-2 Red Dot Reflex Sight, One CR2032 Battery (comes installed), Aimpoint T10 Tool, User Manual, Warranty Information.
(Lens covers not included.)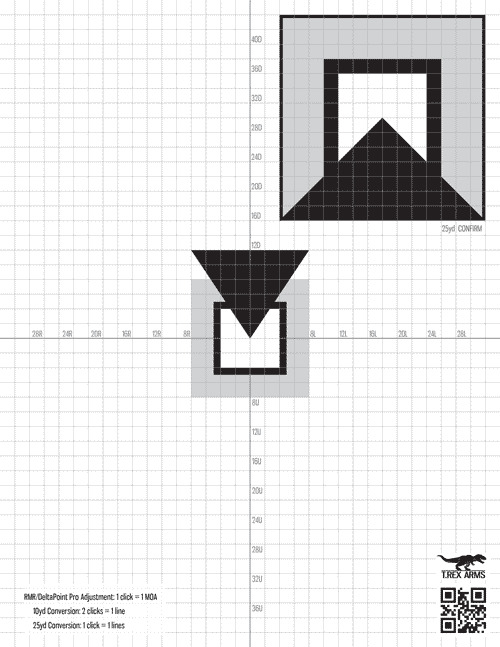 We include an 8.5″ x 11″ pistol red dot zero target with every red dot.
We recommend bench resting the pistol for stability, as you will want to minimize any potential human error.
You will want to start at 10 yards and aim for the point of the triangle in the center of the small square; your impact when zeroed should be within the center of that square.
You will then need to take the same target out to 25 yards to confirm your zero on the larger triangle/square and make any minor adjustments that may be needed.
SPECS
---
FEATURE LIST
– Optimized for pistols and applications which require a low-profile red dot system.
– The new design of the Acro P-2 makes the system submersible to 35 meters (115 feet).
– The new LED gives you a brighter 3.5 MOA dot.
– Wide range of mounting options developed especially for this product. (Sold separately)
– The only professional-grade fully enclosed system in its size on the market.
– Sealed optical channel protects the optic from rain, mud, sand, or snow.
– Silent digital push button intensity adjustment for ease of use in the field while wearing gloves.
– Matches perfectly with Aimpoint 3XMag-1 and 6XMag-1 magnifiers.
– Easily zeroed with the Aimpoint tool that comes with the sight. Adjustment clicks you can hear and feel.
– Can be used as a secondary sight on magnifying rifle scopes with the Acro adapter rings.
View the User Manual HERE.
TECHNICAL SPECIFICATIONS
| | |
| --- | --- |
| MOA | 3.5 MOA dot size |
| Battery Life | 50,000 hours (over 5 years continuous use) of operation on one CR2032 battery |
| Settings | 4 night vision compatible settings and 6 daylight settings |
| Material/ Finish | Anodized high strength aluminum housing, semi-matte black |
| Compatibility | Night Vision Device compatible |
| Size L X W X H | 47 x 33 x 31 mm |
| Weight | 60 g (2.1 oz) sight only |
| Submersible to | 35 meters (115 feet) |
| Height of Optical Axis | 14 mm (0.6 in) measured from top surface of mechanical interface |
| Optical Coating | Anti-reflex coating all surfaces and multilayer coating objective lens |
| Light Source Wavelength | 650 nm red light |
| Torque-Mount to Sight | 3.0 Nm / 27 in-lbs |
| Torque-Mount to Rail | 3.0 Nm / 27 in-lbs |
| Transmission | Avg 70% in the range 420-900nm |
| Temperature Range Operation | -49°F to + 160°F |
| Country of Origin | Sweden |
PICTURES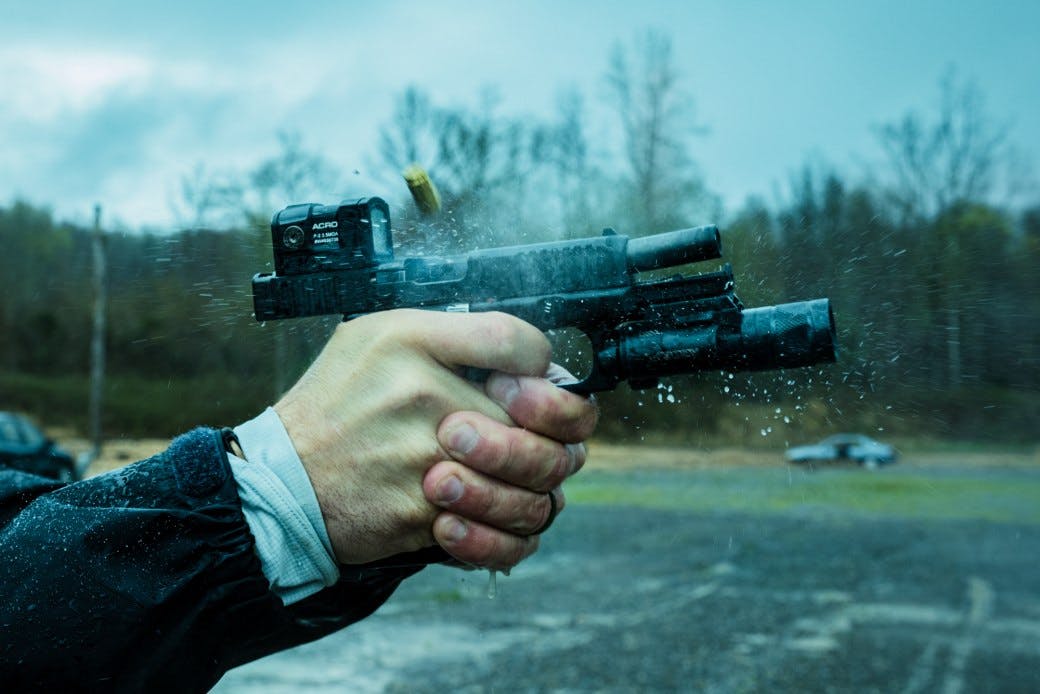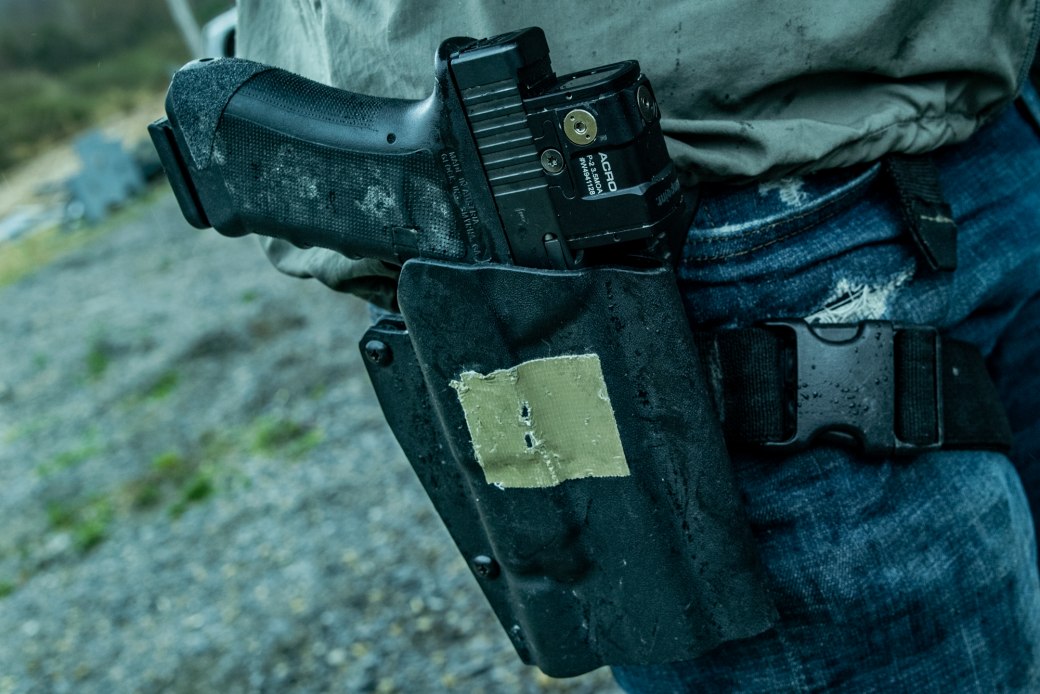 FAQ
How does the battery life compare to the P-1?
The P-1 had a battery life of 15,000 hours with a CR1225 battery. The P-2 has a battery life of 50,000 hours with a CR2032 battery. Significant improvements all around.
What kind of footprint does the P-2 have?
The Acro uses its own unique footprint. If you're looking for an offset mount for this, Arisaka makes an offset mount plate for it (Plate 6 or Plate 12).
RESTRICTIONS
---
This product is restricted by International Traffic in Arms Regulations (ITAR) and cannot be shipped outside of the USA.
Aimpoint Acro P-2 Red Dot Sight Overview – Video – T.REX ARMS