Video | What's Included | Specs | Pictures | Restrictions
The T.REX Carbine Field Cleaning Kit combines everything we find necessary to keep your rifle maintained in the field or on the range where you may not be around your standard supplies. When paired with the optional Magpul DAKA pouch, this kit goes great in a pack, range bag, vehicle, or anywhere you need it. The DAKA also keeps the contents somewhat weatherproof and helps contain any spills inside the bag, keeping the rest of your kit oil-free should something compromise the oil container.
For the CLP, we prefer the needle applicator since it allows you to have a more precise application and helps regulate the application amount. The downside is that the needle applicator is susceptible to damage and can be broken off, so we recommend storing it with that in mind. Wrapping a cloth around it inside the pouch is a decent way to make sure the tip doesn't break.
OVERVIEW VIDEO
WHAT'S INCLUDED
---
KleenBore cleaning rod set; 12″x12″ cotton cleaning cloth; KleenBore rope cleaner (5.56/.223); KleenBore gun brush; 1 oz. bottle of KleenBore CLP; Pro-Shot lens brush; (optional) small OD green Magpul DAKA pouch
SPECS
---
All components of this kit, other than the DAKA pouch, are sourced directly from KleenBore.
FEATURES
DAKA Pouch (optional):

Provides a convenient, water-resistant storage solution to keep your kit organized and clean. Also contains spills should the liquid container become compromised.
Rope Cleaner: With 160 times more floss than standard patches, the rope cleaner quickly and efficiently cleans your bore while being washable and reusable for sustainable maintenance.
Gun Brush: The double-ended brushes offer safe cleaning of critical components with stiff nylon bristles, featuring smaller, stiffer bristles on one side for smaller parts.

Cleaning Rods:

Steel rods, finished with black oxide, are compatible with .22-.45 caliber handguns/rifles and includes an accessory adapter. Does not come with jags, patches, or brushes.

Mil-Spec CLP

: Trusted CLP formula cleans fouling, protects against rust, reduces friction, and withstands extreme conditions. Originally developed for the U.S. Military.

Lens Brush:

The soft brush minimizes lens scratching, removes dust and debris, and comes in a compact, protective case for convenient storage and cleanliness.

Cotton Cloth:

A heavy-duty cleaning cloth is provided for wiping down parts.
PICTURES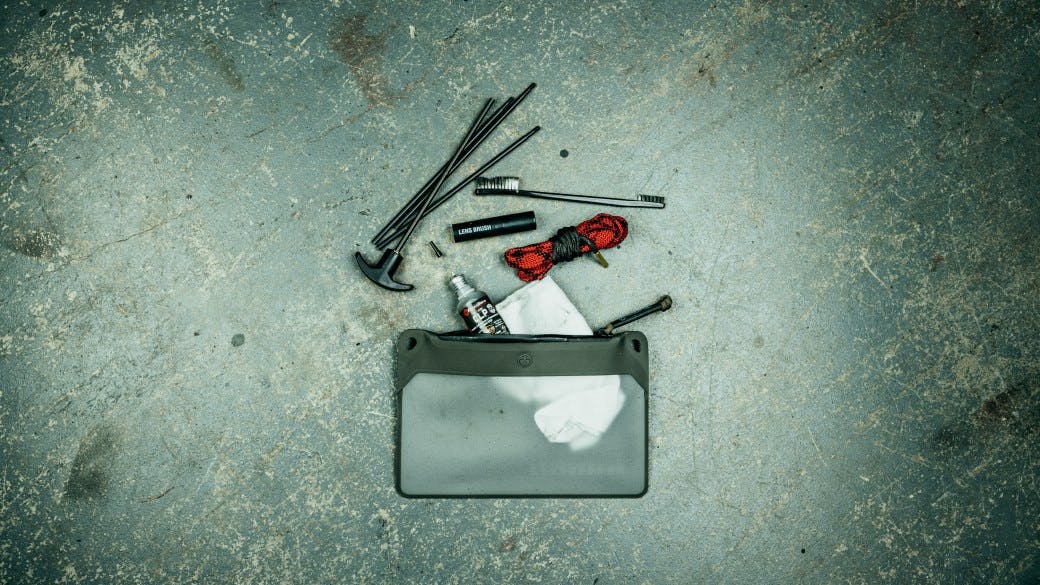 RESTRICTIONS
---
Magpul products cannot be shipped outside of the US. If ordered without a DAKA, this item is eligible for international shipping.