Video | What's Included | Specs | Pictures | FAQ | Restrictions | Related Info
The M340 TURBO is SureFire's answer to the high candela weapon lights on today's market. The M340DFT runs on one rechargeable 18350 battery or one CR123 (at reduced output). With the 18350, it provides around 45 minutes of run time while producing up to 650 lumens and 95,000 candela. The M340DFT utilizes the SureFire PRO footprint allowing the end user to minimize dead space on their gun by swiveling the mount closer to their rail or other accessories. It also accepts all standard SureFire tailcaps and tape switches, along with the aftermarket options available for that system. As with all SureFire PRO lights, the M340DFT comes with a momentary/constant Z68 tailcap and mounts for M-LOK and Picatinny, making this setup ready to roll right out of the box for a large majority of configurations.
OVERVIEW VIDEO
WHAT'S INCLUDED
---
One SureFire M340DFT Mini Scout Light PRO (black or tan), which includes the MH32 body and both an M-1913-S mount and an M-MLOK-S mount; one Z68 click-on tailcap; one KF1-A-DFT white LED bezel; one SF18350 Li-ion battery; USB charging cable; and one Allen wrench.
SPECS
---
FEATURES
Provides ample spill light for situational awareness without sacrificing long-range performance
Compact form factor
Dual fuel for battery versatility—rechargeable SF18350 (included) or one CR123A (not included)
Recoil-proof durability and reliability
The low-profile mount allows the light to pivot and lock in an optimized position to clear accessories
Securely attaches to any MIL-STD-1913 or M-LOK rail
Constructed of Mil-Spec hard-anodized aerospace aluminum
O-ring sealed; Meets IPX7 waterproof test standard at 1 meter for 30 minutes
The shrouded tailcap provides momentary/constant-on switch options and protects from accidental activation
Z68 switch electronically controls power to maximize output and runtime
Compatible with a host of remote tape switches
All performance claims tested to ANSI/PLATO FL1-2019 Standard
Made in the USA.
Click here for Scout Light User Manual, or the M340DFT Product Brochure.
For a more in-depth comparison of SureFire rifle light specifications, check out our comparison table HERE.
TECHNICAL SPECIFICATIONS
| | | |
| --- | --- | --- |
| | SF18350 Battery | CR123A Battery (Not Included) |
| OUTPUT | 650 lumens | 350 lumens |
| RUNTIME | 45 min | 60 min |
| PEAK BEAM INTENSITY | 95,000 candela | 55,000 candela |
| DISTANCE | 616 m | 459 m |
MOUNT
Any MIL-STD-1913 or M-LOK rail
WATERPROOFING
IPX7 standard (1 meter for 30 minutes)
CONSTRUCTION
Aerospace aluminum, O-Ring sealed
FINISH
Hard anodized (MIL-A-8625 Type III, Class 2)
WEIGHT (w/batteries)
5.11 oz (144.9 g)
LENGTH
4.8 in (12.2 cm)
BEZEL DIAMETER
1.258 in (3.2 cm)
BATTERY
One rechargeable SF18350 (included) 1100mAh 3.7V protected lithium ion (Li-ion) button top battery with built-in micro-USB charging port
or One 123A (not included)
WARRANTY
Guaranteed for life by the manufacturer (Warranty does not cover battery)
PICTURES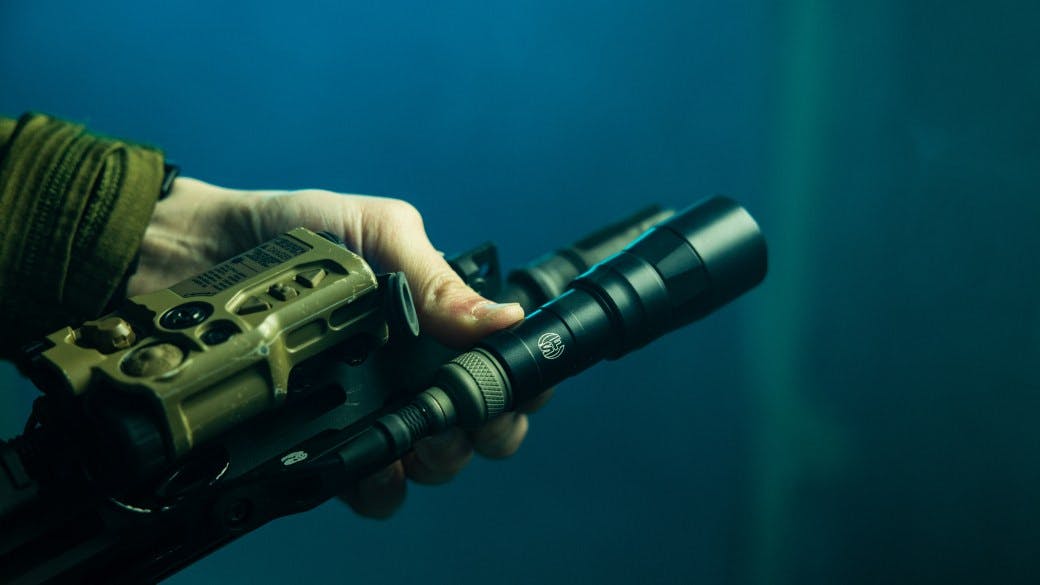 FAQ
Should I get the M340DFT or the
M340C
?
It depends on what you want from your light. Do you want more flood and less hotspot? The M340C is your best bet. If you want an adequate amount of flood with a bright hotspot for more range, the M340DFT will fit your needs.
RESTRICTIONS
---
This product contains lithium and cannot be shipped outside of the contiguous 48 United States.
SureFire products cannot be shipped outside of the US.
T.REX Lightbar PRO Mount Overview – Video – T.REX ARMS
Where to Mount Your Rifle Light – Video – T.REX ARMS
50 Round Carbine Course of Fire – Drills – T.REX ARMS