RNVG (Ruggedized Night Vision Goggle)
ITAR
This product is regulated by ITAR. It can only be shipped in the USA.
Video | What's Included | Specs | Pictures | FAQ | Restrictions | Related Info
The RNVG is simultaneously one of the most durable and affordable ways to run dual tubes. AB Night Vision's aluminum housing makes for a rock-solid yet fully adjustable bino setup with intuitive controls, including IR illumination and signaling capability. This unit has approximately 16 hours of battery on a single CR123 and has a low-power indicator built in, but if that's not enough for you, the RNVG is compatible with most ANVIS-style battery packs. All units will come ready to go out of the box with batteries and a 10-year warranty.
But the big question is: Why aren't we offering hand-selected tubes? Put simply, we are offering tubes that meet our standard of performance, and working with Nocturnality means we are basically getting hand-selected tubes in the first place. Picture a graph with tube specs along the bottom and performance along the side—the line will go up dramatically at first, but then it will level out with a marginal increase. All the tubes we are selling are Elbit Mil-Spec grades including YH, VH, PH, and adhere to a minimum of 1600 FOM and 25+ SNR. In our experience, going beyond these tubes, you are at the point of diminishing returns where the line starts to level out. There is next to no discernible difference in any of the tubes we are offering when it comes to what you are able to accomplish with them. We know this is an investment, but our goal past, present, and future is to curate products that take the guesswork away from the customer. If you still feel you want to hand-select based on individual technical specifications, then we are not the solution for you. You'll want a custom solution instead, and it just so happens we know a guy.
When you place an order, a CS rep will call you to share the exact specs of your tubes, including tube images. You can make changes to your order at this time if desired. After the phone call, your night vision will be shipped overnight to a physical address. This is both to improve package security and to get it in your hands ASAP so you can get training.
OVERVIEW VIDEO
WHAT'S INCLUDED
---
One pair of AB NightVision RNVG (Ruggedized Night Vision Goggle); dovetail gooseneck; two daylight caps; custom padded pouch; tube manufacturer spec sheets; 1x CR123
TUBE SPECS
---
BATCH SPECIFICATIONS
We aren't offering hand-picked tubes. All of our night vision meets or exceeds OMNI VIII Mil-Spec minimums, but to better represent these units, we will be listing batch specifications. These will be updated with each new batch we receive. You will receive the original Elbit Systems spec sheets with your order.
| | | |
| --- | --- | --- |
| | Batch Minimum | Batch Maximum |
| HALO | 0.64 | 0.98 |
| EBI | 0.1 | 2.25 |
| RES | 72 | 81 |
| SNR | 26.4 | 35.4 |
| FOM | 1994 | 2690 |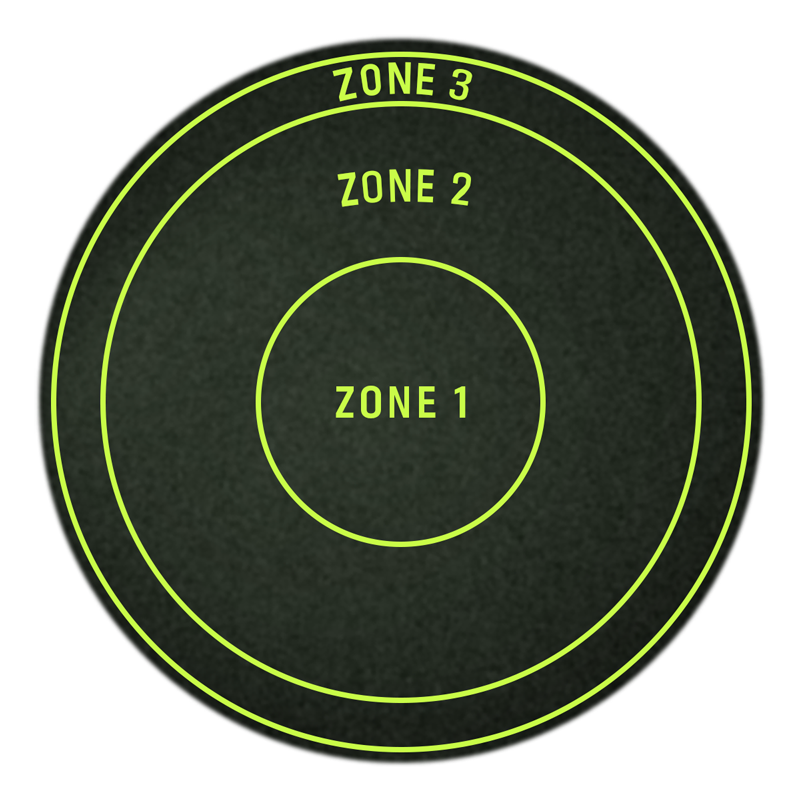 Image intensifier tubes can have visible imperfections, either from the manufacturing process or, in the case of used tubes, blemishes caused by damage. Tubes are graded based on the severity of these imperfections and in which zone of the optical field they are visible. Tubes sold by T.REX will not have imperfections in Zone One.
TERMINOLOGY
FOM (Figure of Merit)
Figure of Merit, most often referred to as FOM, is the result of multiplying a tube's center resolution (RES) and signal-to-noise ratio (SNR). For example, OMNI VIII Mil-Spec contract specifications require a RES minimum of 64 lp/mm and an SNR minimum of 25, resulting in a 1600 FOM minimum. FOM is often used as a benchmark number for tube performance, and while it is important, it doesn't tell the entire story, so all specs should be considered.
RES (Center Resolution)
Resolution is the tube's ability to resolve an image. This is measured in line pairs per millimeter and is measured with a bar chart on standard night vision test sets. For this specification, higher is better, and as mentioned previously, this number is multiplied by SNR to achieve a FOM rating.
SNR (Signal to Noise Ratio)
Understanding the signal-to-noise ratio is easier when we better understand what signal and noise are separately. Signal is the true light being picked up by the photocathode within the tube; this is the image you see when the tube intensifies light. Noise is the "scintillation" or electronic noise found in a tube. This is a faint, random, sparkling effect throughout the image area. It may be obvious at this point, but SNR is the ratio between these two figures. The higher the SNR, the more signal there is compared to noise within the tube, making a higher number better.
EBI (Equivalent Background Illumination)
EBI is the amount of light that the tube puts off when the objective lens is completely covered and there is no light entering the tube to be amplified by the photocathode. For an image to be visible through the tube, the light hitting the photocathode must overpower the tube's natural background illumination or the image will be washed out, which means EBI determines the lowest light levels that an image is able to be seen through the tube. For this spec, lower is better.
HALO
Halo is the ring of light that forms around concentrated light sources when using night vision. Halo is prevalent with streetlights, headlights, or other concentrated light sources. The lower the number, the less prevalent this effect will be, so for this specification, lower is ideal.
UNIT SPECS
---
FEATURES
Familiar controls for easy use, similar to a PVS-14
IR signaling capability with safety feature for IR illuminator activation
Works off a single CR123 battery with over 16 hours of battery life
CNC machined from solid billet 7075-T6 aluminum for extreme durability
Media blasted and anodized non-reflective finish
10-year device warranty through Nocturnality
Assembled by Nocturnality.
TECHNICAL SPECIFICATIONS
Power source
(1) cr123 battery
Focus range
9.8" to infinity
Operation time
Approximately 16 hours
Magnification
(1x) One power
Field of view
40 degrees
Interpupillary adjustment
51 to 73mm
Diopter adjustment
-6 to +2
Eye relief
25mm
Weight
555g (19.57 oz) w/o battery
570g (20.1 oz) w/ battery
Dimensions
4.7" x 4.2" x 2.8"
IR illuminator
Built-in
Water resistance
Submersible to 66 ft
IR Led and Low Battery Indicators
Yes
PICTURES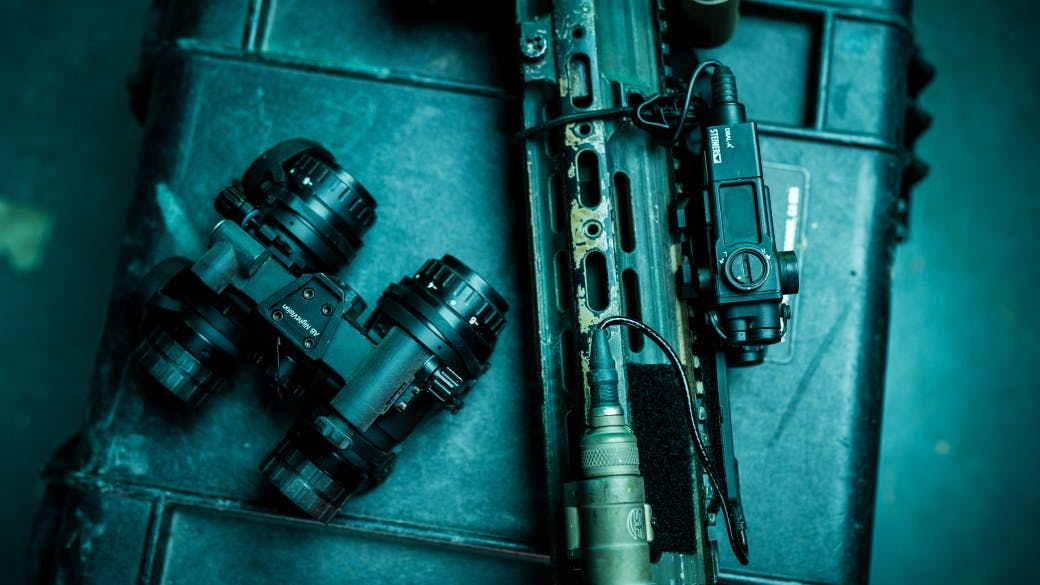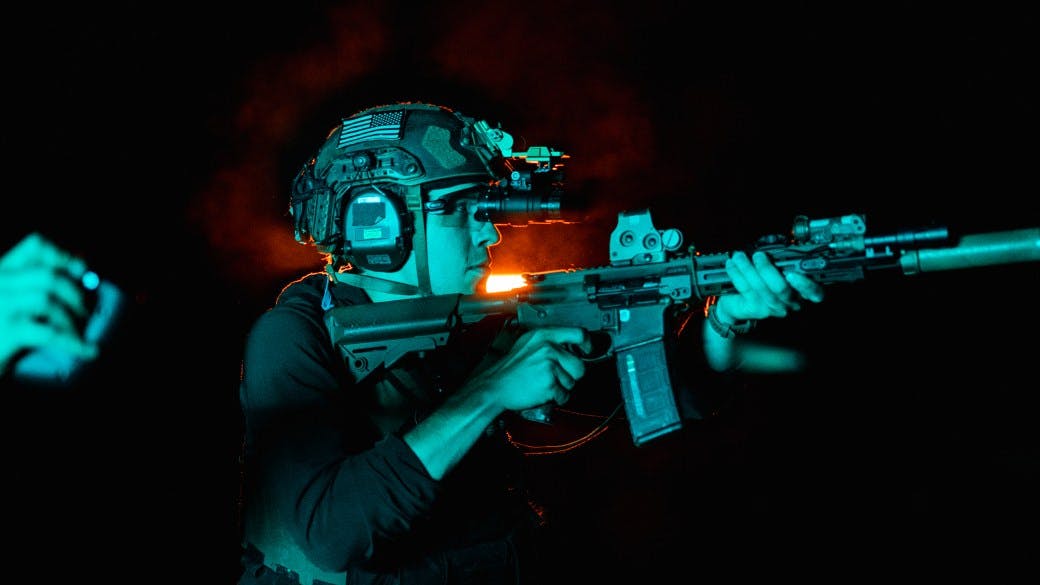 FAQ
Will you offer hand-picked or custom units?
We don't have any plans to offer hand-picked or custom units. If this is something you may be interested in, we recommend checking out
Nocturnality
.
RESTRICTIONS
---
This product is restricted by International Traffic in Arms Regulations (ITAR) and cannot be shipped outside of the USA.