Steiner DBAL-D2 Laser
ITAR
This product is regulated by ITAR. It can only be shipped in the USA.
Video | What's Included | Specs | Pictures | FAQ | Restrictions
The Steiner DBAL-D2 is a dual-beam aiming laser that offers an IR illuminator and IR laser along with a slaved VIS laser for daytime zeroing. This laser is an eye-safe civilian model, but while the laser is weaker than a full power, the focusable LED-based IR illuminator punches far above its class. There are some downsides with this, however. Because of the larger LED illuminator, the D2 has a bulkier footprint and is quite heavy, and much like the SureFire Vampire series and any other LED IR illuminator, the D2 will have a very dim visible red glow coming from the reflector of the illuminator. The D3 runs off of a single CR123 and can last for 3 hours using both IR illuminator and laser.
OVERVIEW VIDEO
WHAT'S INCLUDED
---
One Steiner DBAL-D2 Laser; pressure pad; CR123 battery
SPECS
---
FEATURES
Adjustable LED IR illuminator for better illumination at longer ranges
Visible green laser
High and low power modes
IR LED Illuminator
Co-aligned visible & IR aiming lasers
Low-profile windage and elevation adjusters
Single laser activation switch—tap and release for momentary activation, tap twice for 5 minute continuous ON
Activation/low battery indicator light
Remote cable port
Attaches to any Picatinny rail using the self-adjusting Quick Detach HT Mount
Made in the USA.
View the Technical Manual HERE.
TECHNICAL SPECIFICATIONS
Visible Green Laser
Class 3R
Output: <5.0 mW; 520nm +/- 10nm
IR Laser Pointer
IR Class 1
Output: <0.7 mW; 850nm +25/-5nm
IR Laser Illuminator
Output: 600 mW LED Eye Safe
Temperature Range
+4°C to +65°C
Battery
1x CR123A
Battery Life (High IR illum/pnt)
~3 hours
Material
T6 Aircraft Aluminum
Type III Hardcoat Anodized
Weight
11.9 oz (337 g)
Submersible
5 meters
Mount
Quick Detach HT Mount
Windage & Elevation Adjustment
Yes
Activation Switch
Integrated Push Button
Remote Cable Pressure Pad
Yes
PICTURES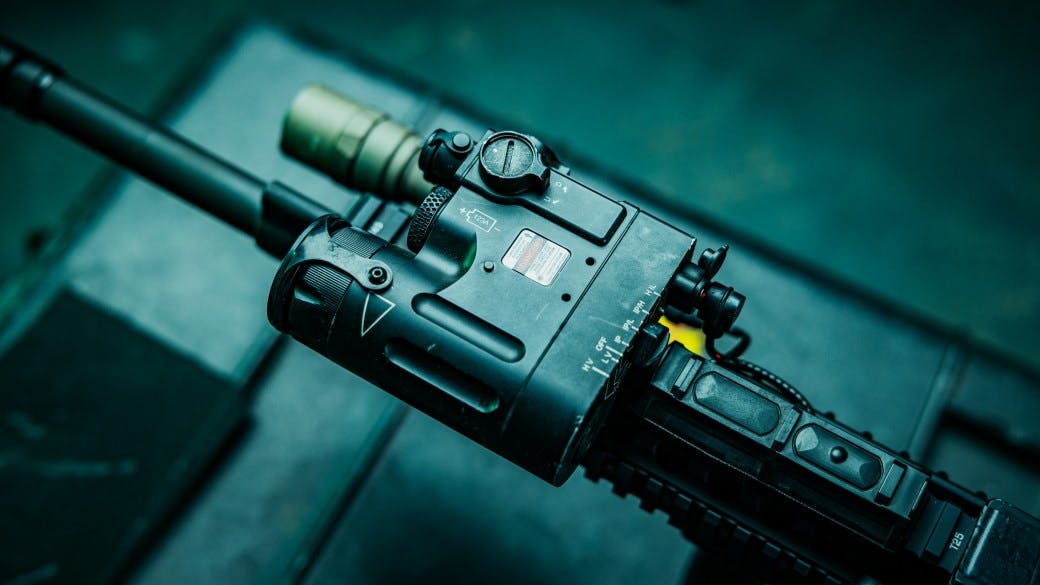 FAQ
Do you have a zeroing target for this?
RESTRICTIONS
---
This product is restricted by International Traffic in Arms Regulations (ITAR) and cannot be shipped outside of the USA.
This product contains lithium and cannot be shipped outside of the contiguous 48 United States.