HESCO 3810 Level III+ Plate Set
ITAR
This product is regulated by ITAR. It can only be shipped in the USA.
What's Included | Specs | Sizing Chart | FAQ | Restrictions | Related Info
Choosing armor plates can prove difficult when there are so many options on the market. Some are great. Some are snake oil. Among our favorites are the HESCO 3810 Level III+ SAPI cut plates. They are the lightest-weight, highest-quality plates in their class, with a comfort-fitting multi-curve SAPI cut and finished with a highly-durable Cordura wrap and waterproof coating.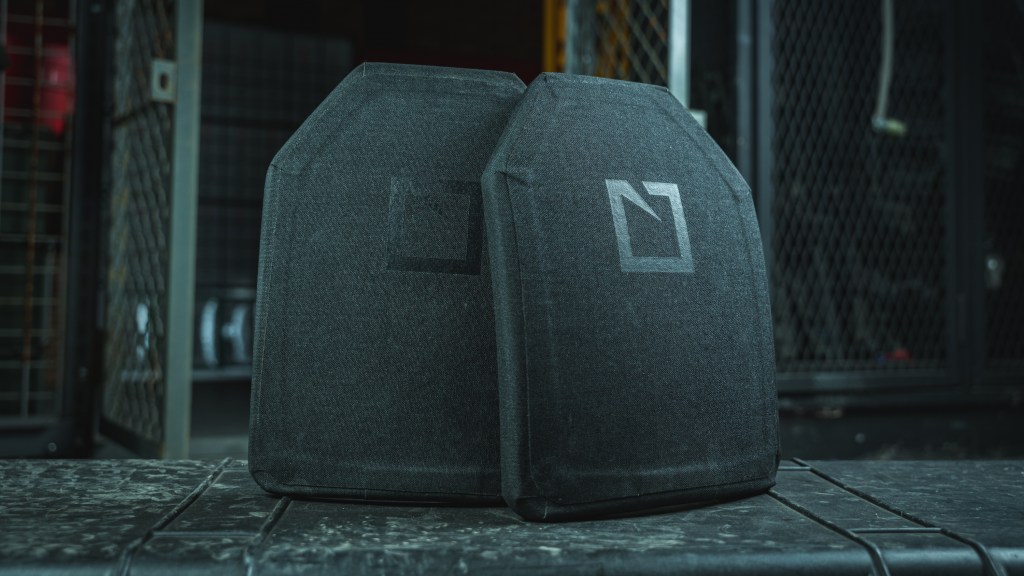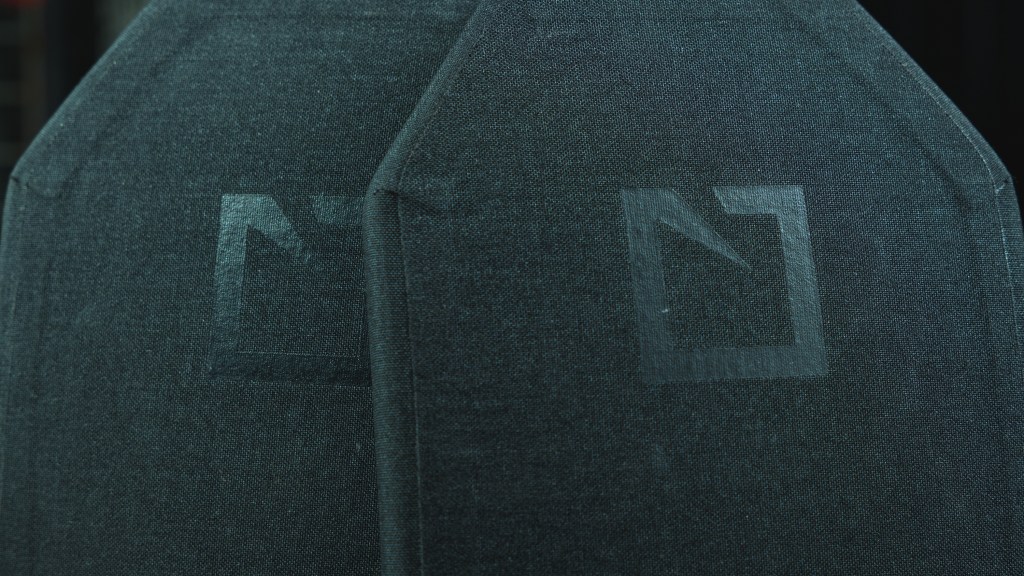 WHAT'S INCLUDED
---
Two HESCO 3810 Level III+ SAPI Cut plates (i.e. sold as a set—one for the front and one for the back)
Plate Carrier NOT included. If you're looking for a carrier, check out our T.REX AC1
HERE
.
SPECS
---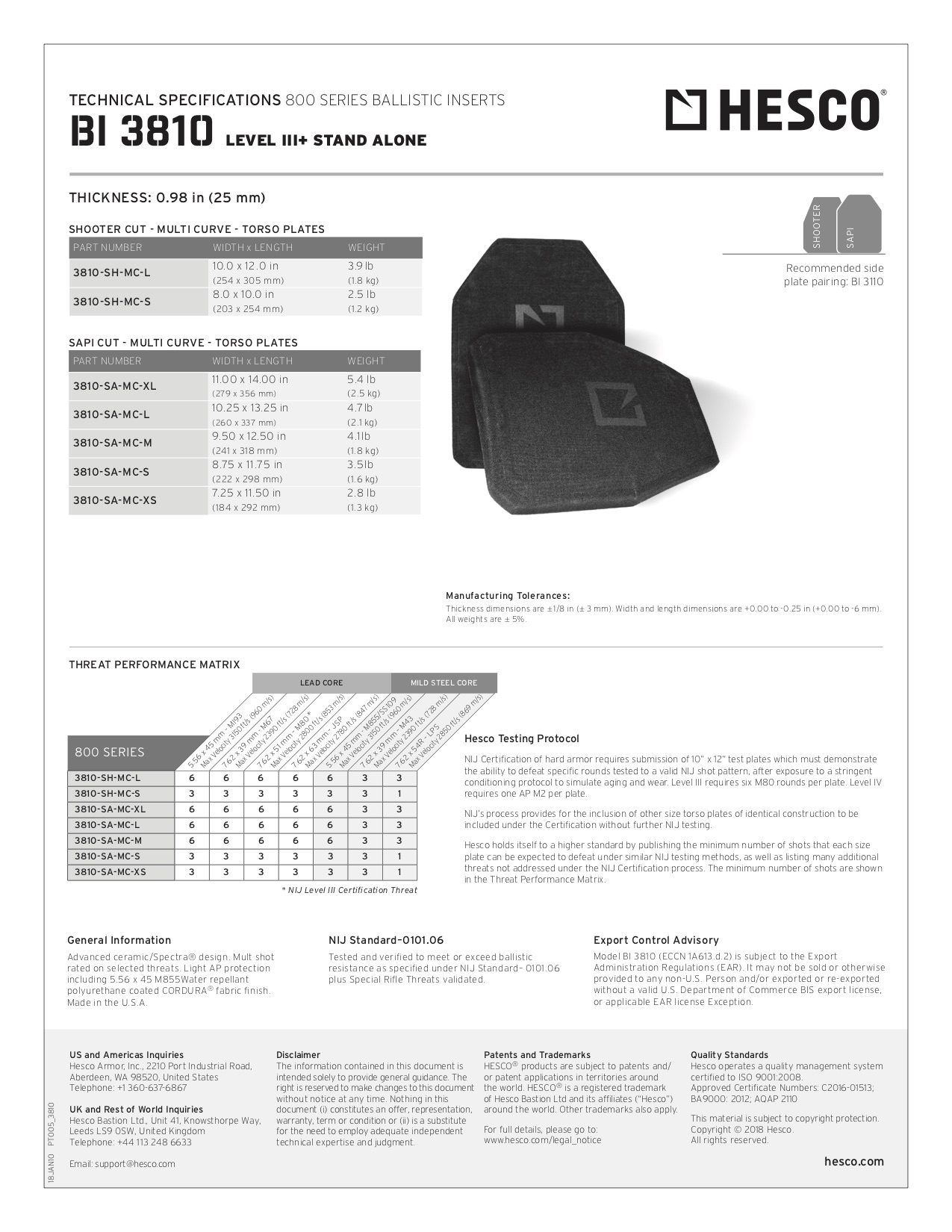 What hits can this plate take from different rounds? It depends on the size, but it protects against the following:
7.62x63mm-JSP: 2780 ft/s
7.62x54R-LPS: 2300 ft/s
7.62x54R-L: 2840 ft/s
7.62x51mm-M80: 2780 ft/s
7.62x39mm-Mild Steel Core: 2380 ft/s
7.62x39mm-Ball: 2380 ft/s
5.56x45mm-M855/SS109: 3117 ft/s
5.56x45mm-M193: 3150 ft/s
Consult the Threat Matrix on the Technical Specifications sheet (left) for specifics.
SIZING CHART
---
The purpose of armor plates is to cover your vital organs. You can use HESCO's Hard Armor Fitting Guide to determine what size plates you need. (You can get a good idea of your size by measuring nipple to nipple and clavicle to a few inches above your belly button.)
| | | | | |
| --- | --- | --- | --- | --- |
| Plate Size | Measurements | Weight | Thickness | Plate Carrier Size Compatibility |
| Small | 8.75 x 11.75″ | 3.4 lb | 0.98″ | Small |
| Medium | 9.5 x 12.5″ | 4 lb | 0.98″ | Medium |
| Large | 10.25 x 13.25″ | 4.6 lb | 0.98″ | Large |
| XL | 11 x 14″ | 5.4 lb | 0.98″ | Extra Large |
FAQ
I found steel plates online for cheaper. Why should I get these?
You get what you pay for, and in the armor market, many products are snake oil. If you want to get a budget option for an item that is designed to save your life, you can, but we think it's a terrible idea. HESCO is the most respected and tested brand in the industry, which is why out of all the hundreds of options and brands, we trust and recommend this not just
to
our customers but
with
our own lives as well. If you're looking for a less pricey option that still offers performance we can get behind, check out the
HESCO L210 plate set
.
Is it possible to get Level IV protection when using this with another product?
This isn't officially tested for that so we can't officially comment on it. There are standalone Level IV Hescos on the market that would be a better choice than the III+ and Soft Insert combo. Please ask HESCO directly about armor combinations like that.
Are these plates rated for knife strikes?
These are for bullets, not blades. So, keep your distance. But yes, knives don't like hard plates.
Where can I find more information on these plates?
RESTRICTIONS
---
Body Armor is regulated by Federal Law.
We are restricted to selling and shipping to ONLY 48 states in the US. Due to the legal requirements in the states of Connecticut and New York, we do not ship body armor there under any circumstances. This also applies to law enforcement in those states.
No body armor can be sold or shipped internationally. Not even to APO / FPO / DPO addresses.
Felons are not generally eligible to own body armor. In many states, it is only violent felons who are not eligible to own body armor. Please check your local laws before ordering if you have any questions.
What Size Plates Do I Need? – Help – T.REX ARMS
Can I Return Body Armor? – Help – T.REX ARMS
Body Armor: Sizing Plates and Plate Carriers – Video – T.REX ARMS