Videos | What's Included | Specs | Pictures | Related Info
Made in partnership with Esstac, this is our 7.62 KYWI Placard which is designed to hold three standard SR-25 / AR-10 style magazines and attach to plate carriers via buckles and/or hook and loop. Utilizing a hybrid Kydex and nylon design, you get all the rigidity you expect from a Kydex pouch with the lack of noise you want from a nylon pouch. These pouches feature Esstac's Kydex wedge insert (KYWI), which provides the needed retention to secure your magazines without the need for a bungee cord. This will also accommodate SCAR and G3 magazines. 7.62 AK mags can fit in this but will require some remolding of the Kydex insert to remove slop and wobble.
The backside of this placard is hook material, so it can easily grab onto the velcro found on the front of most plate carriers and cummerbund flaps. The buckles are attached to a hook & loop material that can be adjusted in length to fit perfectly on your plate carrier or chest rig (high or low), or removed for slick use.
It does not come with side buckles, but there are four side loops sewn in (two on each side) so you can add your own buckles if you wish to run this with a traditional chest rig harness from companies like HSP, Spiritus, or Velocity Systems. It also comes with a Velcro backer that covers the interior hook field so it's non-abrasive if you choose to run it as a chest rig.
OVERVIEW VIDEO
HOW TO MODIFY KYWI RETENTION
WHAT'S INCLUDED
---
One T.REX KWYI Placard – 7.62 with two 1-inch male buckles and a Velcro backer to cover the hook field.
SPECS
---
Has three 3.25″ wide mag pouches. Fits AR-10 / SR-25 magazines. Can also be used for SCAR, G3, M1A/M14, and other similarly thick .30 caliber magazines.
The Velcro hook field and the Velcro backer are both 10″ x 4″.
The 1-inch buckles on the top are attached via a 1″ x 6″ piece of Velcro that is adjustable all the way down or up to a 2.5″ loop. Between the buckle loops is 7″ (center to center). There are four 1″ x 1″ loops on the side if you want to run more buckles. (Center to center for the side loops is 3″.)
Total dimensions: 10″ long x 4.25″ tall x 1.5″ deep.
PICTURES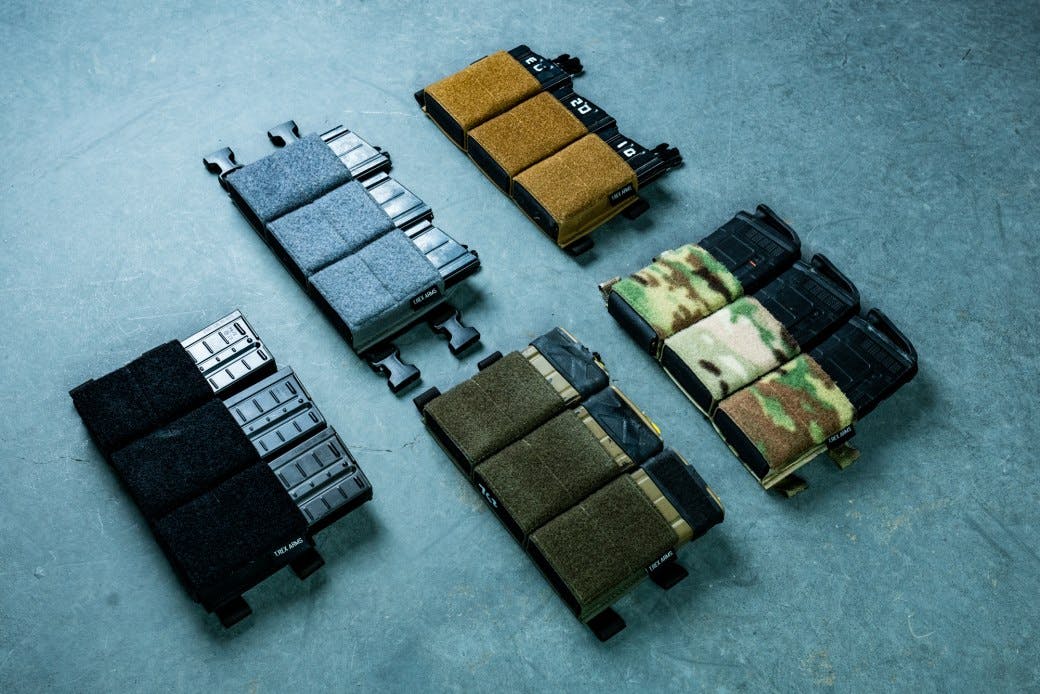 Are T.REX ARMS Nylon Products Covered Under Warranty? – Help – T.REX ARMS
T.REX KYWI Placard – 7.62 Overview – Video – T.REX ARMS
How to Modify Esstac KYWI Retention – Video – T.REX ARMS