HESCO L210 Special Threat Plate Set
ITAR
This product is regulated by ITAR. It can only be shipped in the USA.
We do NOT plan to restock L210s. We will be carrying HESCO's L211s instead. If you would like to be notified when we have those for sale, please sign up on the waitlist above!
What's a Special Threat Plate? | What's Included | Specs | Sizing | FAQ | Restrictions | Related Info
Every citizen has the right to arms, as articulated in our 2nd amendment. This means weapons and armor. Enter the HESCO L210, a lightweight, single curve, multi-hit, standalone Special Threat Plate in Shooter Cut. The light 5.4 lb (per plate) weight in a 10″ x 12″ single curve design coupled with a thin 0.6 inch profile is a proven winner for the performance/cost balance.
Wondering if the L210s will fit in a particular plate carrier? Check out
THIS page
. If looking at our AC1, the L210s fit best in a Medium.
Do you have feedback on how the HESCO L210s fit in a specific carrier? You can fill out the following form to help other customers:
L210 Plate Carrier Fit
WHAT'S A SPECIAL THREAT PLATE?
---
The L210 is neither a Level 3 or Level 4 plate. It's what's called a Special Threat Plate. The National Institute of Justice, which rates armor plates, defines a Level 3 plate as one that will stop 7.62×51 M80 ball and a Level 4 plate as one that will stop 30-06 M2 AP (NIJ 0101.06).
But what if you aren't really concerned about full-powered rifle threats like M80 ball? Most militaries have been moving to intermediate cartridges over the last few decades, as have most civilian shooters and law enforcement agencies. And this is reflected in crime; most criminals and active shooters in recent history have used either handguns or intermediate rifle calibers. Also, some Level 3 plates are not able to stop M855 ball due to its mild-steel armor-penetrating core. They weren't designed with this threat in mind.
Therefore, some companies sell "Special Threat" plates – plates designed around a special threat not covered by the NIJ standards. The L210 is an example of this plate; it drops M80 ball protection but stops several AR-15 and AKM light armor-penetrating rounds.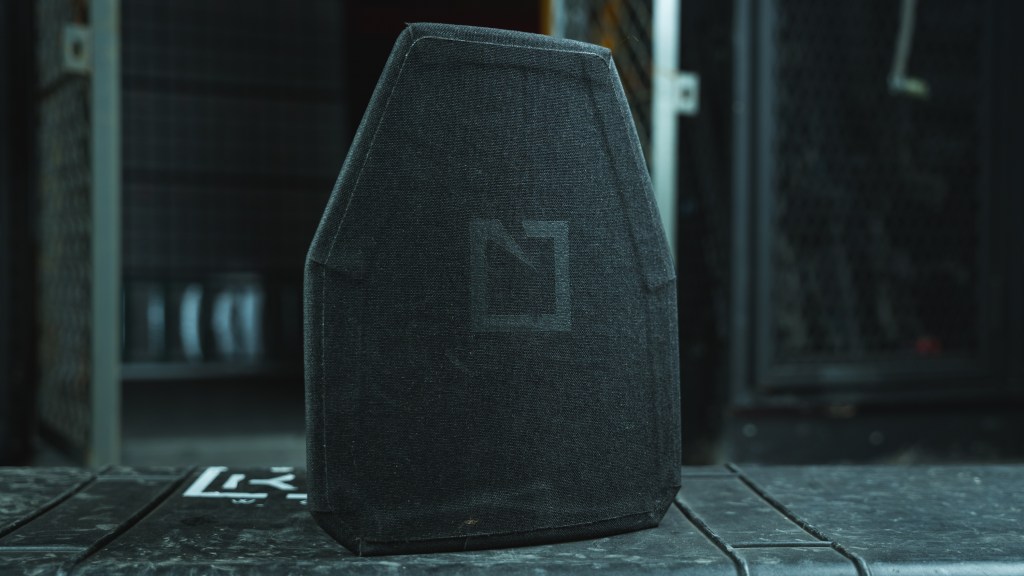 WHAT'S INCLUDED
---
Sold as a set. You'll receive two plates, one for the front and another for the back.
Plate Carrier NOT included. If you're looking for a carrier, check out our T.REX AC1
HERE
. Since these Large L210 plates are a Shooter cut, you'll want a size Medium AC1.
SPECS
---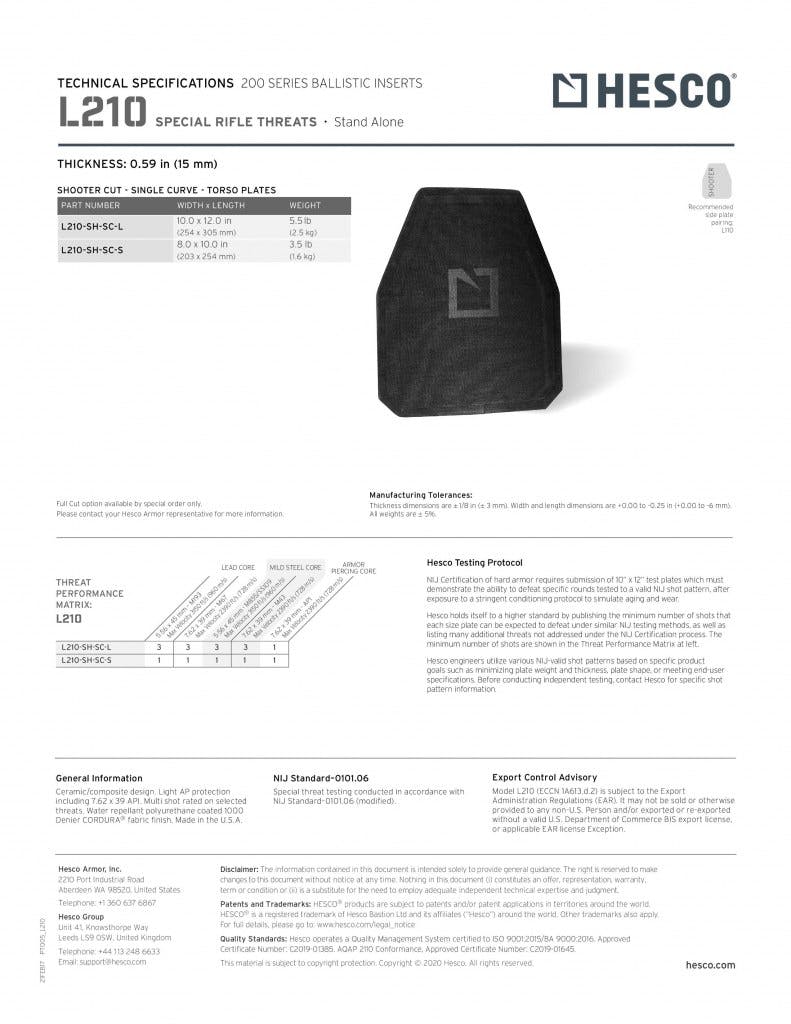 These are the 10″x12″ L210s (Large). Each plate is 0.6″ thick and weighs 5.4 lb.
How does the L210 stand up to different rounds? Basically, here is how it breaks down (per round type, not combined):
5.56x45mm-M193: 3150 ft/s (3 hits)
7.62x39mm-M67: 2390 ft/s (3 hits)
5.56x45mm-M855/SS109: 3150 ft/s (3 hits)
7.62x39mm-M43 (Mild Steel Core): 2390 ft/s (3 hits)
7.62x39mm-API: 2390 ft/s (1 hit)
Consult the Threat Matrix on the Technical Specifications sheet (left) for specifics.
SIZING
---
We only sell one size for these plates: 10″x12″ (Large). They'll fit in medium or large plate carriers but have the least amount of wiggle room in medium carriers. For our carrier, you will need a medium.
The purpose of armor plates is to cover your vital organs. You can use HESCO's Hard Armor Fitting Guide to determine what size plates you need. (You can get a good idea of your size by measuring nipple to nipple and clavicle to a few inches above your belly button.)
Do you have feedback on how the HESCO L210s fit in a specific carrier? You can fill out the following form to help other customers: L210 Plate Carrier Fit (You can check out the results of this crowd-sourced fitment data HERE.)
FAQ
I found steel plates online for cheaper. Why should I get these?
You get what you pay for and in the armor market, many products are snake oil. If you want to get a budget option for an item that is designed to save your life, you can, but we think it's a terrible idea. HESCO is the most respected and tested brand in the industry, which is why out of all the hundreds of options and brands, we trust and recommend this not just to our customers but with our own lives as well. The L210s are a less pricey option that still offers performance we can get behind.
Are these plates rated for knife strikes?
These are for bullets, not blades. So, keep your distance. But yes, knives don't like hard plates.
Can I purchase an individual plate instead of the set?
No. These are designed to be used as a pair and we don't recommend just running a single plate. So we sell them as a pair.
Where can I find more information on these plates?
RESTRICTIONS
---
Body Armor is regulated by Federal Law.
We are restricted to selling and shipping to ONLY 48 states in the US. Due to the legal requirements in the states of Connecticut and New York, we do not ship body armor there under any circumstances. This also applies to law enforcement in those states.
No body armor can be sold or shipped internationally. Not even to APO / FPO / DPO addresses.
Felons are not generally eligible to own body armor. In many states, it is only violent felons who are not eligible to own body armor. Please check your local laws before ordering if you have any questions.
HESCO L210 Plate Carrier Fit Data – T.REX ARMS
What is a "Special Threat" Plate? Is It a Level 3 or 4 Plate? – Help – T.REX ARMS
What Size Plates Do I Need? – Help – T.REX ARMS
Can I Return Body Armor? – Help – T.REX ARMS
Body Armor: Sizing Plates and Plate Carriers – Video – T.REX ARMS