Video | What's Included | Specs | Pictures | Restrictions | Related Info
Chest seals are used on penetrating injuries like gunshot or stab wounds to seal the chest cavity. The SAM chest seal features a rigid dome-shaped valve that allows air to escape while stopping air from re-entering the chest cavity and causing lung collapse, and because of its rigid construction, the valve will continue to work no matter the pressure applied.
OVERVIEW VIDEO
WHAT'S INCLUDED
---
One pair of SAM Medical valved 2.0 chest seals
SPECS
---
FEATURES
One or both tabs can be used to facilitate the placement, lifting, and removal of the dressing
A rigid, raised-dome valve ensures one-way airflow from the chest cavity, no matter the pressure applied (even in the presence of heavy body armor). Large side vents minimize internal obstruction from blood clots or soft tissue.
Engineered to seal and reseal open chest wounds in the presence of any elements, including extreme heat or cold.
Meets CoTCCC-preferred features.
6-year shelf life.
Made in the USA.
View the Instructions for Use HERE.
TECHNICAL SPECIFICATIONS
Product Size
Height: 7 in (17.8 cm)
Width: 7 in (17.8 cm
Packaging Size
Height: 10 in (25.4 cm)
Width: 6.3 in (16 cm)
Valved 2.0 SKU
CS202-EN
Valved 2.0 NSN
6510-01-658-7745
PICTURES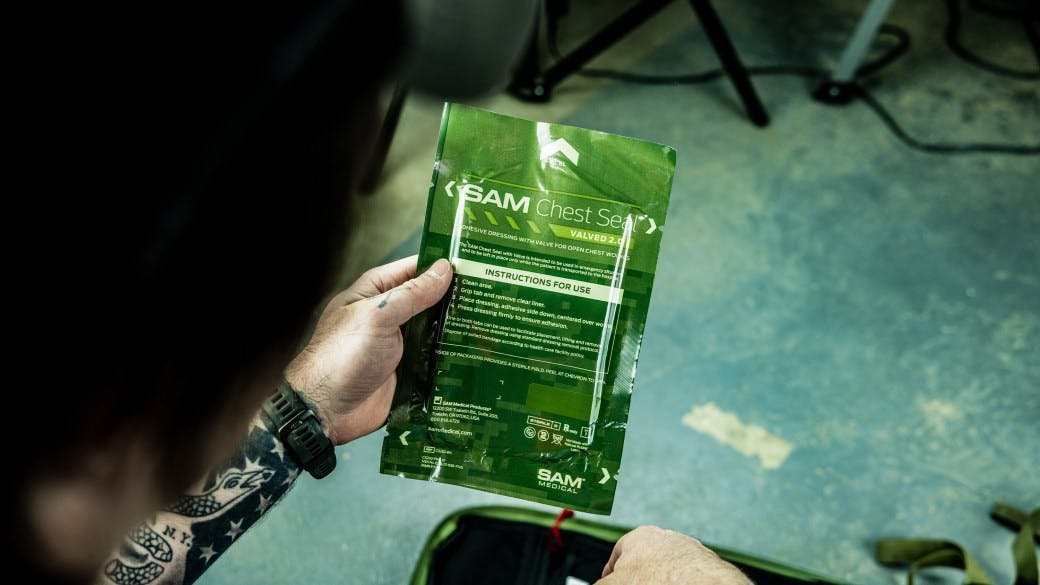 RESTRICTIONS
---
SAM Medical products cannot be shipped outside of the US.
SAM Chest Seal Training | Valved 2.0 | SAM Medical – Video – YouTube