OEM SIG SAUER Magazine
Ships in 1-5 business days
ITAR
This product is regulated by ITAR. It can only be shipped in the USA.
What's Included | Specs | Pictures | FAQ | Restrictions | Related Info
You can never have too many spare mags, but you don't want to settle for the cheapest thing possible when reliability is non-optional. Whether it's a carry gun, competition gun, or general-purpose range gun, these OEM SIG magazines ensure proper function and reliability. These magazines are available in 15, 17, and 21-round options and fit P250/P320 series handguns.
WHAT'S INCLUDED
---
One OEM SIG SAUER P250/P320 magazine
SPECS
---
FEATURES
Carbon steel construction
Anti-friction coating
Numbered witness holes
High-tensile steel spring
Durable polymer follower
Made in the USA or Italy.
COMPATIBILITY
| | |
| --- | --- |
| P250/P320 15-Round magazines | Compact/X-Compact ONLY |
| P250/P320 17-Round magazines | All Models (without SIG magwell) |
| P250/P320 21-Round magazines | All Models |
The 17-round magazine baseplates will NOT work with the factory SIG Legion magwell. You will need to swap them with
Legion baseplates
if you use this magwell.
PICTURES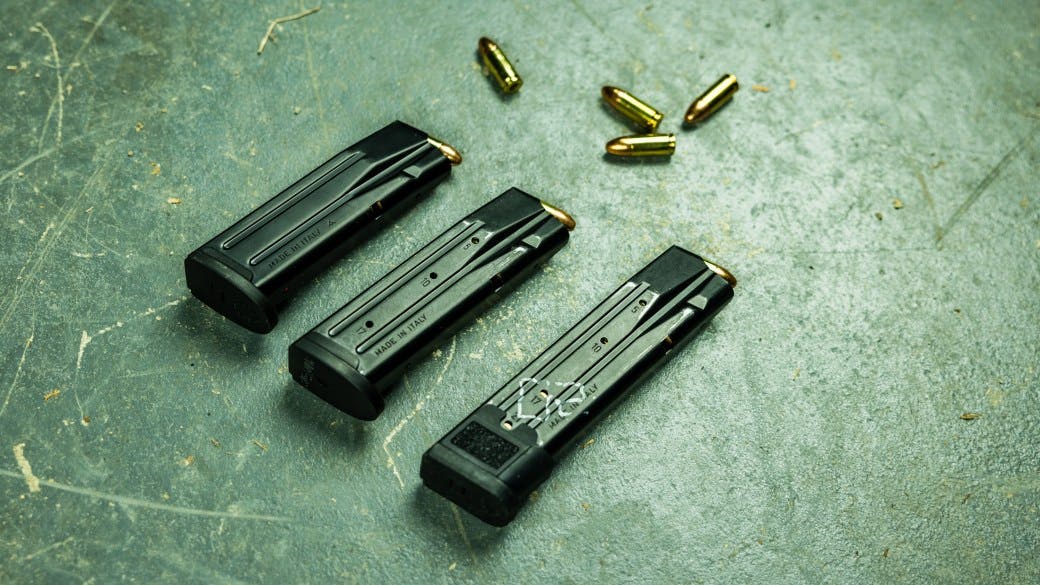 FAQ
Are these mags made in the US or Italy?
SIG uses both US and Italian manufacturers for these mags. They use the same part number, so there is no way to guarantee which variety you will receive. Both mags are of similar quality and reliability, so this isn't something to worry about.
RESTRICTIONS
---
This product is restricted by International Traffic in Arms Regulations (ITAR) and cannot be shipped outside of the USA.
Some states unconstitutionally restrict the sales, transfer, or ownership of OEM-standard capacity magazines. As a legal policy, we don't ship restricted items to ANYONE in these states, as detailed below. Note that because we believe that all citizens should have the same rights, we do not make exceptions for military, law enforcement, or government personnel.
| | |
| --- | --- |
| | Unconstitutional Restrictions on Magazine Capacities by State |
| Handgun mags over 10 rounds | CA, CT, DC, HI, MD, MA, NJ, NY, WA |
| Handgun mags over 15 rounds | CO, IL, VT |
| Rifle mags over 10 rounds | CA, CT, DC, IL, MA, MD, NJ, NY, VT, WA |
| Rifle mags over 15 rounds | CO |
Pistol Recoil Management – Drill – T.REX ARMS
Hard Target Focus vs. Front Sight Focus with Irons – Video – T.REX ARMS
50 Round Pistol Course of Fire – Drill – T.REX ARMS