Video | What's Included | Specs | Pictures | FAQ | Restrictions | Related Info
The Streamlight ProTac Rail Mount HL-X is one of the best out of the box rifle lights that you can get if you are on a budget. This light has an excellent output of 1,000 Lumens and 27,600 Candela, which will give you the capability to illuminate up close and at intermediate distances. This Rail Mount HL-X includes everything you need to mount it on a rifle, including a pressure pad. So, if you are looking for a budget rifle light that comes with everything you need, the Streamlight ProTac Rail Mount HL-X might be one to consider.
And if you're looking for a pressure pad mounting solution that is neither zip ties nor adhesive tape, check out the Cloud Defensive Light Control System.
OVERVIEW VIDEO
WHAT'S INCLUDED
---
One Streamlight ProTac Rail Mount HL-X light; Two CR123A lithium batteries; Remote pressure switch: Push-button tail switch; Remote retaining clips; Two screws; Double-sided tape; Two 11″ zip ties; Two 3.5″ zip ties; Operating instruction manual; One Streamlight sticker.
SPECS
---
FEATURES
Integrated rail clamp attaches to MIL-STD-1913 rails (Picatinny).
TEN-TAP Programming allows selection of three different operating programs: 1) high/strobe; 2) high only; 3) low/high.
Easy to use pressure switch comes with a button for on/off and a pressure switch for momentary activation.
Durable, anodized aluminum construction with impact-resistant tempered glass lens.
Dual fuel – uses two CR123A lithium batteries (included); also accepts one Streamlight SL-B26 protected Li-Ion USB rechargeable battery pack (RoHS compliant).
Solid State power regulation provides maximum light output throughout battery life.
IPX7 rated with the Standard button switch installed; Waterproof to 1 meter for 30 minutes. IPX4 rated with the Remote Pressure Switch installed.
Operating temperature: -40°F to +120°F
Limited lifetime warranty.
Made in China.
View the Fact Sheet HERE, Operating Instructions HERE, Data Sheet HERE, and Parts Sheet HERE.
TECHNICAL SPECIFICATIONS
| | |
| --- | --- |
| High Lumens | 1,000 |
| Run Time on High | 1.25 hours |
| Run Time on Low | 20.00 hours |
| Beam Distance | 332 meters |
| Max Candela | 27,600 |
| Battery Type | Streamlight SL-B26 Protected Li-Ion USB Rechargeable Battery Pack, CR123A Lithium |
| Battery Quantity | 2 |
| Length | 5.43 in. (13.79 cm) |
| Weight | 6.40 oz. (181.44 g) – 6.90 oz. (195.61 g) |
PICTURES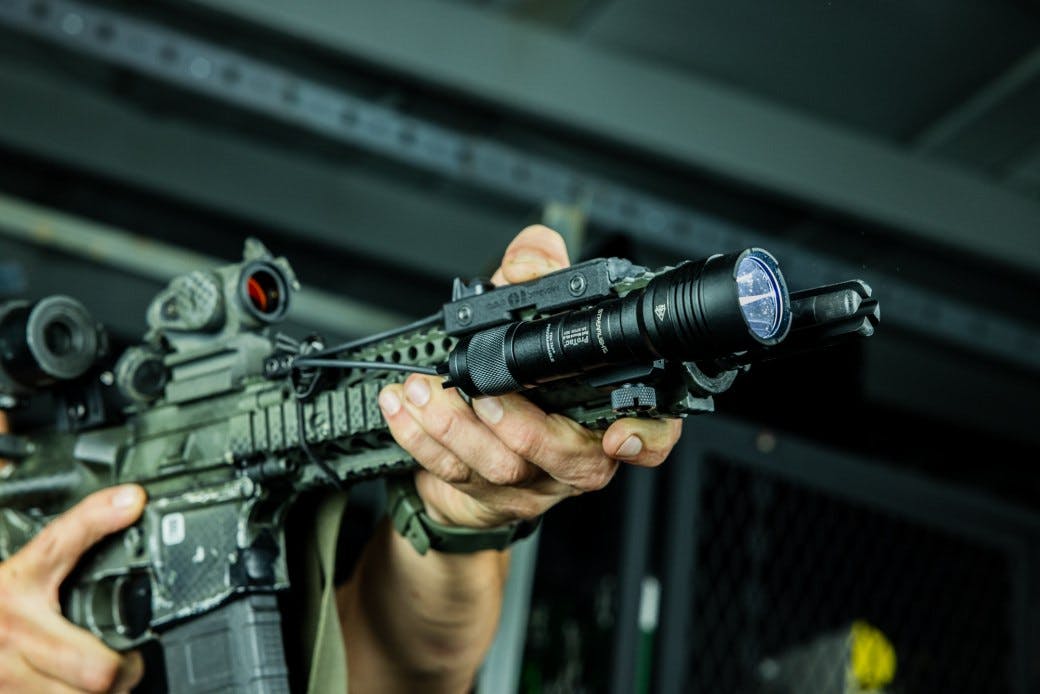 FAQ
Does this work with mounts that use a SureFire Scout Mount Footprint?
Affirmative. The Streamlight HL-X body mounts using the same scout-style footprint.
Can I use a SureFire pressure pad with this?
Not without an adapter. Arisaka makes one that we like.
What kind of batteries does this take?
The HL-X is technically a dual fuel light— it can run off of two CR123s or one 18650.
RESTRICTIONS
---
This product contains lithium and cannot be shipped outside of the contiguous 48 United States.
Our Most Recommended Rifle Upgrades – Help – T.REX ARMS
Where to Mount Your Rifle Light – Video – T.REX ARMS
Streamlight Protac Rail Mount HL-X and Cloud LCS Overview – Video – T.REX ARMS