Scalarworks LEAP/08 30mm Scope QD Mount
Ships in 1-8 business days
Video | What's Included | Specs | Pictures | FAQ | Restrictions | Related Info
The Scalarworks Scope LEAP is our preferred scope mount. It's light. It's built like a tank. It's extremely fast and easy to level (this is a painful process for most scope mounts). It has a solid Quick Detach system that retains zero better than any other mount we've seen. As far as scope mounts are concerned… this is the cream of the crop. This Scope LEAP fits 30mm scopes with two variations to choose from: Standard 1.57″ and 1.93″. This mount also accepts Scalarworks' Side KICK, an offset red dot mount that attaches directly to the LEAP for a more minimalist optic setup.
OVERVIEW VIDEO
WHAT'S INCLUDED
---
One Scalarworks LEAP/08 30mm Scope QD Mount; One LevelDrive screw; One T20 and one T25 Torx driver bit
SPECS
---
FEATURE LIST
– Compatibility: MIL-STD-1913 Picatinny* Rail
– 30mm: See technical drawing for details.
– State of the art 30mm scope mounts. Designed for shooters who want the lightest, stiffest, and easiest to use quick-detach scope mount possible.
– LevelDrive™: An integrated set-screw lets you square your scope with your mount in record time.
– Side KICK Compatible: Supercharge your sighting system by adding an optional reflex sight in the optimal offset position. Available from Scalarworks.
– Engineered to be the lightest QD scope mount, without compromising an ounce of strength.
– Smart Structure: The LEAP/08 base incorporates a large diameter tubular section up front to resist torsion from side impacts, and a very wide I-beam bridge in the rear to resist recoil induced oscillations.
– Every LEAP mount is CNC milled from 7075-T6 Aluminum billet, which has vastly superior mechanical properties to 6061-T6, and is used where ultimate strength and durability outweigh cost considerations.
– ViseRing™: A low-profile design doesn't get in your way of viewing or manipulating your scope's adjustment turrets. A high-strength, multi-link hinge eliminates the uncertain and tedious setup required by split rings.
– Smooth Edges: LEAP mounts have no protruding levers, bolts, or knobs to rap your knuckles, or get caught on clothing, gear, and surroundings.
– ClickDrive™: The world's most efficient quick-detach mechanism. A fluted crown requires only the torque from your bare hand to securely clamp the mount onto a rail, and uses the force from a spring-loaded ball-detent to make it completely recoil proof. Return-to-zero is guaranteed as long as the same person takes it on and off.
View the User Manual HERE.
TECHNICAL SPECIFICATIONS
| | |
| --- | --- |
| Compatibility | Rails- MIL-STD-1913 Picatinny |
| Materials | 7075-T6 Aluminum / 4140H Steel |
| Finishes | Type III Anodizing / Flash Nitride |
| Center height over rail | 1.57″ or 1.93″ |
| Ring diameter | 30mm |
| Cant | 0MOA |
| Overhang | 2.0″ |
| Weight | 154g (1.57″) 163g (1.93″) |
| Origin | United States of America |
PICTURES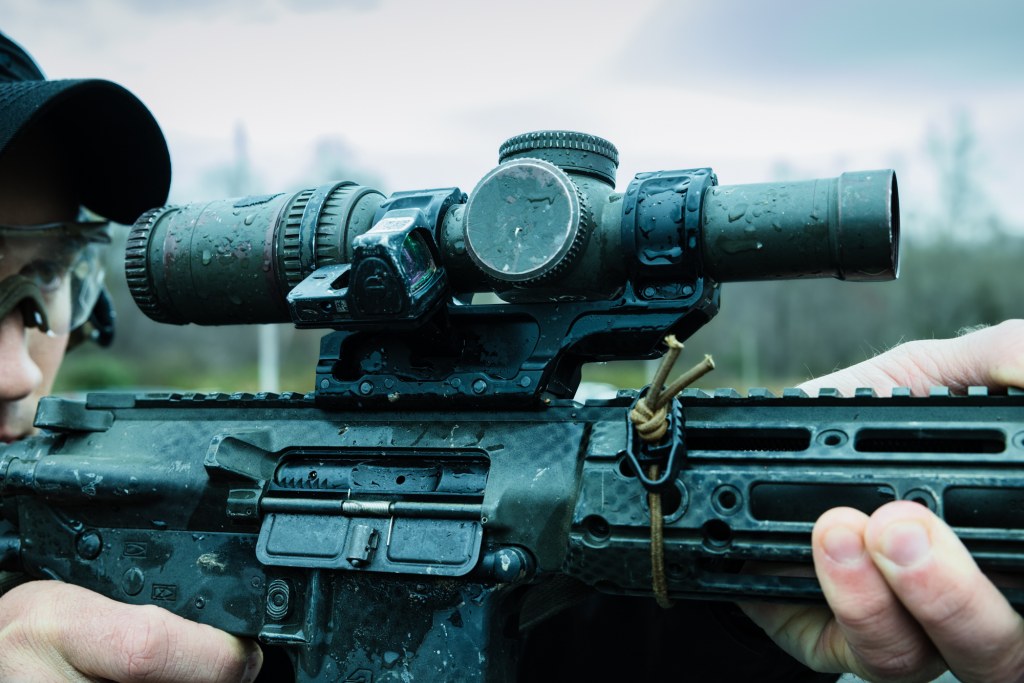 FAQ
Which height should I get? Standard 1.57″ or 1.93″?
The Standard 1.57″ height works great if that's what you're used to, but we typically prefer the 1.93″ option as it allows for more of a "heads up" posture, especially when shooting while moving, and makes scoping with pro masks and respirators much easier.
What about 34mm scopes?
Scalarworks does make a 34mm version, but we don't currently use many 34mm scopes. Since we only sell what we personally run and gun with, it doesn't make much sense for us to carry it. We do have some for testing and they're as awesome as the 30mm version. So, whatever size scope you have, you can't go wrong with this product.
RESTRICTIONS
---
Scalarworks products cannot be shipped outside of the US.
Scalarworks LEAP/08 Scope Mount Overview – Video – T.REX ARMS