Trijicon HD XR Night Sights for Glock
ITAR
This product is regulated by ITAR. It can only be shipped in the USA.
Video | What's Included | Specs | Pictures | FAQ | Restrictions | Related Info
For iron sights on Glocks, we prefer something with a red front sight and blacked-out rear sights, as this combination helps significantly with hard target and front sight focus shooting. Because there is a single, front red "dot" within your field of view and not a mess of colors or dots on the rear sight, it simplifies what your eyes see when aiming. Simply put, there is less competing for the attention of your eyes. That's one of the main reasons we love these Trijicon HD XR Night Sights.
They're also a great option because the front sight post is also thin, allowing shooters to have a larger field of view which further enhances the ability to identify targets, expedite engagements and see the location of hits on target at longer distances. Additionally, these irons are actually metal and durable, unlike stock Glock iron sights.
VIDEO
WHAT'S INCLUDED
---
Trijicon HD XR Night Sights for Glock — One Front Sight and One Rear Sight.
SPECS
---
GL601-C-600836 – Front: Orange Outline / Green Tritium, Rear: Black Outline / Green Tritium with U-Notch.
Fits Glock Models: 17, 17L, 19, 22, 23, 24, 25, 26, 27, 28, 31, 32, 33, 34, 35, 37, 38, 39, and 45. (Does not fit MOS)
Front Blade Overall Height: 0.283 in. (7.18mm)
Rear Blade Overall Height: 0.321 in. (8.15mm)
PICTURES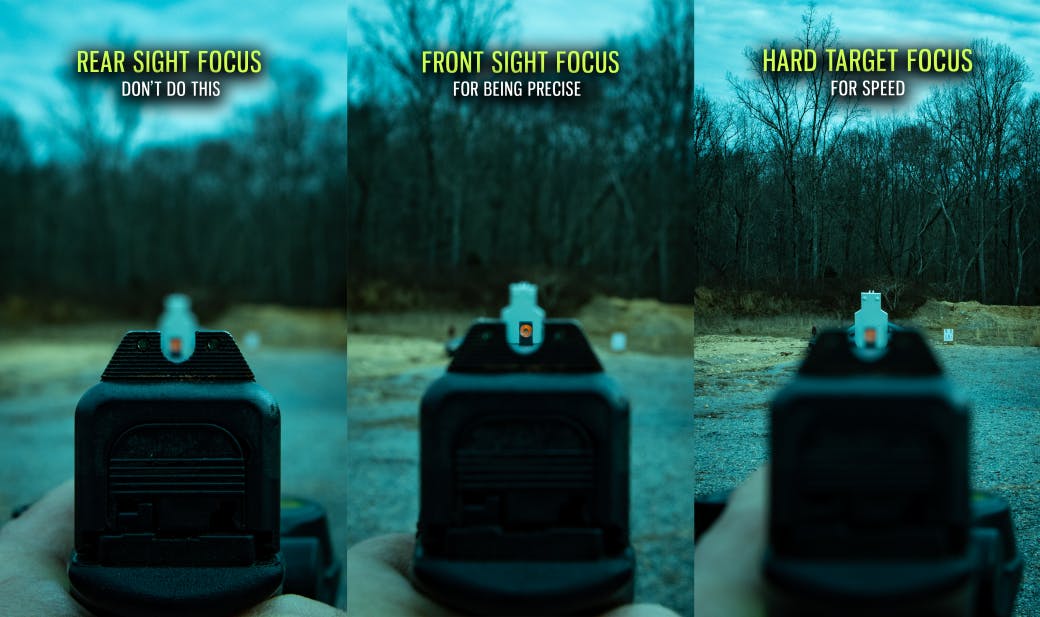 FAQ
How do I install these?
There are many tools available that can perform this task. We recommend the 
TRUGLO Sight Installation Tool Kit for Glock
 for the average end-user. If you are doing sight installations more often, you may want to spring for a more expensive, vice-mounted option.  
RESTRICTIONS
---
This product is restricted by International Traffic in Arms Regulations (ITAR) and cannot be shipped outside of the USA.
Hard Target Focus vs. Front Sight Focus with Irons – Video – T.REX ARMS
Iron Sights Overview – Video – T.REX ARMS