Video | What's Included | Specs | Pictures | Related Info
Dump pouches are a great way to stow empty magazines. They can also be used for items you want at your fingertips like shot timers, drinks, snacks, tape, sharpies, evidence, and other objects.
Our dump pouch uses a velcro attachment method. Rather than attaching via MOLLE or a belt pass-through, you simply velcro the pouch around the entire belt. This way you don't have to remove all your equipment to slide the pouch on. We also went with 4-inch wide fabric for better weight distribution, as opposed to many other pouches with only 3 inches.
The dump pouch's mesh bottom prevents dirt and debris from accumulating at the bottom. It also has an anti-snag flap material that can be closed over the top of the pouch to hold the items inside more securely and, when you roll the dump pouch up, it wraps over the entire body of the pouch to keep it tucked up and into your belt line.
At the bottom of the pouch are two loops for threading the included shock cord thigh strap through. Why would you want a thigh strap for a dump pouch? Well, when you've got a fully-loaded dump pouch, the last thing you want is the entire pouch jumping around when you're sprinting or doing other rigorous activities. Tying the pouch to your leg means it is more stable to your body, preventing it from having a mind of its own.
OVERVIEW VIDEO
WHAT'S INCLUDED
---
One T.REX Dump Pouch; One shock cord mini thigh strap with buckle
SPECS
---
FEATURES
4 inches deep by 6 inches wide by 7.5 inches high
Laser-cut squadron back flap assembly
Mesh bottom
Hook & loop attachment fields: 4″ x 4″ (There is a Velcro patch included so if you're wearing it with an Orion the exposed Velcro won't chew up your pants)
Made in the USA.
PICTURES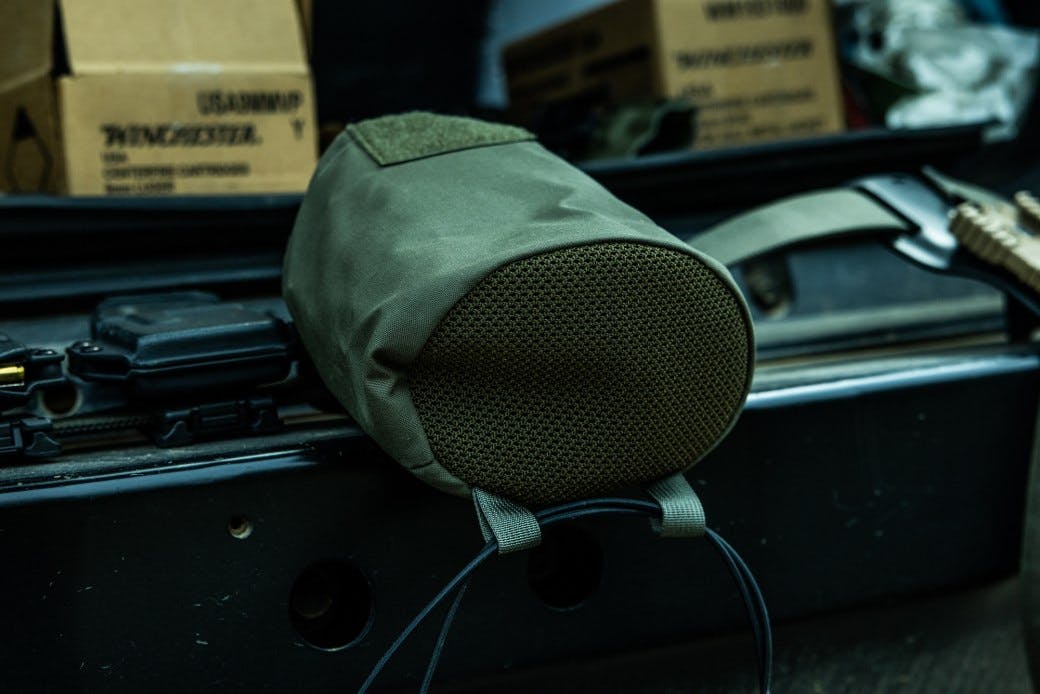 T.REX Dump Pouch Overview – Video – T.REX ARMS
Dump Pouch Tutorial – Video – T.REX ARMS
T.REX Orion Outer Belt Overview – Video – T.REX ARMS