Video | What's Included | Specs | Pictures | FAQ | Restrictions | Related Info
The BCM Mod 3 Grip is an excellent addition to any build. Whether you're swapping out that tired old A2 grip or starting new, the shallow grip angle of the Mod 3 reduces fatigue and places your wrist at a much more natural angle. The Mod 3 also features a water-resistant storage compartment for batteries, tools, spare parts, or other items.
OVERVIEW VIDEO
WHAT'S INCLUDED
---
BCM Gunfighter MOD 3 grip; grip screw; grip screw lock washer
SPECS
---
FEATURES
Allows for a reduced angle and improved ergonomics and trigger control when shooting in modern stances
Offers storage inside the grip with a hinged trap door and a water-resistant rubber gasket
Each grip features an extended forward tang to close the gap between the trigger guard and pistol grip and a high-rise "beavertail" style back strap
Up to a quarter of an inch wider than the BCMGUNFIGHTER Mod 0 and Mod 1 grips
Manufactured from high-quality impact-resistant polymers
Each grip is test fit to ensure proper function
Made in the USA.
PICTURES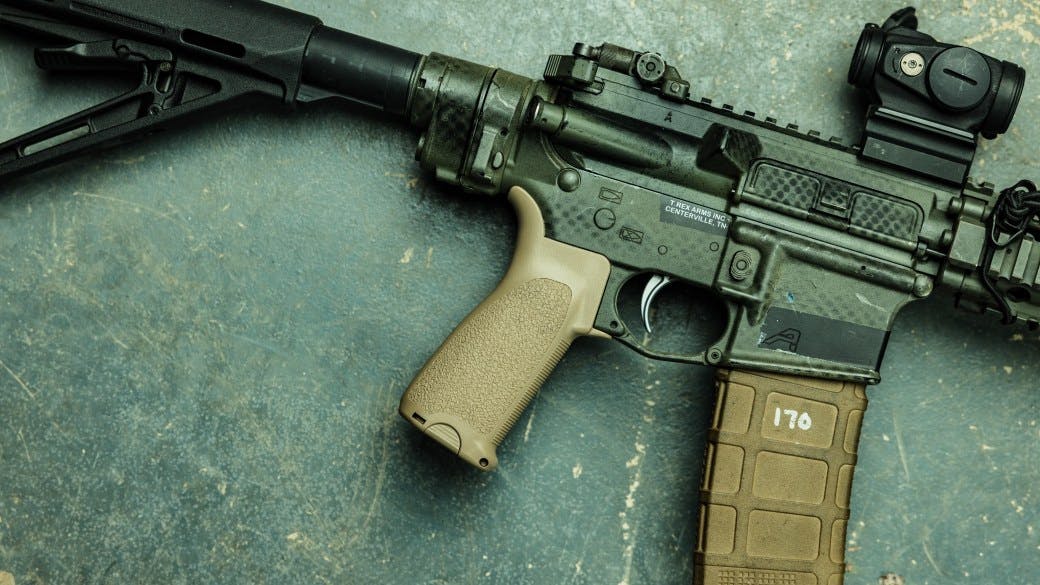 FAQ
Will this work with all AR-15 lowers?
This grip will work with all Mil-Spec lower receivers. Some billet or non-standard receivers, like the M4E1 from Aero Precision, will require you to trim the front nub, but this is an easy modification.
RESTRICTIONS
---
BCM products cannot be shipped outside of the US.
Rifle Fundamentals – Training – T.REX ARMS
50 Round Carbine Course of Fire – Drill – T.REX ARMS
Training Targets – Printable – T.REX ARMS