Sale
Setup Video | Specs | Overview Video | Pictures | FAQ | Related Info
Chest rigs have a long history of use, even dating back to World War I. The tradition of individuals carrying extra munitions, tools, and supplies in chest rigs has continued to this day with both classic and modern versions widely used throughout the world.
The T.REX Ready Rig It is a lightweight, low-vis chest rig with elastic pockets for magazines, tools, medical, and other equipment. Designed around an elastic cummerbund combined with an adjustable X harness. It comes ready to roll right out of the box, simply adjust it to fit you (watch Setup Tutorial Video below) and you're good to go. Affordable. Comfortable. Stable. Concealable. American made.
It holds three 5.56/STANAG magazines in the front, and then includes on each side of the rig: one small multitool cell, followed up by a STANAG-sized cell, and then a larger cell that fits our EDC ITRK perfectly, or other general-purpose items. Similar to the cummerbund on our AC1.
SETUP VIDEO
SPECS
---
The Ready Rig is One Size Fits Most due to its ability to be adjusted both in the cummerbund and in the harness straps.
The Cummerbund is 44″ long (unstretched) and 52″ long (stretched) at max and 29″ at minimum (negates the use of the last 4″ pocket).
This will cover the vast majority of individuals. If you're worried about being too small or too large, measure your torso circumference. The solar plexus is a good location from which to measure.
Each cummerbund has nine pouches total: Two 2″ wide pouches; Five 3″ wide pouches; Two 4″ wide pouches. Pouches are 4″ tall.
The Harness Straps have 35″ of useable material. This allows the shooter to wear it as high or as low as they'd like.
Watch the Setup Tutorial video for information on how it is made, how to properly adjust it to fit you, and setup recommendations.
OVERVIEW VIDEO
PICTURES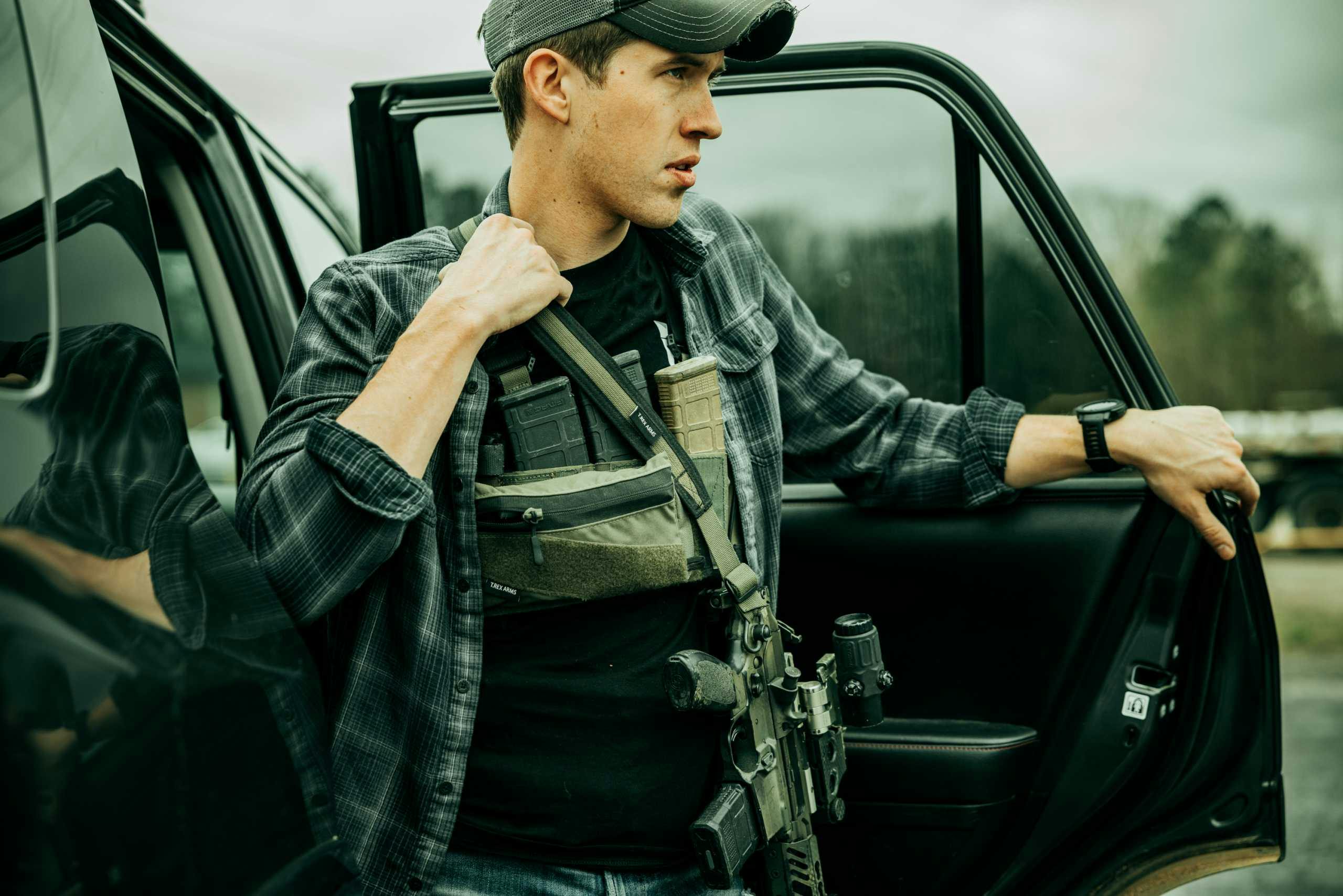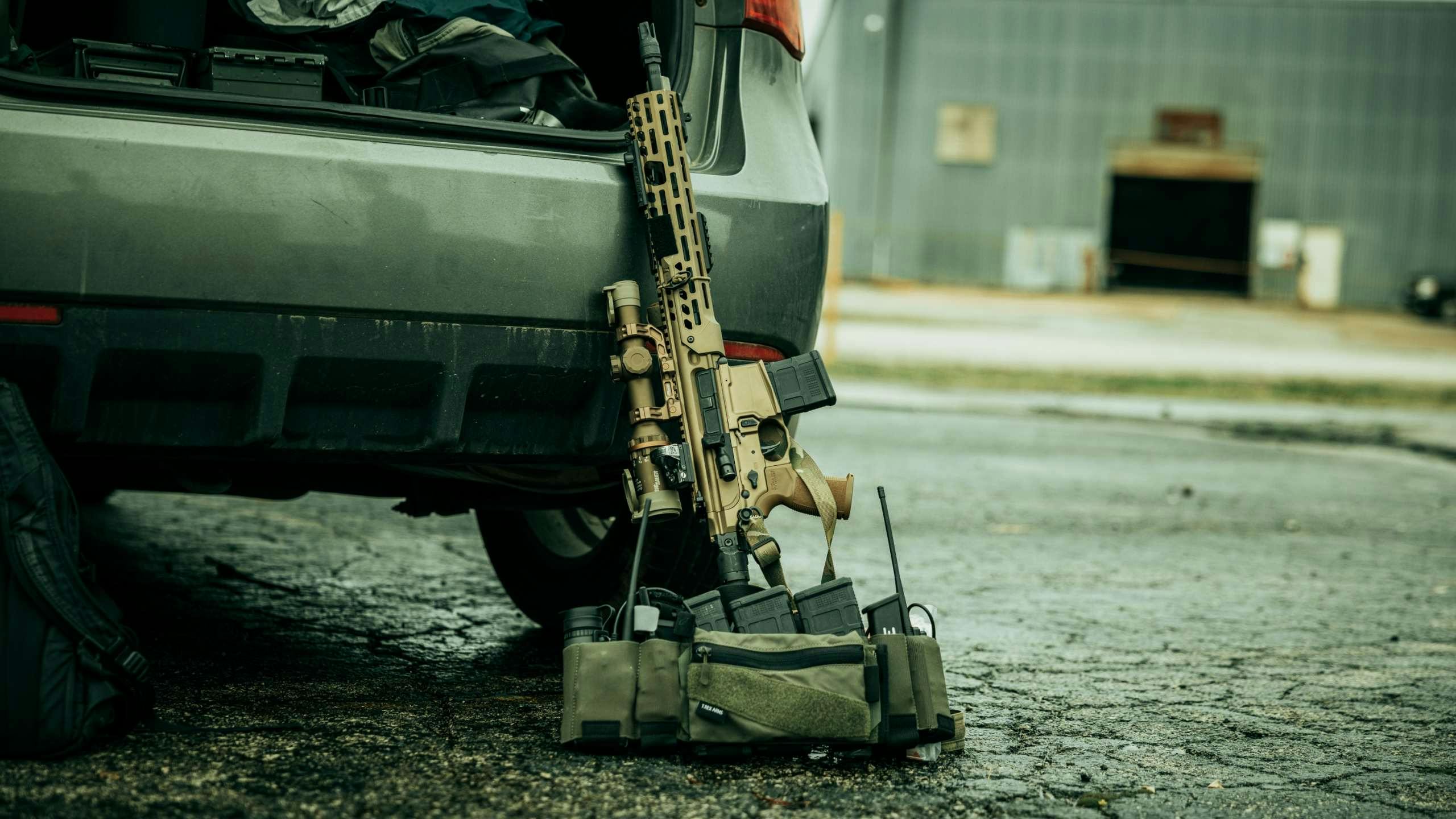 FAQ
What size do I need? How do I set this up?
Watch the Setup Tutorial Video above. It answers most, if not all, questions about the Ready Rig. If you have other questions after reviewing this page and watching the setup video, email us at
[email protected]
.
Will this work with 7.62×51 or other DMR style mags?
They will not fit. But we are planning on a version for DMRs in the future, it will solve all of your EBR/M110/SVD/SCAR needs.
Will the 556 Ready Rig fit the great and mighty 7.62×39 magazines?
Negative. It is a VERY tight fit and is not recommended.
Will the 556 Ready Rig fit 5.45 magazines?
Yep! They're a tighter fit than a standard STANAG magazine, but work just great.
If you're interested, you can read about the complicated history surrounding getting a steady supply of T.REX Ready Rigs here: (2021) T.REX ARMS Inc. v. IB Design, LLC and John Lawton – T.REX ARMS
When You Can't Find Plate Carriers & Chest Rigs – Video – T.REX ARMS