Video | What's Included | Specs | Pictures | Related Info
The Real Avid 4-IN-1 Glock Tool is a handy thing to have in your range bag or on your kit. It features a 3mm pin punch, a flat blade screwdriver, a .050mm Allen wrench, and a Glock front sight tool. All of these tools fold up inside the body, making a small, lightweight package that offers a lot of functionality.
OVERVIEW VIDEO
WHAT'S INCLUDED
---
One 4-in-1 Glock multitool including a 3mm pin punch; 3/16 Hex driver (front sight tool); flat blade screwdriver; .050″ Allen wrench
SPECS
---
FEATURES
3mm armorer's pin punch fits all Glock pin sizes
Flat blade screwdriver (for prying slide lock spring & locking block)
.050″ Allen wrench (for adjusting aftermarket rear sights)
Magnetic 3/16″ Hex driver fits stock & aftermarket front sights
Push button release for snap-open tools
Ergonomic frame stores all 4 tools
Made in China.
View the User Manual HERE.
TECHNICAL SPECIFICATIONS
| | |
| --- | --- |
| Length | 3.5 in. |
| Width | 1.05 in. |
| Height | 0.85 in. |
| Weight | 1.7 oz (50 g) |
PICTURES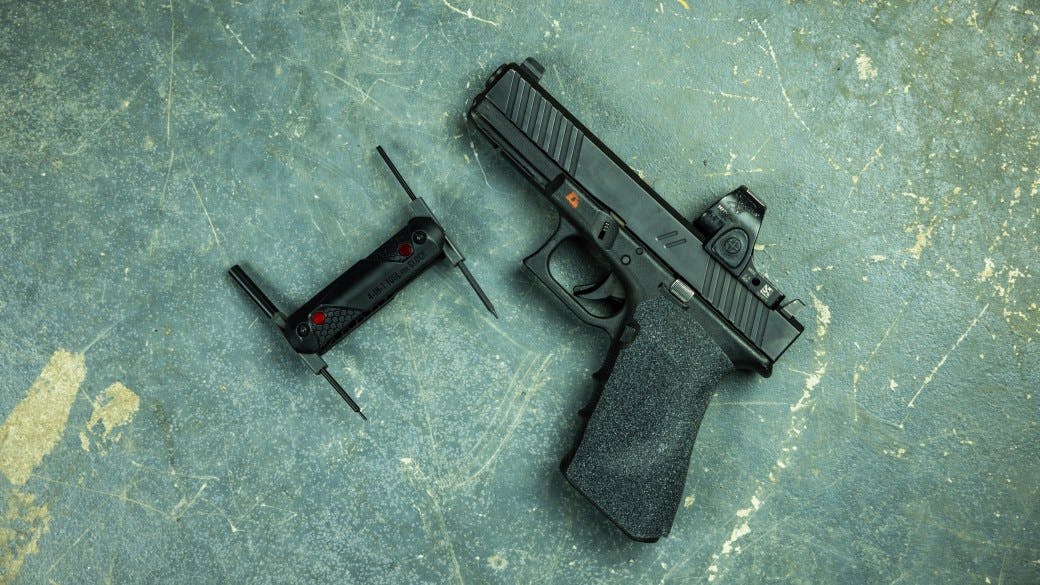 Hard Target Focus vs. Front Sight Focus with Irons – Video – T.REX ARMS
AMERIGLO i-Dot Sight Set for Glock Overview – Video – T.REX ARMS
How to Shoot a Pistol in 10 Minutes – Video – T.REX ARMS