EOTECH G45 Magnifier
ITAR
This product is regulated by ITAR. It can only be shipped in the USA.
Video | What's Included | Specs | Pictures | FAQ | Restrictions | Related Info
Although low-powered variable optics are the big thing right now, sometimes a red dot is preferable. Being able to get some magnification behind it can help with longer distance work and target identification. That's when having a flip-to-side magnifier becomes ideal. The EOTECH G45 is a mini 5x magnifier, but has a similar weight and dimensions as the classic G33 magnifier. It is compatible with all EOTECH HWS models and is extremely durable and reliable.
The G45 also offers tool-free azimuth adjustment and an adjustable diopter for improved, precise focusing.
OVERVIEW VIDEO
WHAT'S INCLUDED
---
One EOTECH G45 Magnifier; One Switch-to-Side Mounting System; One Protective Case; Operator Manual; Warranty Card; Sticker
SPECS
---
FEATURES
Instant 1x to 5x magnification
Locking, adjustable quick-detach lever system
Works with both left and right-handed shooting
Compatible with all HWS Models
Assembled in the USA.
View the Operator's Manual HERE and the Quick Reference Guide HERE.
TECHNICAL SPECIFICATIONS
| | |
| --- | --- |
| L X W X H | 3.9″ x 2.3″ x 3.3″ (99 x 58.4 x 83.8 mm) |
| Weight | 12.8 oz (362.9 g) |
| Water Resistant | 33ft. (10 m) depth |
| Mount | 1″ Weaver or MIL-STD-1913 rail |
| Operating Temperature | -40°F to 140°F (-40°C to 60°C) |
| Fixed Magnification | 5X |
| Eye Relief | 2.6″ (66mm) |
| Field-Of-View | 4.4° |
| Sealing | Fog Resistant Internal Optics |
PICTURES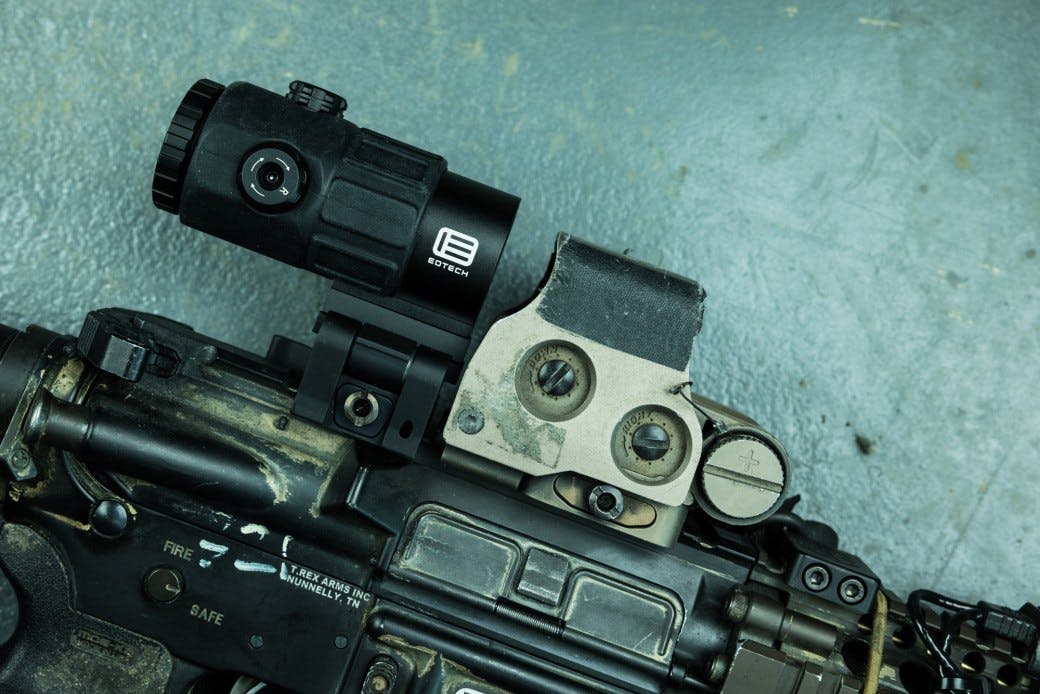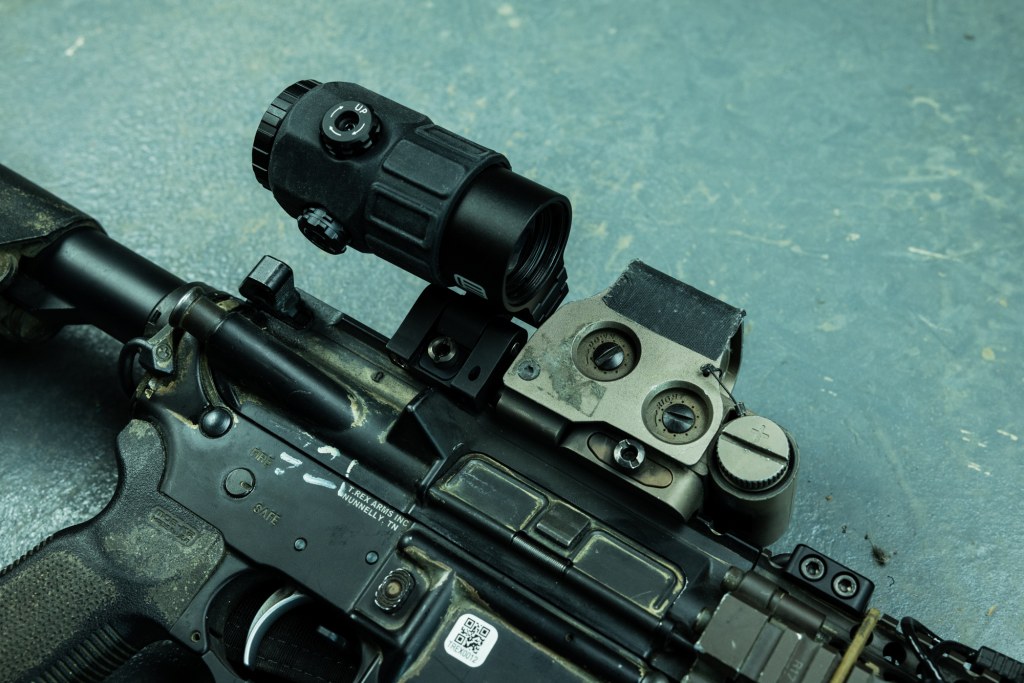 FAQ
Why doesn't T.REX also sell the G43?
Although the G43 is compact, there is hardly any weight savings. Also, the eye relief isn't ideal for most setups since the body of the optic is shorter. For these reasons, we stick to the G33 and G45 magnifiers.
Will it affect my sight picture if my dot is not centered?
Having the dot centered is generally more consistent because it provides a better sight picture, but in our experience and testing, where the dot is in relation to the window does not affect your point of impact in any noticeable way.
RESTRICTIONS
---
This product is restricted by International Traffic in Arms Regulations (ITAR) and cannot be shipped outside of the USA.
EOTECH Magnifiers Explained – Help – T.REX ARMS
EOTECH G33 and G45 Overview – Help – T.REX ARMS
EOTECH G33 and G45 Magnifier Overview – Video – T.REX ARMS
LPVO Versus Red Dot + Magnifier – YouTube – T.REX ARMS