Video | What's Included | Specs | Pictures | Restrictions | Related Info
The North American Rescue ARS Decompression Needle is a device used to relieve tension pneumothorax, a life-threatening condition caused by the buildup of air or fluid in the pleural cavity. The ARS (Air Release System) is based on two years of research in collaboration with medical and military partners to engineer a product with a longer needle and features which aid probability of proper use under stressful conditions or combat operations.
The device consists of a hollow needle that is typically inserted into the second intercostal space at the midclavicular line of the chest. The ARS Decompression Needle is only recommended for properly trained responders.
OVERVIEW VIDEO
WHAT'S INCLUDED
---
One North American Rescue 14 Gauge ARS Decompression Needle
SPECS
---
FEATURES
Air pockets or blood in the chest cavity is the second leading cause of potentially preventable combat death. This NAR patented design improves the probability of success when when faced with a tension pneumothorax
Studies indicate that the 14 gauge x 3.25 in. needle would penetrate the chest wall in 99% of patients
Features intuitive design and functionality for failsafe use during panicky moments
Rugged packaging protects the needle from damage during transport and deployment
Convenient, compact size, with handy clip
Easy-open container provides quick access
Easily-identified textured twist top
Strong, reliable needle/catheter combo
Capless flashback chamber provides instant visual confimation of accurate needle placement
No need to create a flutter valve or attach a three-way stopcock
TERMINOLOGY
Tension Pneumothorax

: This is a condition where air accumulates in the chest cavity, creating pressure and potentially causing a collapsed lung. The Greek words pneumo & pneuma mean "lungs" or "air". Therefore a pneumothorax is air in the chest cavity outside the lungs (also called the pleural space). In some cases, the pressure of both the lung and the tension pneumothorax can apply pressure to the heart muscle which could be urgent and deadly.

Hemothorax

: Blood in the thorax. The hema/hemo has roots in both Greek and Latin and means "blood."

Thoracostomy

: The rescuer decompresses the tension pneumothorax by performing a needle thoracostomy or a needle chest decompression.

Flashback

: This is the first bit of blood that comes out due to blood pressure.

Intercostal

: Between the rib bones.

Midclavicular Line

: An imaginary line from the nipple to the mid-point of the clavicle (collarbone).
Made in the USA.
| | |
| --- | --- |
| Packaged Dimensions | L 5.7 in. x W 0.7 in. x 0.8 in. |
| Needle Size | 14 gauge x 3.25 in. |
| NSN | 6515-01-541-0635 |
PICTURES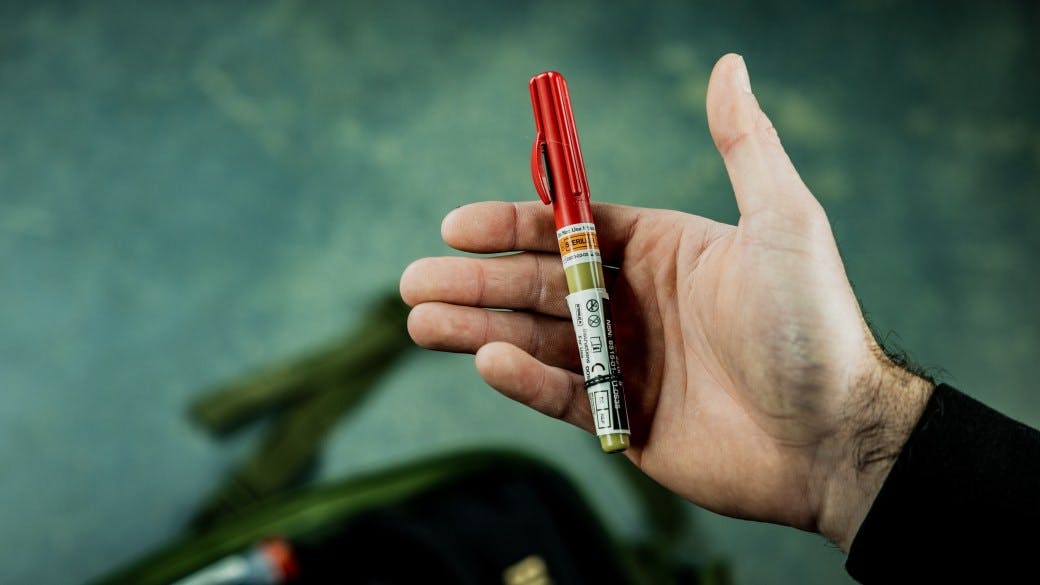 RESTRICTIONS
---
North American Rescue products cannot be shipped outside of the US.
ARS For Needle Decompression – Video – YouTube