L3/Insight ATPIAL-C IR Laser
Ships in 1-8 business days
ITAR
This product is regulated by ITAR. It can only be shipped in the USA.
Video | What's Included | Specs | Pictures | Related Info
When you rely on something to aim your rifle effectively, you want something good. This is no exception when you're running night vision. The lasers by L3/Insight have been the technology trusted by our nation's special operations for decades. The Advanced Target Pointer Illuminator Aiming Laser (ATPIAL) series of lasers are currently issued to a large number of people and can be found on the weapons of our allies.
We personally like the ATPIAL laser for a number of reasons. It's lightweight, easy to zero, sits low on the rail to clear optics, has slaved IR/vis lasers making zeroing possible in the day, and has good compatibility with accessories on the market.
The ATPIAL-C is the civilian class version of the traditional PEQ15. It is eye-safe with its 0.7mw laser and can reach out to 450 yards under good evening conditions. Since most night vision isn't even good enough to properly target identify past 100 yards, the range of a civilian class laser is ample.
The IR illuminator on the ATPIALc is non-adjustable and has a max effective range of 150 yards. It produces a circle of IR light around the laser. At close ranges, it creates an effect similar to an EOTECH sight. Massive aiming area with a refined center dot for precision.
The ATPIAL-C is activated by pushing the button on the top, or connecting the provided pressure pad to the rear of the unit. The pressure pad can then be placed on the carbine where the user desires.
SureFire dual pressure pads
are also compatible with the ATPIAL/PEQ series of lasers. This is our favorite solution for activating the laser.
OVERVIEW + ZEROING VIDEO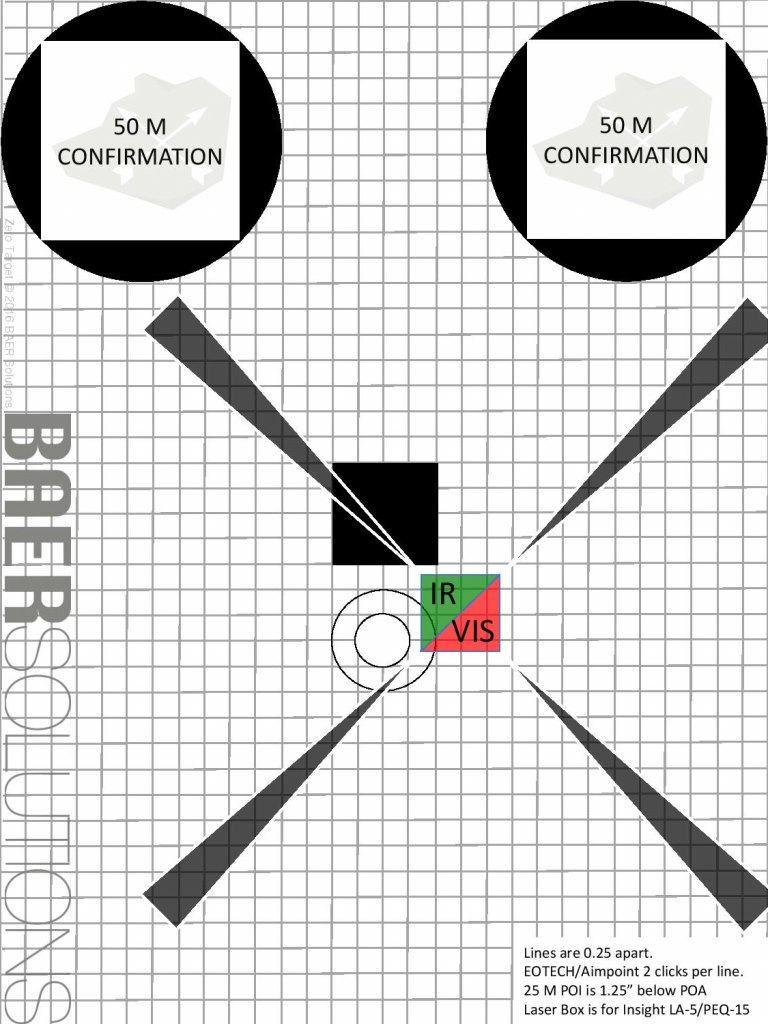 BAER Solutions Zero Target: "This target was designed to save time zeroing your optic and laser at 25 meters. The black box in the middle is your point of aim for a 50/200 zero with the rounds impacting in the circle below. Laser box is for the Insight LA-5/PEQ-15 model visible red and IR lasers to provide a constant offset setup to your line of sight." For further instructions, visit their page HERE.
Prints on 8.5″ x 11″ paper.
WHAT'S INCLUDED
---
One Advanced Target Pointer Illuminator Aiming Laser (ATPIAL-C) with integrated Picatinny screw mount; One CR123 lithium battery; Laser caps; Pressure pad with 11″ cable; Storage pouch.
SPECS
---
Manufacturer:

L3 Warrior Systems – Insight Technology

Dimensions:

4.6 in. L x 2.8 in. W x 1.6 in. H

Weight (with battery):

7.5 oz.

Battery Type:
(1) CR123 / 3 Volt Lithium
Battery Life:

> 6 hrs.

Visible Aim Laser Safety Class:
3R
Visible Aim Laser Output Power:
< 5.0 mW
Visible Aim Laser Beam Divergence:
0.5 mrad
Visible Aim Laser Wavelength:
650 nm
Visible Aim Laser Range:
> 25 m
IR Aim Laser Safety Class:

1

IR Aim Laser Output Power:
0

.6 mW

IR Aim Laser Beam Divergence:

0.5 mrad

IR Aim Laser Wavelength:

840 nm

IR Aim Laser Range:
>

600 m

IR Illuminator Safety Class:

3R

IR Illuminator Output Power:

< 3.5 mW

IR Illuminator Beam Divergence:

105 mrad (fixed focus)

IR Illuminator Wavelength:

820 – 850 nm
PICTURES
Grey MK18 Loadout – Help – T.REX ARMS
SCAR 17S 16" Suppressed – Help – T.REX ARMS